Hey guys i want to make the community a bit more "TradingFit" so i am talking about technical Analysis and chart patterns. Today about Triangle Patterns.
A Triangle Pattern can be a  continuation or a reversal pattern.  Theoretically, they look pretty clean and easy to read.  But in a real market, it's not that easy as we think. But later more on that.   
So we distinguish between 3 Triangle Patterns 
 We are talking about a Symmetrical Triangle when both trend lines move to each other and we have at least 2 high points &  2 low points which touch the trend line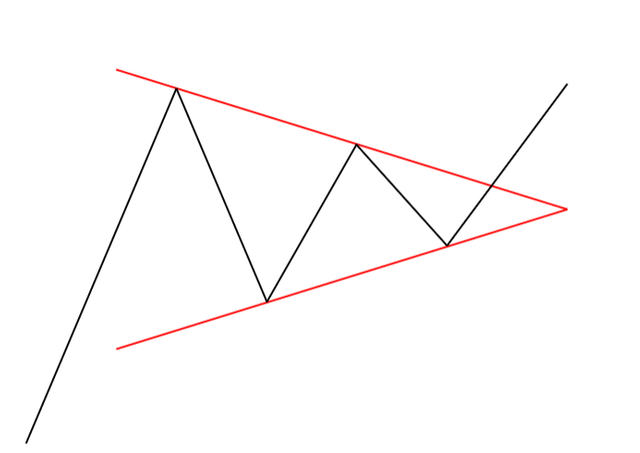 On an Ascending Triangle, we have a rising trendline moving to a horizontal trendline. Here we also have at least 2 high points &  2 low points which touch the trendline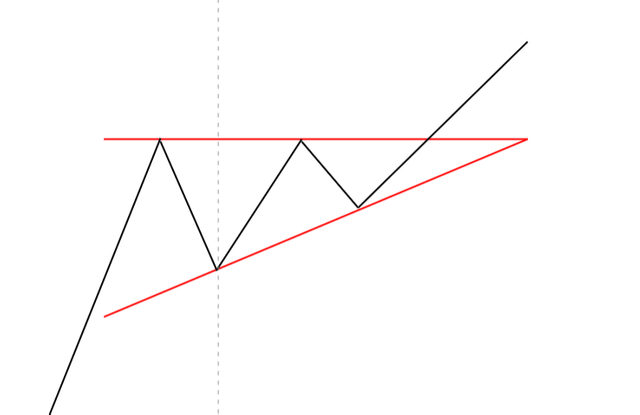 A Descending Triangle is the opposite of an Ascending Triangle. Here we have a downward moving trendline to another horizontal trendline below. But we also have at least 2 high points & 2 low points wich touch the trendline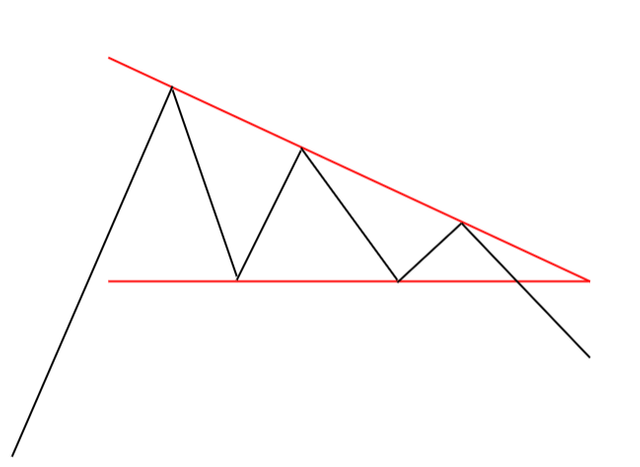 So now we know the 3  Triangle Patterns  (Descending, Ascending & Symmetrical ). But how we do work with them. 
When we have a Triangle Pattern we will always have a Breakout because the Pattern will at some Point close.  There are a few  scenarios which can happen.
Bullish breakout  (continuation or reversal )
Bearish breakout (continuation or reversal )
Sideways breakout (only in Symmetrical Triangle)
 Let`s start with a Symmetrical Triangle breakout. Here we can see a few options. 
The green line shows a  Bullish breakout which means we are going for a long (buy) position
The blue line shows a Bearish breakout which means we are going for a short (sell) position
The purple line shows a Sideways breakout which is actually the worst breakout we can get out of this triangle.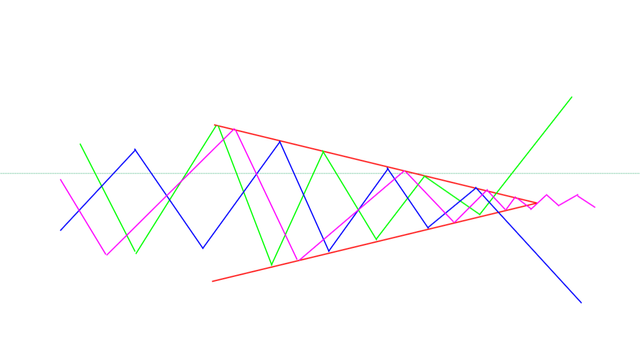 Trade a Symmetrical Triangle
 As we know now what a Symmetrical Triangle is and in which directions it can breakout we need to know how we are going to trade it and where to set all important points we need.
Breakout Entry Points 
To set a good entry point i use a pitchfork (Median 0.75 & 1.4) 
 We will enter a long position (buy) as soon we will hit the green zone. This is our confidential zone. The Grey Zone is the fakeout Zone. So if we break out but we don`t make it out of the grey Zone we wait.  In this case, it would be a bullish breakout.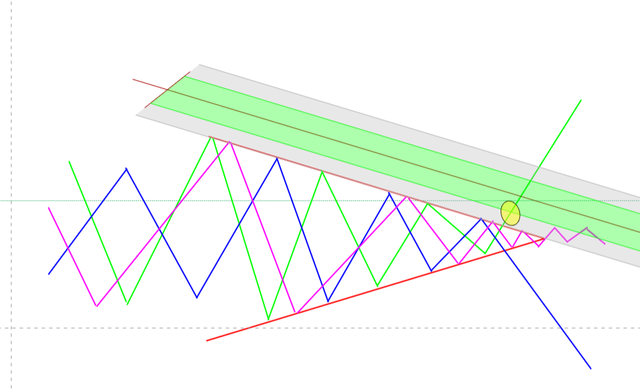 Here we can see the opposite direction. We are facing a bearish breakout. As you can see we wait here aswell until we hit the green zone.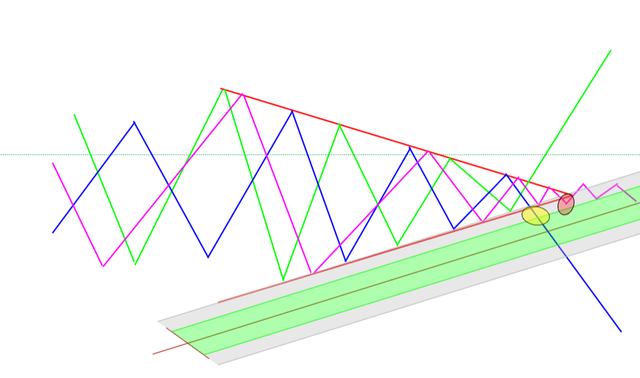 This is the most unlikely  outcome. If we have a sideways breakout. As you can see we had before a so-called fakeout. We broke trough the lower trend line but we didn`t make it in our green zone. so we would have stayed away. On a Sideways breakout, we are waiting until we leave the yellow zone and recalculate the Triangle Pattern.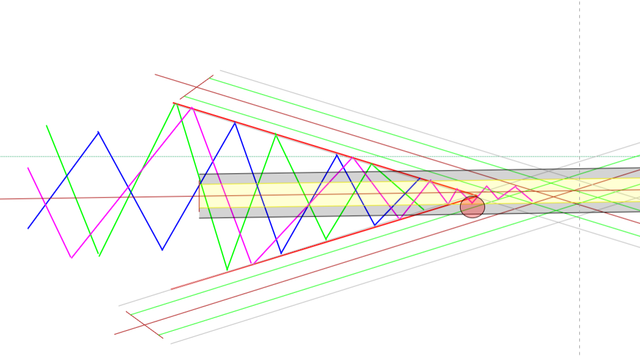 Target Zone
If we want to calculate the target zone for a breakout there is a simple and a mostly accurate way to do this. You Take the Highest point in the Pattern and the lowest point. Calculate how many Pips/Points or Percent it is and then adds it to the point where the breakout started.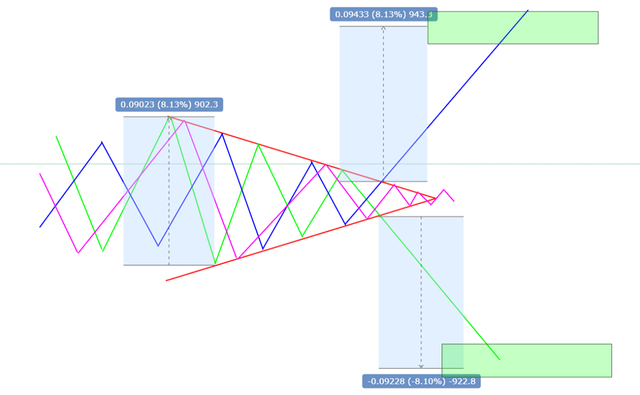 Stop Loss 
Now we know how to trade a Symmetric Triangle but what if something goes wrong where do we set a Stop Loss to prevent yourself from a big loss. When Peoples talk about Stop-Loss their opinion is split as wide it`s possible... I personally think it also always depends on how much you invested in that trade. For example, someone who is Trading everything with 1% of his Portfolio I personally think he doesn`t  need a Stop loss at all... But someone who is trading with 50% Portfolio and also use a leverage, I would definitely recommend him a smart Stop-Loss. So overall there is no right or wrong way but let me give you an idea which I think would be smart to use.
I would recommend you to use a Stop Loss Zone which is a bit below the Triangle Trendlines like you can see it on the Image.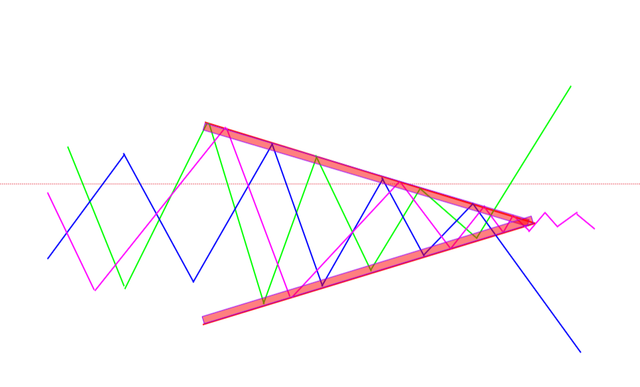 Trade an Ascending & Descending Triangle
Trend continuation or reversal Breakout
An Ascending or Descending Triangle breaks out in a trend continuation or in a reversal. When we trade one of these Triangles we are always facing a support or resistance level. which means most of the time we are trading it during a trend. 
Here some examples a breakout could like 
 Ascending Triangle Trend Continuation Breakout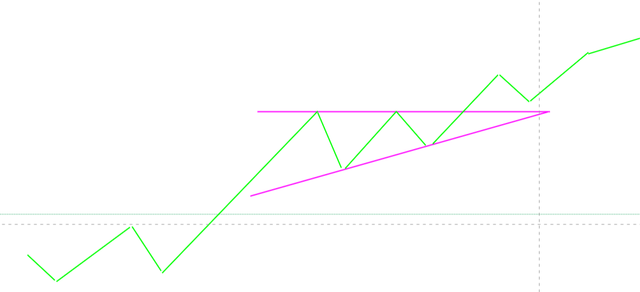 Ascending Triangle Trend Reversal Breakout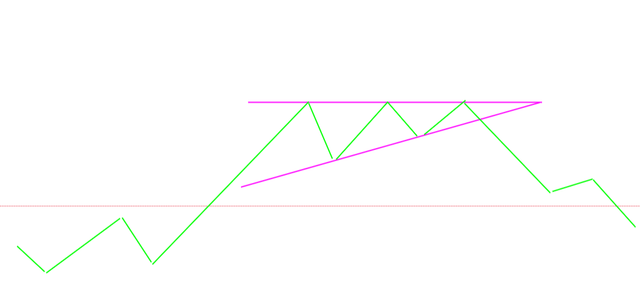 Descending Triangle Trend Continuation Breakout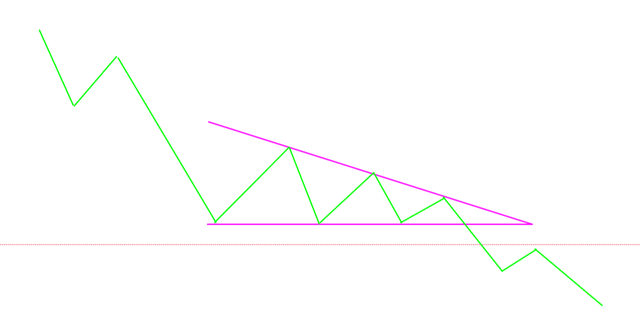 Descending Triangle Trend Reversal Breakout 

 These are the possibilities a Descending or Ascending Triangle can breakout. In general, we Trade them in the same way as we trade the Symmetrical Triangle Patterns. 
Pitchfork for Entry Points and prevent from fakeouts
Target Zones calculated on Highest and lowest point inside the Triangle
Stop Loss zone a bit below the triangle trendline which got broken through the breakout.
Let's see how this looks in a real Market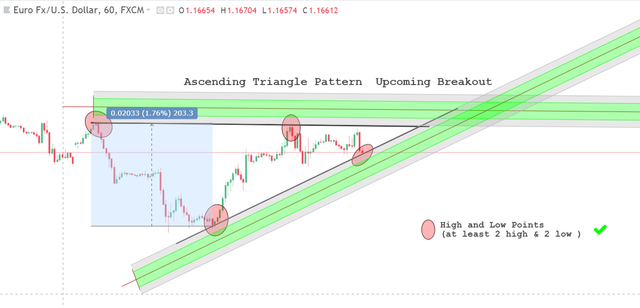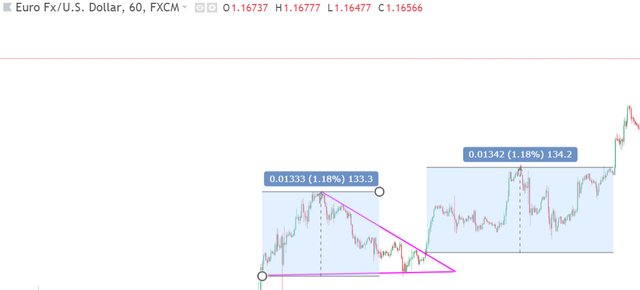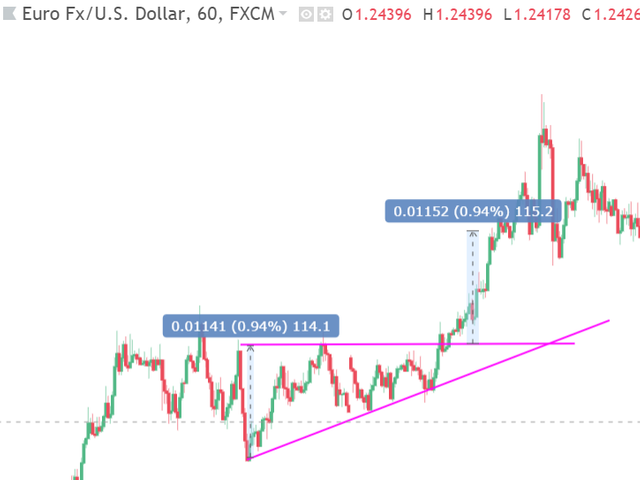 As you can see in the real market they are not that easy to spot and they do not look as perfect as in the theory. But if you are used to it someday you are able to recognize them pretty fast in the market and you get an eye for it.  
Summary
I think Triangle Patterns are a really accurate and solid technical Analysis Pattern. They are simple to understand and once you get used to them you can draw them pretty fast and take your decision on a Position. I hope I could explain to you how the technical analysis of a Triangle Pattern works. If I did everything right you know now how to spot them, set entry, exit, stop loss points & you are confident with them.

Additional Notes
If you are struggling to spot a Triangle in the beginning or you don't want to spend that much time to find them. You can google the keywords "Chart Pattern Scanner" or "Chart Pattern Recognition" you may find some pretty solid software or Web sites which provides you with chart patterns. Mostly you can select to search for certain patterns like triangles.
My goal is to make the world trading fit with my blog. I try to explain everything as simple as possible and make it available for everyone. If you share this Article you can help me making more peoples Trading Fit. If you have any critic or an idea for a next article leave me a comment and I try to answer you as fast as possible or will write an article if its a certain Theme.
Daniel