'Stache My Crypto 21 - Bitcoin 2020 Conference; Pushing Adoption Through Conversations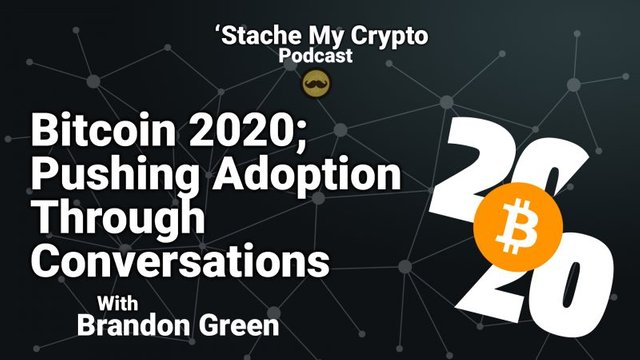 There are few things I like talking about more than Bitcoin! I think having real world conversations with people, especially those new to cryptocurrency, has the biggest impact on changing the paradigm of "sound money". In this episode, I talk with Brandon Green from the Bitcoin 2020 Conference in San Francisco.
We talk about the event, highlight some speakers like Tony Hawk, and even drop some hints to some unannounced speakers. All this really leads into our conversation about Bitcoin as a while and where it is going in the future. 
Why spend USD in space or on Mars when there is Bitcoin?!?
(Unsupported https://anchor.fm/cryptostache/embed/episodes/Stache-My-Crypto-21---Bitcoin-2020-Conference-Pushing-Adoption-Through-Conversations-eaqnb4)
[adrotate group="6"]
Links From The Show
Get Tickets to Bitcoin 2020 Conference
Follow Bitcoin 2020 on Twitter
Hope you enjoyed another episode of the 'Stache My Crypto podcast, until next time...
---
Posted from my blog: https://www.cryptostache.com/2020/02/13/stache-my-crypto-21-bitcoin-2020-conference-pushing-adoption-through-conversations/
---