The $400 Billion/yr Hacker Exploitation & $170 Billion/yr Cybersecurity Industry

This Article we will be addressing cybersecurity in relation to the Blockchain Industry specifically what I share with you will be a valuable complete understanding of this industry broken down into two sections. The first section will be for a basic understanding concerning every important aspect of cybersecurity & the second section will be an in-depth review of Polyswarm the only established small market-cap project finding solutions in a modest $8.5 Billion nitch.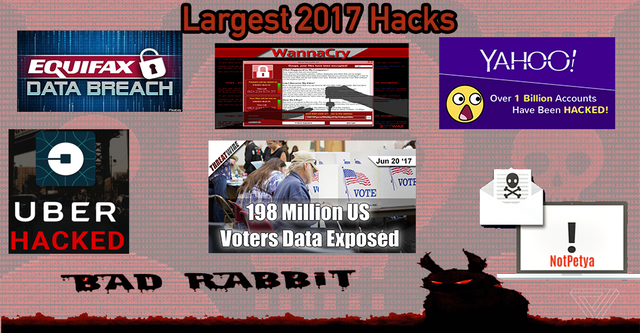 Let's talk cybersecurity at this point in time it is a make-believe word as most individuals have given up on the 'security' aspect of anything to do with personal information online. Can you blame us? Look around our government gets hacked every election cycle, the places we trust to spend money at like Amazon, Target, Apple have flaws exploited yearly. Even at the highest level of trust, put in our credit reporting agency is trash as we saw in the Equifax exploitation & hack in 2017. Affecting 143 million Americans social security cards, banking & credit information.
We as people have grown accustomed to being exploited online, to the point we have grown numb to the overall frequency attacks take place without really diving into the numbers we are ignorant to the biggest epidemic & sacrifice of the 21'st century. What will shock you is the yearly cost hackers cause the global economy which comes out to represent $400 Billion Dollars a year. The statistics are so high the numbers seem to be make-believe, however, this is an epidemic that's growing +10% a year in size.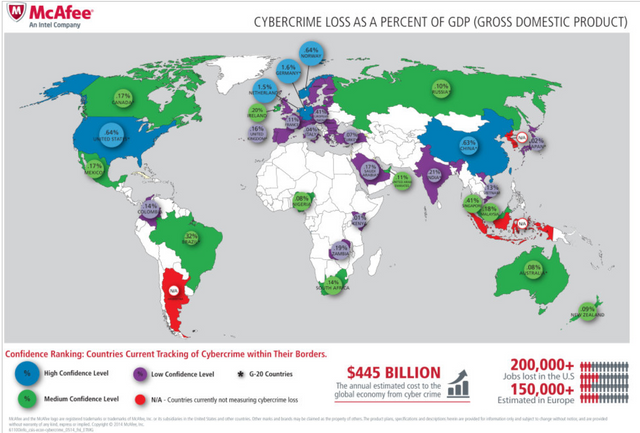 Governments, Corporations & Individuals are expected to spend accumulatively $170 Billion dollars on defense against these threats yearly by the year 2020, & it makes sense in retrospect to losing secure & personal information, trade secrets & the long-term effects an attack has on a companies revenue & brand reputation.
Let's break down the current centralized solutions in this industry & their current size: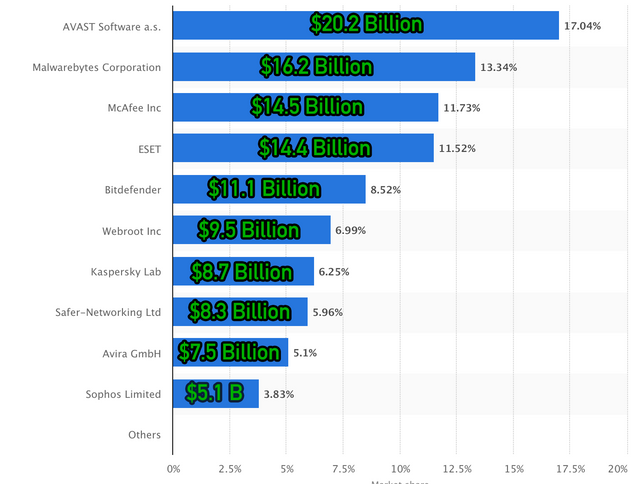 Keep in mind these numbers are not exact as its hard to gather exact price data on private companies. However, this data should serve as a general estimate of the scale expected when dividing into the major companies in relation to market size. For time sake we are only going to focus on Mcafee as its located in the middle size wise in relation to this industry.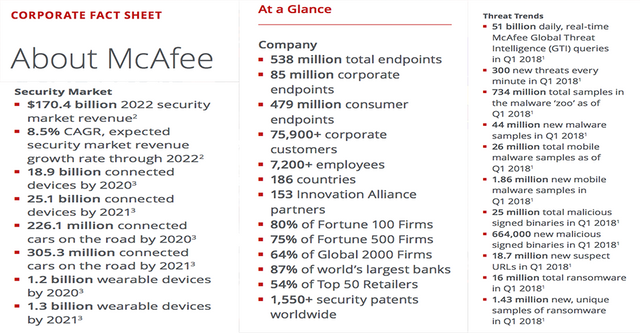 From a quick breakdown, we can gather a general idea of the scale this company operates within. An impressive 8.5 Compound annual growth rate, 85 million corporate endpoints, 479 million consumer endpoints, 7200+ employees, protecting 87% of the worlds largest banks.
Important things to note on the volume of attacks Mcafee sees yearly: 300 new threats every minute which comes out to be 158 Million threats a year. 25 million total malicious signed binaries in Q1 of 2018 equates to 100million yearly. 18.7million suspected URLs in Q1 correlates to 74.8 million yearly. And 16 million total ransomware in Q1 rounds off to be 64 million yearly. Keep in mind this is only the attacks seen by one company.
At a glance, these numbers are insane & it makes sense why John Mcafee lost his mind after launching this business by the sheer size and constant attacks 24/7 it's too big of a responsibility for any centralized company to handle.
My overall conclusion from the research I have been able to gather is all major cybersecurity companies in this field are competing against each other as they fight to create a single solution for all the consumers they are responsable for protecting. Specifically, their downfall and why hackers are still able to prevail is because the protection is limited to a single solution there is no cross-collaboration setup.
Now is there a better way to go about cybersecurity in the future? What place if any will blockchain have in helping protect companies and individuals from attacks & hackers? The opportunity & value potential is there for any company willing to break away from the norms of a centralized security solution & establish something truly revolutionary. From my research theirs only one company I've been able to find attempting to think outside the box & establish a dynamic complete solution concerning the first cybersecurity ecosystem. Located at a meek $4 million dollar market cap Polyswarm is setting up a foundation to enter in a $170 Billion dollar cybersecurity industry with little to no competition in site.

This is a small market cap coin with little volume which correlates to HIGH RISK / HIGH REWARD, and should be seen as a hold investment there are many good attributes of the polyswarm project and few flaws. I'm here to state the facts & give you the information so you can make an honest assessment on the opportunity if any this project holds.
60 Second Breakdown
PolySwarm defines a real-time threat detection ecosystem involving
enterprises, consumers, vendors and geographically-diverse security
experts. Experts develop and hone competing "micro-engines" that
autonomously investigate the latest threats, attempting to outperform
their competition. PolySwarm's "Proof of Work" is threat detection
accuracy: the market rewards experts who are best able to defend
enterprises and end users.
Relative to today's ad hoc market, PolySwarm will lower the barrier
to entry, provide broader coverage options, discourage duplicative
effort and ensure interoperability among products and threat
intelligence feeds.
Economically, PolySwarm functions as a skill-required twist on a
prediction market2 with thousands of micro-engines ("workers")
investigating the latest in malware evolution at machine speed - no
human in the loop.
PolySwarm will be developed by PolySwarm Pte. Ltd. with funding
derived from the sale of ERC20-compatible Nectar ("NCT") utility
tokens.
As a utility token, PolySwarm economically disincentivizes Nectar
speculation by rewarding honest market participation through the
collection and distribution of Fees to valueadding,
active participants.
---
Expanshion / Open Positions
In all from the information, I can gather on the team they have a stacked house as far as experience is concerned. The fact that they are expanding is also a good sign the only Issues and concerns I've held with the team overall is how all the founders are a branch off from the same company called: Narf Industries Which hasn't seen updates since 2014. I specifically reached out to the company for a comment & this is the response I can relay to investors:


Strong Advisors


From a former CIO of MCAFEE to the U.K. Democratic Party Treasurer & other leading companies within the security space, the advisors this company has been able to acquire are strong. I'm only going to list the top 3 most prominent & extinguished advisors but a full list can be found here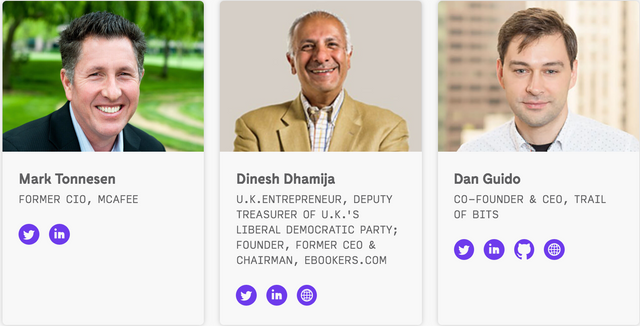 White Paper the Quick Breakdown
Now theirs a lot of good attributes, unsure attributes & concerns in relation to the white paper all will be addressed in this article from my honest perspective. At its core, there are 4 roles within the Polyswarm Ecosystem which all play a specific role in the overall cybersecurity infrastructure this team is looking to establish.

| Role | Important Things to Note |
| --- | --- |
| End Users | Have no direct correlation to 'NCT' Price they work directly with Ambassadors who provide security solutions via the normal subscription model. |
| Ambassador | Directly work with End Users and partner problems faced by the company with the Polyswarm ecosystem they facilitate either a Bounty for all Experts to compete on or an Offer to a direct Expert. The Ambassador determines the value of the bug 'NCT' & correlates the solution to their client. |
| Experts | Stake their own 'NCT' as a bid against other Experts opinions which make up the Bounty + Expert pool. The Experts who are correct collect the overall Bounty where the Experts who were wrong lose their 'NCT'. |
| Arbiters | The top-echelon of Ambassadors that are responsible for determining the malintent ground truth of the facts presented by the Expert as a final protection of the overall system. |
Overall the dynamics are specifically set up as a cross-examination middleman that's currently missing within the industry, as you can see from this diagram the scheme of the operation and the highlight is how Polyswarm is able to call on multiple Experts prospectives to freelance out solutions.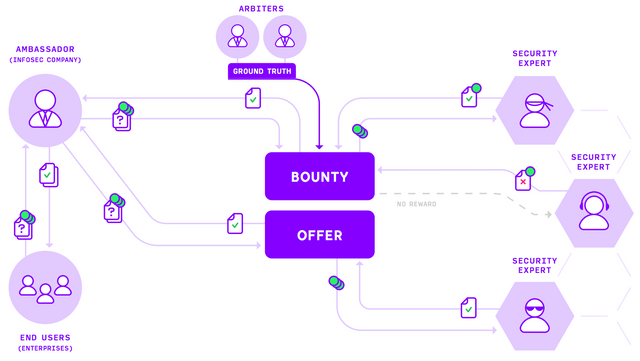 Everything is Dependent on the Experts
This is the key to the Polyswarm project and the 'golden ticket' attribute that determines the fate of this Cybersecurity Ecosystem. How this company moves forward & builds out the expert dynamics is the key to success that will determine the fate of the project. Though this project is still in development to give a general idea of the current sale we can look into their stats of the Discord & Telegram communities Polyswarm has built out:

The discord is inactive concerning user activity through the team is very friendly & online when approached. The Telegram seems to have new activity daily which is a strong sign of the overall interest & flow entering within the community.
Goldent Ticket: Students, Students, Students
This is the most undervalued aspect of the project in my opinion that's needed for long-term growth filling in a nitch that's non-existent. You can tell the team realizes this in some regard as they have a Grant Program in place but if they are really to nail this industry this needs to be the driving force concerning expansion. As an inspiring student who has graduated, you are faced with roadblocks as companies are far & few in-between & require +5 years experience. It's hard for you to earn money and continue your education in a real world way so you can grow your resume. For example how do you prove your worth without real-world experience so you can show off your skillsets in a way that proves your worth & valuable to a long term employer? If Polyswarm focuses on this aspect alone their market cap & partnerships exceed all expectations as they can really help build out the next age of white hat hackers. Ideally, they act as the starting point after basics for people to get their feet wet in learning cybersecurity in a productive way. They rank and reward experts based on their job & help partner these experts with large corporations expanding polyswarm into a solid cybersecurity ecosystem and a ranking system as a recruiter. This will benefit the overall cybersecurity industry in a dynamic & productive way & it would allow experts the ability to start contributing & branch off which should be the end goal. In the end everyone wins and even though these experts are not bound soley to the Polyswarm project they have the real world experence & security in knowing they have a side hustle they can contribute to rely on and grow with so they can earn money and get that next big job breakthrough.
D-Day Guestimate
This is not exact & this is just an observers perspective on the timer concerning this project. On launch, we can assume they were able to acquire a solid ~$15million dollars by checking coinmarketcap's public history. Let's assume the whole time the size of the team has been constant thoughout development though not true providing the worse case scenario concerning funding this company has leftas the main expense should be employees in its current state 15 employees x ($100,000 a year [Salary] / 12 months) x (7 months operational) = -$875,000 Spent overall. I state this as to illustrate this company has plenty of wiggle room and limited risk concerning the current discount in valuation located at a steal of a investment with a $4million market cap valuation.
Where is the Project at in Development?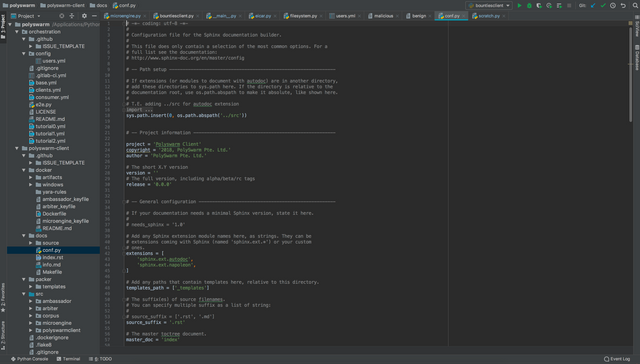 This post is getting extensively long so I won't spend too much time explaining the interworkings I plan on making individual videos demonstrating the technicals from their public github. However, from what I can gather, they have nailed Alpha V0.1, Beta V0.2 & Gamma V0.3. With the Polyswarm 1.0 Mainnet launch scheduled for December of 2018 which is right around the corner.

This as an investor with everything else I've illustrated within this article should serve as a solid starting point to do your own research & should give you confidence as an opportunity investment worth atleast following. Polyswarm taking on the exciting & expanding field of desentralized dynamic cybersecurity protection.
Check Out My Other Works if you Found this Informative & Subscribe for More!
Donation address BTC: 1McSRwWWN1E7mvTwVjhN7a61PYS8pgpcb8
Personal Crypto Potluck Discord Community