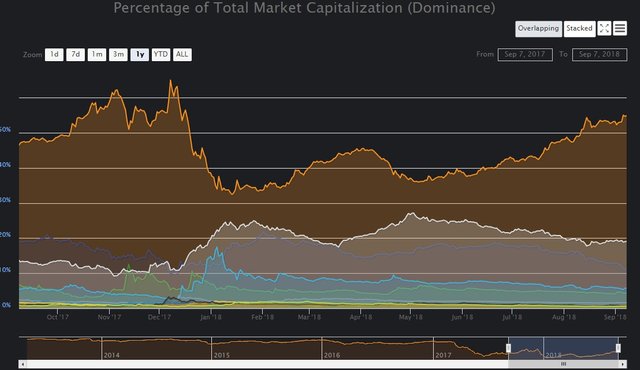 BTC dominance is one of the most important and overlooked indicator on the market. Most people focus on market cap, volume or USD price of the coins. Professional traders stop trading alt coins when BTC dominance is extremely low due to the risk that the market is due for a correction. They get eager when BTC dominance is quite high because that means alt coins are at a discount.  There are several factors that affects the market and the valuation of alt coins. 
Understanding Alt Coin Pricing
It is important to note that mathematically BTC's price determines every single alt coin's USD price. If you look at coinmarketcap, you will see that 90% of the coins do not actually have USD markets even though they have $ price tag. The dollar amount that is attached to a coin is calculated based on it's BTC valuation. For example, Power Ledger does not have a USD market and it is valued at 0.16$. 0.16$ is calculated from 0.00002570 BTC on the current price. If BTC goes 10x, Power Ledger would be valued at 1.6$ while being valued at 0.00002570 BTC. Therefore, when BTC is down it is impossible for most alt coins to reach a new all time high.

Understanding BTC Dominance
BTC dominance is calculated by taking Bitcoin's Market Cap and dividing it by the total market cap. That indicates how much of the money in the market is invested in Bitcoin. This is an important indicator because it tells you whether the alt coins are overvalued or undervalued. If BTC dominance increases that means that either people are selling their alt coin positions or Bitcoin is increasing it's market cap faster than alt coins. When BTC dominance is around 55% that is when we see alt coins hit all time low. On the other hand, when BTC dominance is around 40% we see altcoins making all time high.
For example, many of you would remember around December 10th when BTC was making new all time high just before the features were released, we have seen one of the lowest prices in altcoins.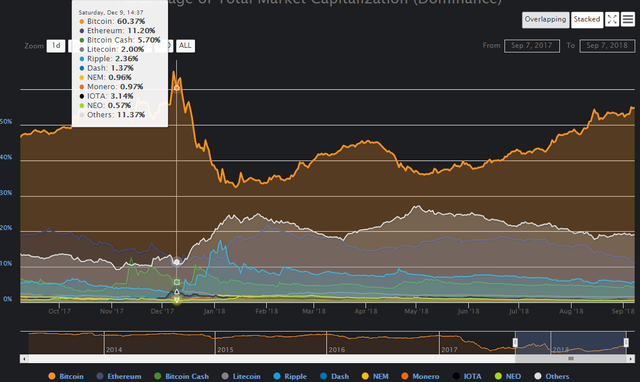 Also, right after BTC features were released, BTC dominance starting falling rapidly around January 10th. Most alt coins were gaining high double digits every single day.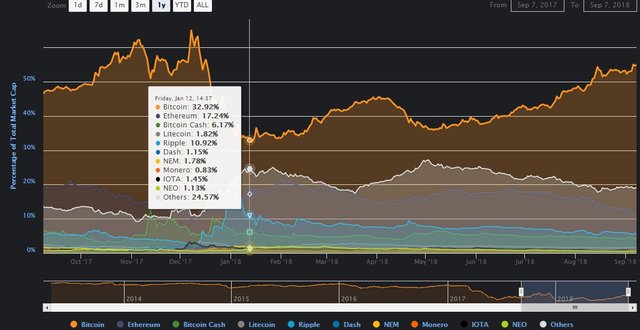 Buy Bitcoin safely from Coinbase :
https://www.coinbase.com/join/599391b0ebee84020a333d37?src=ios-link
My Favorite Exchange Binance:
https://www.binance.com/?ref=10806285
No trading fee exchange CoinEx :
https://www.coinex.com/account/signup?refer_code=rngkt