The entrepreneur and author of Mastering Bitcoin Andreas Antonopoulos is one of the strongest, most influential and well-respected Bitcoin voices. Here is why.
In defence of bitcoin
"Bitcoin is the internet of money. Bitcoin is the de facto money of the internet. Does that mean that Bitcoin will always be the internet of money? No. Does that mean that bitcoin will always be the de facto money of the internet? No. What is special about bitcoin is that it represents the open blockchain, the blockchain that offers anonymity, censorship resistance, open access and innovation without permission."
This is how Antonopoulos commented on the contraposition of blockchain to bitcoin, an effect caused to a great extent by the overwhelming interest in blockchain demonstrated by the banking sector since 2015. During the talk delivered on 12 May 2016 at EMEA FinTech Talks in Milan, Antonopoulos stated that the only currently existing open blockchain that has actual disruptive force is bitcoin:
"The open blockchain will change this world and today there is one open blockchain that matters and that is bitcoin. I can't predict that it will always be the only open blockchain that matters or the dominant one. Why? Because it's not the best. But in technology very often best is not what wins."
A similar opinion was expressed earlier in 2016 by the founder of BitHope.org Vladislav Dramaliev in an interview with CoinFox, as he was commenting on the love/hate relationship between financial institutions and bitcoin:
"Permissioned blockchains are an interesting concept and I will be curious to see their real-world implementations (that will be beneficial to Bitcoin). However, I do not believe that these solutions will be able to compete with the Bitcoin blockchain in the long term. It will be always cheaper, easier and more secure to use the Original Blockchain. Moreover, I am positive that in time it will be developed even further and it will be able to accommodate many other types of assets."
Recently, Antonopoulos reiterated his arguments in favour of the unique status of bitcoin's blockchain in an AMA thread on the Chinese cryptocurrency forum 8BTC.com. He argued that the Proof-of-Work consensus algorithm with rewards based on a native currency "allows for an open and global blockchain, which is the most useful kind of blockchain." Currently, there is only one substantial system of this kind, Antonopoulos pointed out, as quoted by Bitcoin.com:
"The focus on "blockchain" … is misguided. The most useful blockchain is the open, global, transnational, decentralized, uncensorable, open-to-all, immutable, innovation-without-permission blockchain. For now, we have only one of those at very large scale and that is Bitcoin."
Focus on education
Antonopoulos has been quite persistent in educating the public about bitcoin, blockchain, decentralisation and cryptocurrencies in general. He published the technical guide Mastering Bitcoin, which has been praised by the likes of Gavin Andresen, Naval Ravikant, Balaji S. Srinivasan and Roger Ver.
Antonopoulos is also one of the driving forces, together with Antonis Polemitis, behind the Introduction to Digital Currencies online course launched in 2013 by the University of Nicosia in Cyprus (UNIC). The first free MOOC on digital currencies and the first course in the UNIC's English-taught program me for MSc in Digital Currency covers "both a technical overview of decentralized digital currencies like Bitcoin, as well as their broader economic, legal and financial context." In May 2016, the first class of the MSc in Digital Currency graduated after 18 months of study. The next generation of prospective bitcoin and blockchain experts started their course on 6 June. Finally, Antonopoulos is also the permanent host of the Let's Talk Bitcoin podcast.
in June 2016, at the Blockchain Training Conference in Toronto, Antonopoulos delivered a talk entitled Investing In Education Instead Of Speculation.
The principal message of the talk addressed a widespread misconception about bitcoin and other cryptocurrencies that what they are only good for trading and speculation:
"It's a big mistake to treat these technologies as stocks; yet it's a common misunderstanding because they look like stocks... they've got price, they trade, they have volatility, we can look at volume and graphs and things like that, but of course these are not equities..., bitcoin isn't a company."
Instead of playing with numbers and prices, Antonopoulos recommended to develop cryptocurrency-related technical skills, which at the end of the day are not volatile, are completely transferable across chains and provide a secure professional future for those who have mastered them.
Decentralisation, Power, Evolution
In May and July 2016, Antonopoulos delivered two massively important statement talks, in Milan and San Francisco respectively. At the Bitcoin Milano meetup on 11 May 2016, the charismatic crypto expert combined evolutionary biology and cryptocurrency history, arguing that bitcoin represents an entirely new species of money:
"In my opinion, with the invention of internet money, we now start to see the first model for a network-centric evolution of money where different forms of money compete as species. And they compete by finding an environmental niche and adapting to that niche through simple competition."
Reflecting on the uneasy relationship between the banking sector and bitcoin, Antonopoulos said:
"Bitcoin is not going to destroy central banks. Bitcoin doesn't give a damn about central banks. Central banks are doing a pretty good job destroying themselves. And the reason is because we live in a world where billions of people have no access to finance, have no access to banking, have no access to traditional financial instruments. They operate entirely in cash in a single currency, isolated from the rest of the world, and that is an environment into which bitcoin can thrive."
Importantly, Antonopoulos also predicted a surge in the development of peer-to-peer lending:
"I think lending itself is changing and not just because of bitcoin but bitcoin and other currencies will accelerate it. I think we're going to see the emergence of massively global peer-to-peer lending and I think that type of peer-to-peer lending will require a lot less intermediation. So will banks still have a role to play? They can act, especially at first, in the transition period, as guarantors, as underwriters, as providers of reputation metrics and things like that that are required in the early days of the system."
Later in July, Antonopoulos spoke about decentralisation and the architecture of power at the D10E in San Francisco, saying that "decentralisation is not a scary thing. It's a promise of hope, it's a promise of hope for a form of organisation of our society that can create new opportunities for everyone."
"And so," he continued, "what we are looking at right now is establishing an architecture of freedom that allows us to change the nature of social institutions. This is not about payments. Payments – just the first app. This is about understanding that we now have through internet protocols the ability to redesign the mechanisms of social organisation, to create systems that are egalitarian, that provide autonomy, independence, freedom of conscience, freedom of expression and empowerment for millions and billions of individuals around the world, simply by changing the shape, simply by choosing decentralisation."
Thus, Antonopoulos emphasised once more that bitcoin cannot be reduced to a blockchain, just as the blockchain technology cannot be reduced to a record-keeping tool. The distributed ledger, when widely implemented, will result in disrupting much more than the domain of payment systems. It will actually affect the distribution of power and thus the very structure and organisation of our society.
"The technology behind bitcoin is not the blockchain," Antonopoulos summed up. "The technology behind bitcoin is the architecture of decentralisation. That is the thing that's magical."
Diana Bogdan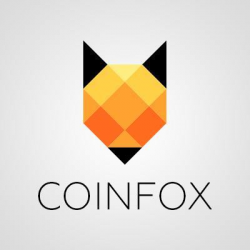 We are coinfox.info
We hope that you will appreciate our work.
We will be happy to hear your comments and suggestions.
Follow us on Facebook