Bitcoin breaks major resistance above $6k. Is the crypto winter really over?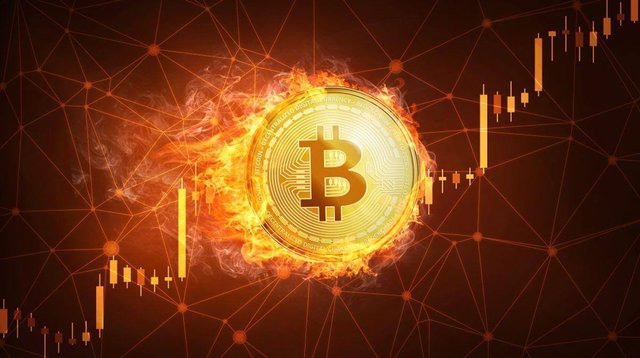 Note: I am not a financial advisor nor a crypto or blockchain expert. I respect whatever opinion or thoughts you have after reading this article. I'm just stating my own thoughts.
It looks like we are on the positive uptrend. #Bitcoin slowly gained momentum now and reached this year's high of $6.3k. As of today, it was hovering around $6.2k to $6.3k. Not even the recent Tether sham news, massive Binance BTC hack and Republican congressman Brad Sherman proposing an anti-crypto bill could stop the bullish momentum of Bitcoin. 
However, is the winter in the cryptoverse really over? 
Let's take a look where the winter began and how it slowly turned bullish now......
I've been observing the crypto market since the day I began to start investing into cryptocurrencies. It was the time when #Bitcoin rose to its all-time high of almost $20k. After it stabilizes hovers between $11k to $15k, that's where the bears took over for most of 2018.
Yes, yes and yes! The bears won last year! 
Not the Chicago Bears, lol. It's the crypto bears! I called 2018 "The Great Bitcoin Crash", where from almost $20k down to almost $3k. Same thing goes to #Ethereum, where it also experience all-time highs of almost $1.4k and drops down to around $84.
I have to be honest with you guys and gals. 2018 was the hardest time of our lives as cryptonians due to several factors such as Facebook ads ban (they now revert that), worldwide regulatory stuff that scares new and inexperienced investors, exchange hacks (even #Binance isn't safe), South Korea banning ICOs (now they reversed it with regulatory control), China's cracking down on Bitcoin mining facilities, Warren Buffett calling #BTC a rat poison, and countless FUD/bad news out there.
Even Consensus 2018 in New York didn't help pump the price (where it has a history that it pumps every year after this event). During that time, Bitcoin was hovering around $6,200 to $6,400 before dropped even further. 
Some analysts believed that time cryptocurrencies will recover in the Q4 of every year. Well, not last year though. As the year ended, Bitcoin's price was at $3.9k and started the New Year hovering around $3.7k to $3.8k. It was indeed a rocky and bloodbath year for all of us.
I was hoping that 2019 will be the year of the recovery for cryptocurrencies. However, it's not that easy. There's a time that Bitcoin dropped down to $3.4k somewhere in January 2019 and was struggling to gain bullish momentum until it touched down $4k in the middle of March.
Until something happened on the post-April fools day.....
This was the day that everyone was fooled, right? Even me, I was fooled. But on the other side, it was a blessing. After April fools day, there's a sudden pump of Bitcoin and other cryptocurrencies. From April 4 onwards, it spiked to $5.1k. Last year, April was the time that Bitcoin and other cryptocurrency holders are withdrawing some of their funds to catch up the April 17 tax deadline, which pulled back its price. But for this year, it doesn't affect the price a lot.  
As massive adoption continues with the introduction of the lightning network, companies like JP Morgan, Facebook, Samsung and Nike issuing their own tokens, Bitcoin and other cryptocurrencies are slowly gaining bullish momentum. 
Not only that, there's a better understanding about the regulatory side that would not create fear for the investors. 
The rise of security token offerings (STOs) and initial exchange offerings (IEOs) could also prove a point that the cryptoverse needs to be regulated to protect the investors from certain scams and so on. 
To be honest, I'm in favor of regulating crypto startups who are launching their token sales to the public. I'm also being scammed by few projects before because the ICO market is unregulated and investors like me are holding all of the risks. This is where STOs and IEOs are the next big thing in the cryptoverse.
Recently, Galaxy Digital CEO Michael Novogratz said that Bitcoin would spike to $20k in 18 months from now. For me, analysts like him could predict all they want. Either they're wrong or right, for me it's hard to predict nowadays.  
Is the crypto winter "really" over now?
As much as I would like BTC, ETH, #XRP, #BCH, #LTC and other cryptocurrencies to go up and recover, I can honestly think that I'm neutral to this. I don't want to predict like the other analysts out there, but anything could happen in months, weeks, days, or even tomorrow. 
I can't say that the crypto winter is finally over. I would think that there might be some sort of pullback below $6k before the mini-bull run starts again. Like the recent Binance hack, there's a new info that the wallets of these hackers start moving, and a possibility of retracing when it tries to break the $7k mark. 
Another scenario is that they would wait for the market to go all-time high before starting to pull it back. It's a possibility, but I could be wrong. The market is so unpredictable these days. 
Thank you so much for taking your time in reading my blog post. Feel free to share this to your friends if you think this blog post helps you a lot. If you want to stay updated of my latest blog post, don't forget to follow me here on Steemit.
Stay tuned for my next blog!
About Jeff
I'm a passionate crypto enthusiast, trader, bounty hunter and consultant for almost two years. I'm also a part of MetaMorph Pro development team as event coordinator since April 2017. I'm also working with Vibe PH as event organizer of VIP blockchain and corporate events. I'm also hosting and attending several blockchain meetups, conferences and summits in the Philippines and overseas. You can follow or subscribe to me on Youtube, Facebook, Twitter, LinkedIn and Telegram.