BTC TA (Technical Analysis) - ANALYSTS DAILY SUMMARY - JUNE, 20th
BTC TA ANALYSTS DAILY SUMMARY - JUNE, 20th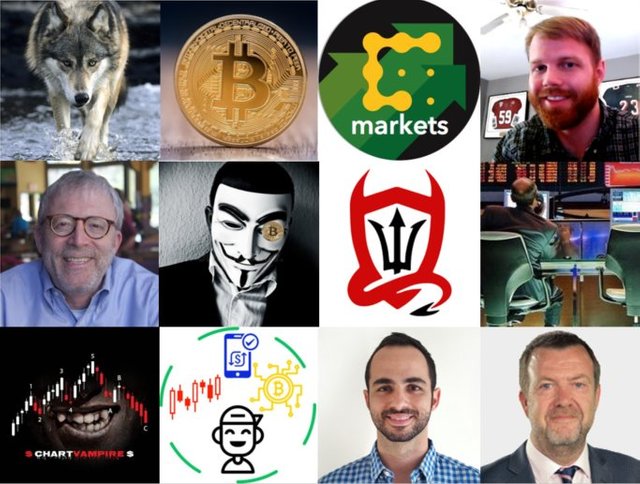 SENTIMENT SUMMARY

ANALYSTS OPINIONS
JD MARSHALL
Type of Trader: Medium/Long Term Trader
[Macro argument is that BTC is consolodating at these levels and building steam for higher highs in the FUTURE is still his macro perspective. In his opinion we're not seeing BTC reaching all time high any time soon. BTC next big resistance is the top of $9990. Since Feb. BTC's seen 3 major bottoms around the 6k-7k level. Which is an indication of forming higher lows and confirms a macro bullish trend (Green Line on Chart). Patience will be the key word for medium/long term investors in the BTC Market]
Expect recent rally to loose steam and price will fall over, as we're not seeing much volume accompanying the moves higher, which is a sign of weakness. Marshall doubts that we'll be able to break the $7600 level. If we are unable to break the $7500-$7600 level, BTC break downward and retest $6.4k and even $6k.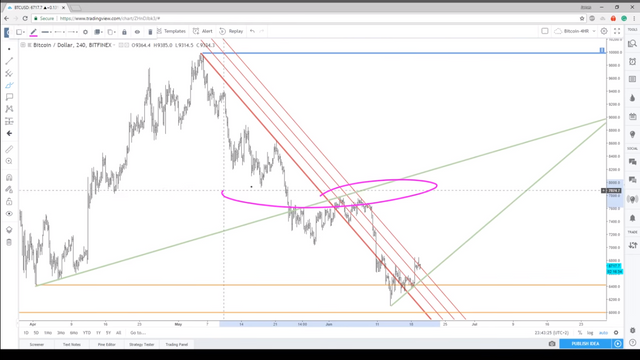 Crypto Guru (NO NEW UPDATE)
Type of Trader: Short Term Trader
Bitcoin is getting ready for a bounce based on indicators on the daily and weekly. Stoch RSI is oversold / aligned on both time-frames and MACD is ready for a breakout. Lastly, check out what happens each time the RSI gets to this level.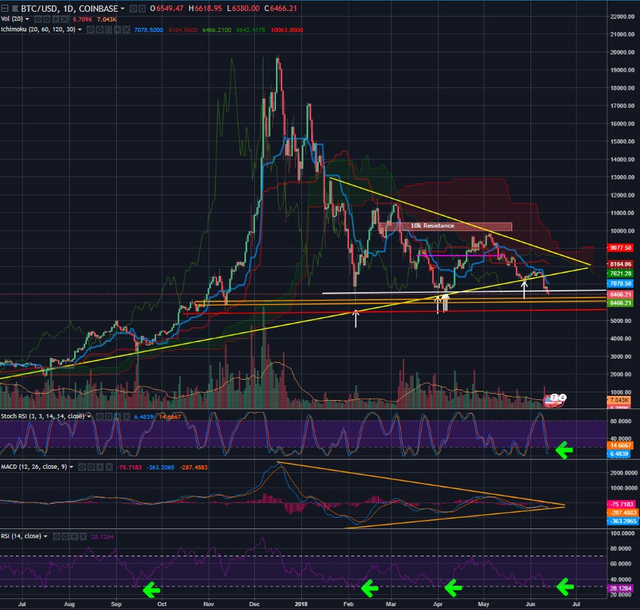 CoinDesk Markets
Type of Trader: Short Term Trader
BTC bounced strongly off the yellow trendline while price attempts to stay above the 12 day EMA, which has acted as strong resistance the past two days
The trend would become bullish, longer term, only if the lower high pattern is broken ~$7805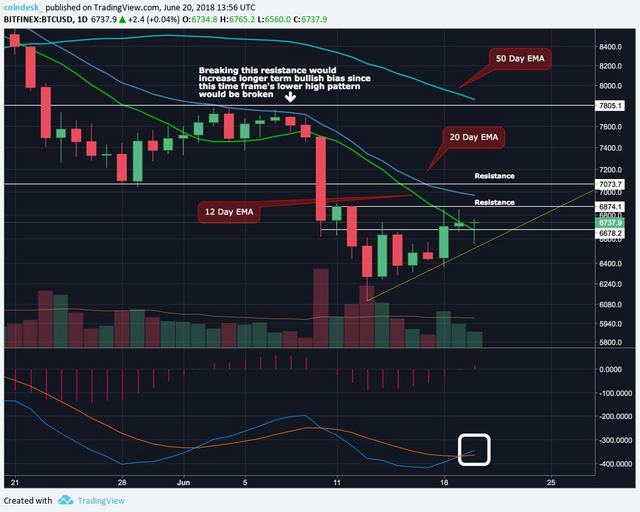 Trading Room
Type of Trader: Short Term Trader
BUY $BTC 4500-5400 Zone
We have clearly defined the logic and support zones. Please check the chart & read comments. Forget 3000, we are not going there for this down leg.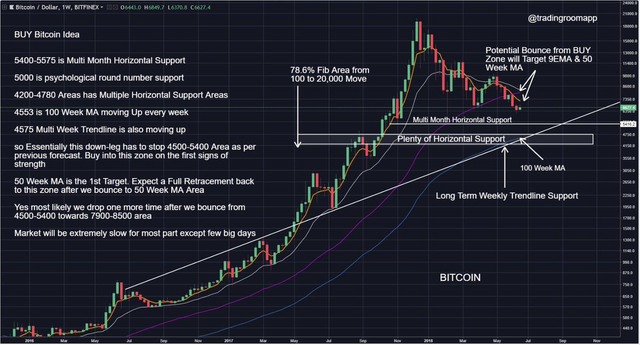 Nick Cawley (NO NEW UPDATE)
Type of Trader: Long Term Trader/Investor
The weekend's heavy sell-off continues with all tokens showing double-digit losses. The charts also look ominous with recent support levels broken seemingly with ease, indicating a floor has yet to be found. Some of the hardest hit tokens are now nearing multi-month lows, wiping out any gains seen in 2018.
Bitcoin (BTC) – Support @ $6,438 (currently being tested), $5,932 and $5,622.
While the market may be showing no signs of recovery yet, any bounce back should be treated with caution while the long-term downtrends persist in all the major tokens. We also spoke about how cryptocurrency 'whales' are in control of the market and how the ongoing CFTC investigation into potential market manipulation is weighing on investor sentiment.
EXTRA OPINIONS
Crypto Bird
BTC's daily close gives a bit more bullish setup and one more confirmation to the hystorical support of6,9-7,2k zone.
much shows this test would be a follow-up after short retest of support 6,5-6,6k
RSI curving to touch 35
OBV a bit curved yet on higher highs n lows
MACD healthy look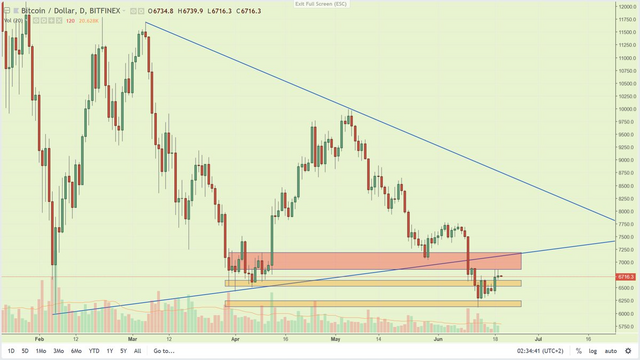 Daily
Looking at our trend timeframe we see price has close above $6,700 activating our short term trade. Momentum has heavily shifted towards the upside, expecting a push towards $7,500 however first we must clear $7,000.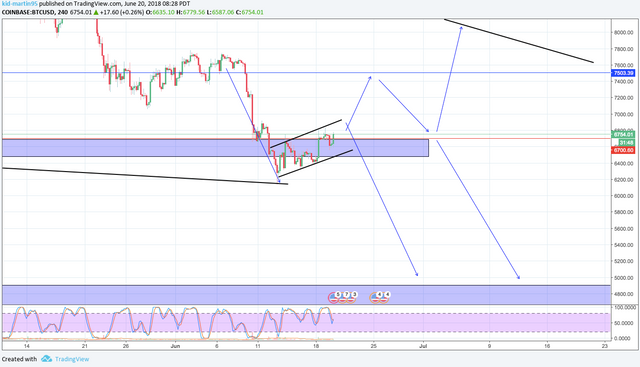 4Hour
Shifting over to our pattern timeframe we see price has formed a bearish flag continuation pattern, momentum has temporarily shifted towards the downside. A rejection from $6,800 and expect the sell off to continue towards $5,000, otherwise bullish until $7,500.
Conclusion
Buy: After Daily Close Above $6,800 / Bounce Off $5,000
Sell: NO