Recently ETH took all the places when it comes to hot crypto. Coming with the fork on 16th January, along with the significant update: Constantine, people, are FOMOing the news and try to grab ETH with hope for the free coins
Fundamental analysis
Ethereum has been quite gainer in the last year with a massive rise from $45 level to the extensive $1200 price range. In this year we have seen an enormous drop from $1200 to the low $87, and currently, Ethereum is trading around the $150 mark.
Before we go into the analysis, let's have a look at the real value of ETH. Apart from being a mean of payment and foundation of ERC20 token coin, ETH is mostly used as the first coin with smart-contract embedded, which make it useful for ICO to develop dApp and ask for funds via ETH platform and mechanism.
a
But
The ICO FOMO has been done in the last year, resulted in 2018 with low to zero successful ICO in the market. During this time, people only consider ETH in term of payment.
Technical analysis.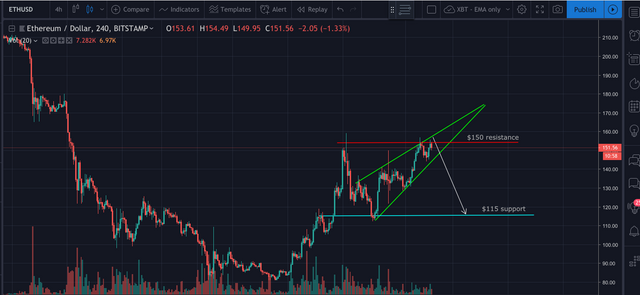 From the chart, we can see a huge rising wedge is in play, with a possible reatrace to the lower support $115.
At this point, I have setup my Short from $160 mark to even $185 level, with low leverage to ensure my liquidation point is around $220.