Wow This is some serious news everyone! My friend @tytran told me about a new rumors that Amazon may make an announcement soon about accepting Bitcoin!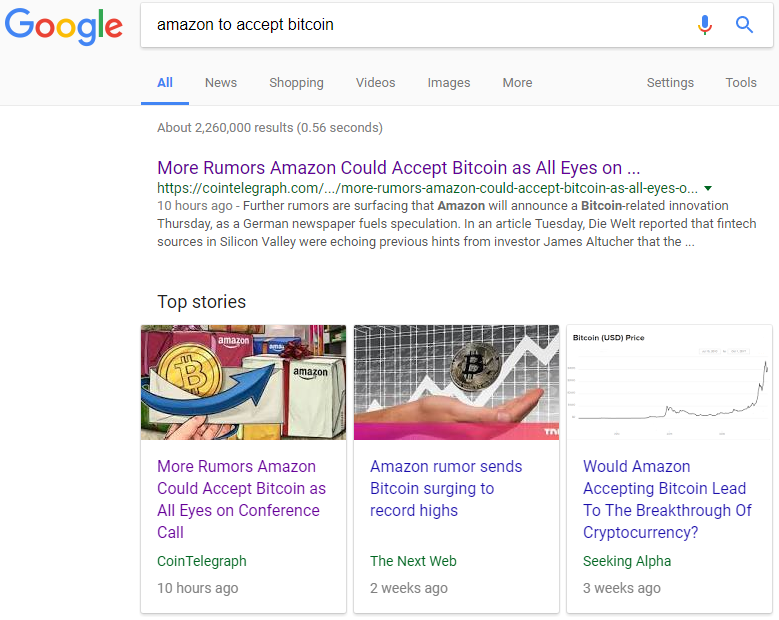 I was genuinely shockerd when I looked at all these headlines! Apparently a conference call about Bitcoin is making people go crazy! But if Amazon DOES accept Bitcoin oh wow imagine just imagine how high Bitcoin could go, and Amazon is a Huge company that sel so many essential items that living off Bitcoin would be seen as more possible by the mass public! Here is a screenshot of a Google Search of simply "amazon to accept bitcoin"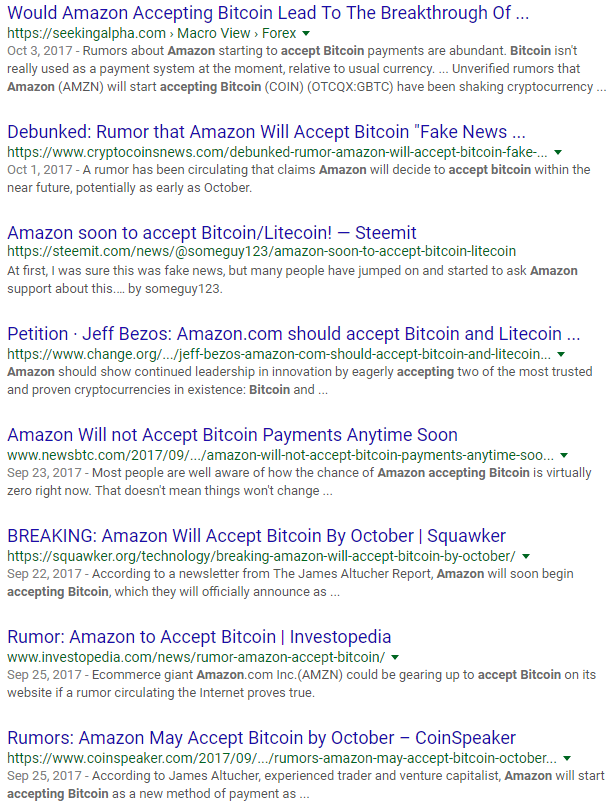 This could happen in a matter of days and I believe if Bitcoin Segwit2x Hardfork coin which comes out in November, if that version of Bitcoin is fast and has low fees then we could see all the big companies jumping on board, and if Goldman Sachs announces that they are buying Bitcoin then EVERYONE will want it! It will signal a MASSIVE Bitcoin Rush and who KNOWS which Bitcoin they might choose! Bitcoin Core might be left in the dust if Bitcoin Segwit2x is chosen instead by Google Goldman Sachs Amazon Walmart and all those big corporations.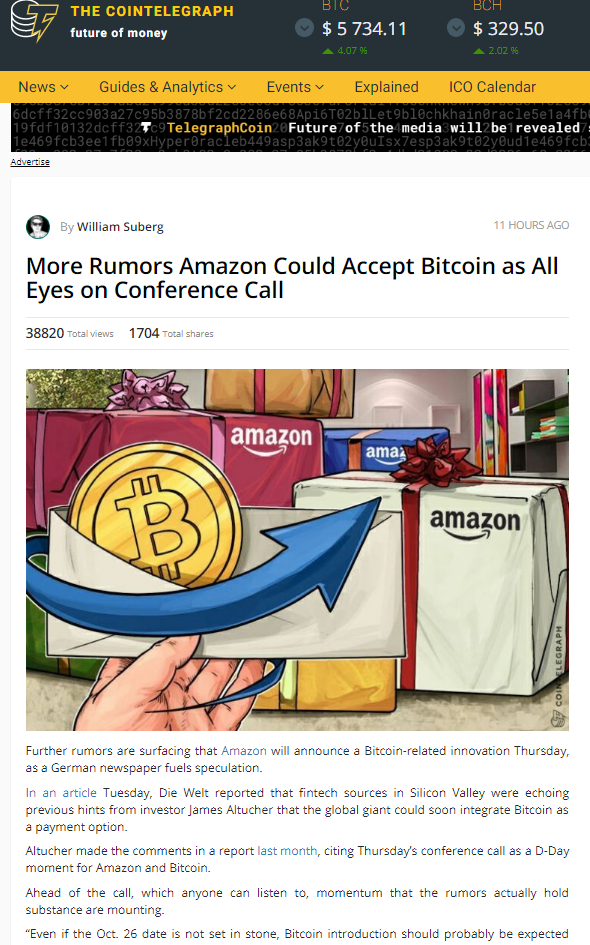 https://cointelegraph.com/news/more-rumors-amazon-could-accept-bitcoin-as-all-eyes-on-conference-call
Maybe even the FAANG companies Facebook Apple Amazon Netflix Google will all end up accepting Bitcoin because they are all digital online companies and Bitcoin would be a no brainier as it is a digital currency. After the hardforks are done and we have a solution for fees and transaction times then it makes sense that we would see internet companies using internet money. Some say they might skip over Bitcoin and have their own Crypto currency but I believe they'll need to use one of the Bitcoins or use an existing cryptocurrency because building your own corporate coin from scratch is harder than it seems because if no one believes in it no one will want it but if you made the cin tied in some way to a company like Google and made it tied to Google's Earnings like google Stock in a Crypto currency now THAT would be something would want and believe in! people will always believe in an Amazon coin or a Microsoft Coin, if the coins reflect the stock price of microsoft AND are used to PURCHASE microsoft products and services, so your hypothetical Google coin can be used to buy Ads with google ad-sense or Facebook coin can be used to buy ads on facebook, Amazon coin can be used to buy products on amazon, and so on... This would be very interesting... people would want these coins if they replaced actual stock shares somehow which they will eventually. Decentralized stock markets and decentralized corporations so transparent anyone can help the company to profit is the future!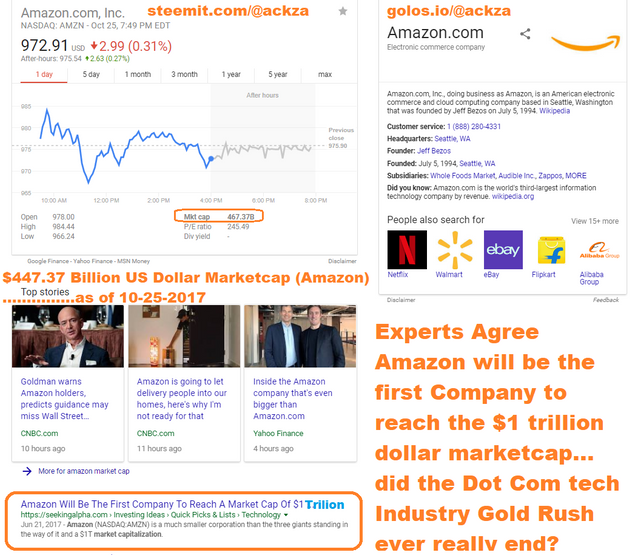 Seeking Alpha even has a story from this year (june 2017) about how Amazon will be the first company to reach a 1 trillion dollar marketcap! https://seekingalpha.com/article/4082967-amazon-will-first-company-reach-market-cap-1-trillion
Bitcoin for the Google and Amazon services and Steem for the Facebook and Instagram and Youtube type services is an obvious path of least resistance. Wow maybe this is why @fyrtsikken believes Steem could go to $2500 per steem or more? That really does seem completely possible when you CONSIDER what we have here and how it is the most secure, efficient and stable blockchain and how Delegated proof of stake allows stake holders to retain power while keeping it decentralized while proof of work bitcoin is susceptible to a monopoly. We should welcome the new money coming into crypto. The new money from wallstreet and institutional money will leave us all in the clouds... we won't remember what $5000 Bitcoin even felt like when Bitcoin is up above $50,000 and when Steem is $10 we won't remember what $1 or even $2 steem even felt like! But things may go down before they go up to that level so be ready for anything! Steemit users will be getting awards of 1 or 2 steem and they'll be getting $10 or $20 dollars! Users will be splitting up Steem the way they split up Bitcoin and 0.001 Steem will still be $1 when Steem is $1000 each! It happened to Bitcoin SO fast and it will happen to steem one day!
And even Uber might be into Bitcoin now as a simple search on google for "Bitcoin Uber" will find you this: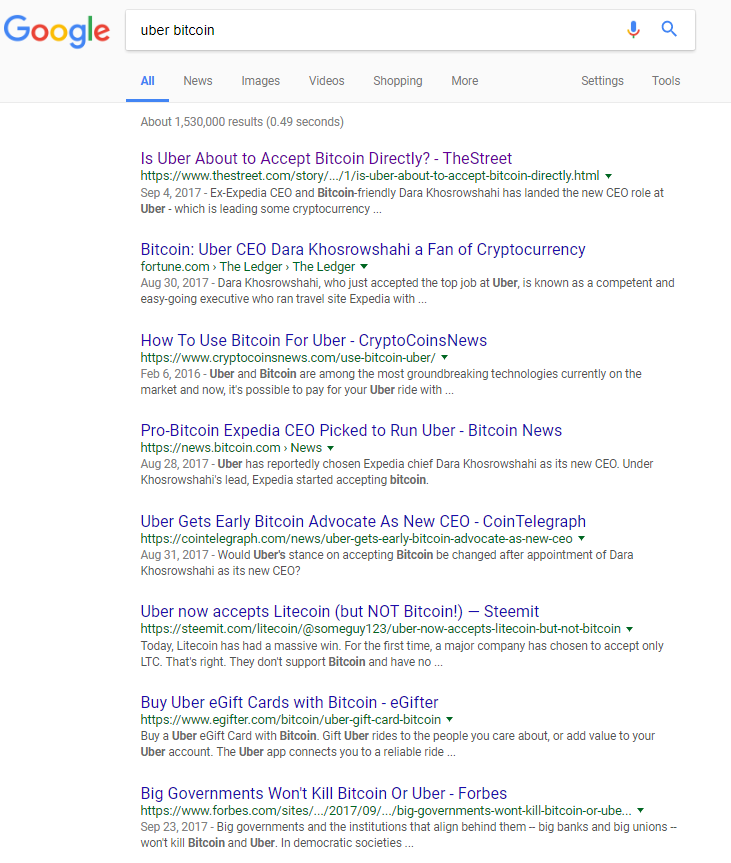 Uber now has an Ex Expedia Bitcoin Friendly CEO Dara Khosrowshahi who helped Expedia accept Bitcoin while CEO... so this seems like very good news Here is the article https://www.thestreet.com/story/14287261/1/is-uber-about-to-accept-bitcoin-directly.html
So there you go! ANOTHER big corporation with rumors of accepting Bitcoin, this would have been unthinkable just a few years ago. Bitcoin being accepted by this many mainstream companies will allow them to reach that trillion dollar marketcap sooner than later! Once the big tech ginats are using Bitcoin and are making money from it maybe we will see an end to this anti Bitcoin talk and that whole Jaime Dimon Ben Bernanke threats of US government banning Bitcoin will be revealed as simply FUD and pushing the price down! The governments of the world are filled with Humans, humans who will end up owning Bitcoins and making a lot of profit from simply holding them and so we will see a global adoption of crypto soon without any FUD of Crypto bans..... We didn't ban electricity , we didn't ban the internet and humans will not ban cryptocurrency and China is just regulating, consolidating and centralizing the exchanges!
I would like to end this post on a light note of entertainment and fun for all the young people watching this... :D Here is a song with nice animation background that I really like and just recently stumbled across again, but I did hear this when it first came out it is just really ascetically pleasing!
I like the background image of this song and the song is pretty interesting! If you don't like electronic new type stuff skip it but yeah for maybe younger people may enjoy this song more. But we are on our way to a Beautiful new world! I think of Steem when i hear these lyrics!!!
We're rising, we're falling
We'll make it through
We're climbing, we're soaring
A thousand views
Something at the edge of Space, calling us to fly away
Wow they even mention getting 1000 Views! wow I need those 1000 upvotes ! I love steemit and steem blockchain because I feel like we are on the cusp of a social media transfer of wealth where the social media currency starts pouring into the blockhain and Instagram will have to start paying its top users or they'll leave instagram for steemit. I showed above how people are paid $100 to $50,000 per POST on Instagram or snapchat when they have Followers but thats money from Brands and third party deals! Imagine when they realize they can make money off these third party deals AND get paid directly from the social media platform like steemit does!
Something's gonna bring a change
Journeys we are meant to take
Something at the edge of space
Calling us to fly away
I feel like these Lyrics relate to Steemit right now! Steem going to the Moon is going to change the world for the better, people will have new opportunity new jobs, and the internet will grow and decentralized internet will become the choice for most people ! We are building the new decentralized internet with steem! Ain't no crying in the club! Let the beat carry your tears baby, with a little faith your tears turn to ecstasy!
Aint no cryin on the blockchain!
Ahhh wooo Ahhh oooo ahhhhhhhh
Ain't no Cryin on the Chain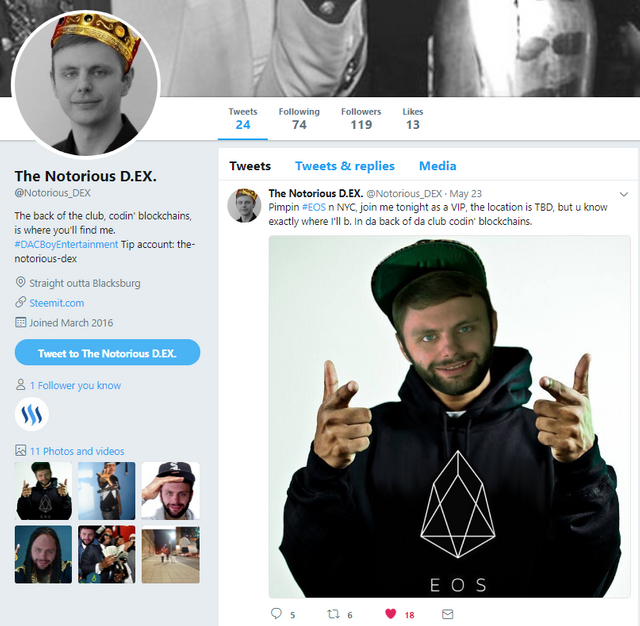 https://twitter.com/notorious_dex
Watch latest video from @dan here posted by @dollarvigilante here
https://steemit.com/bitcoin/@dollarvigilante/dan-larimer-on-the-future-of-eos-and-decentralized-applications

And that's it! Buy steem EOS Golos and Bitshares! and buy DASH too as it is the anonymous crypto currency that will compete with Monero and may even have a lot of the same Steem people inboard.. I would recommend a DPOS delegated prof of stake portfolio. But just make sure you buy Steem! Steem is cheap! EOS is also cheap at 50 cents and Golos at 10 cents is very very cheap time to vacuum up the emeralds at the bottom of the ocean!
If you have questions about bitcoin steemit crypto or making money mining or marketing, feel free to email me zackza@gmail.com or text 619 500 3748 and....