I've talked in a few posts before about the censorship that happens on the biggest crypto subreddit r/bitcoin. Lately with Bitcoin Cash gaining more popularity and being added to more markets it seems like the moderators on that subreddit are having a full-time job banning users from voicing their concerns about the blocksize, the backlog of unconfirmed transactions and the future of Bitcoin with Blockstream leading its development.
Here are a few screenshots of posts they have removed and users they have banned from discussion.
Since many of you are aware that the hardfork resulted in every Bitcoin holder receiving both tokens, I think its needless to say that you can remain pretty neutral on these debates - unless you've sold any of them for the other. I personally feel a lot like this user in the first screenshot, although the censorship on that subreddit has been something I've known for a very long time and is what drove me away from Bitcoin in the first place.
---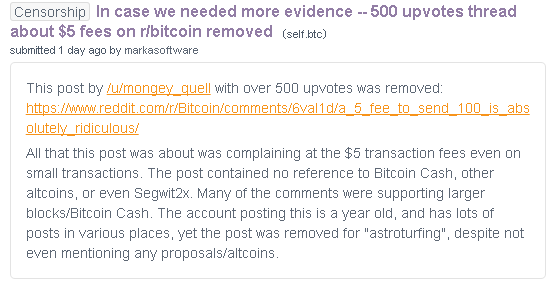 That post now looks like this.

Reddit user Sovereign_Curtis got banned for these mild comments.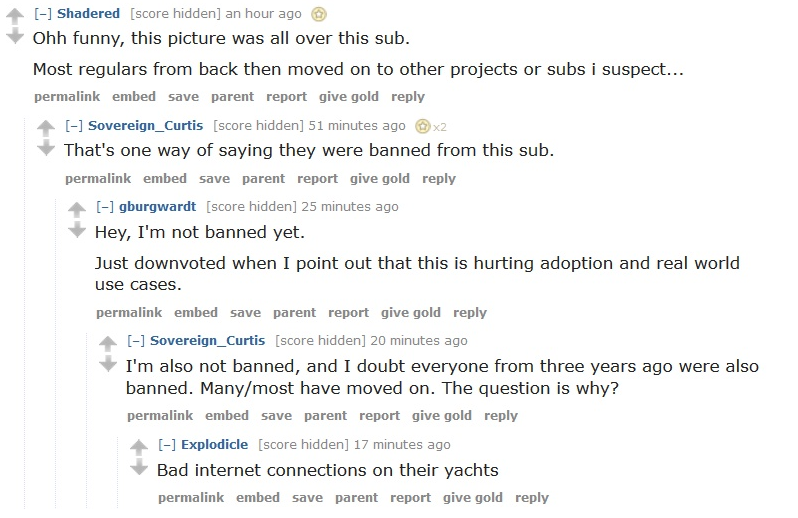 After getting banned it looks like this.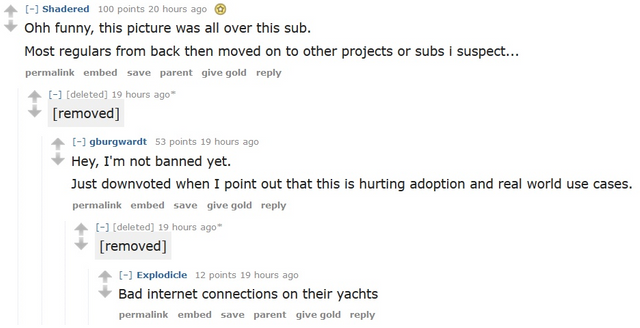 ---
They are even going so far as to contact newcomers in messages on Reddit.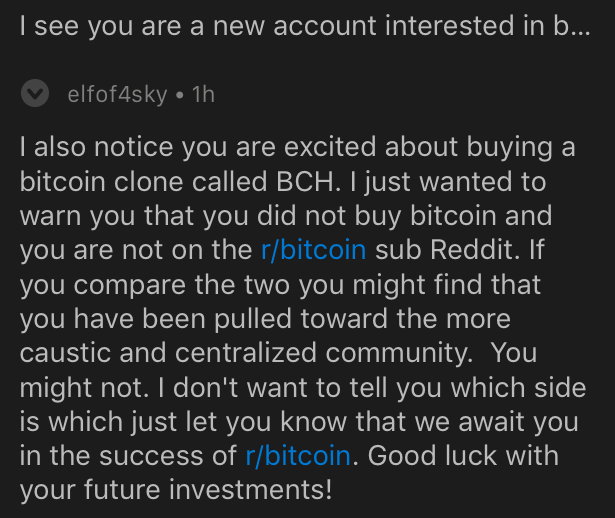 This user got banned on r/bitcoin for his thread he made on the Bitcoin Cash subreddit r/btc.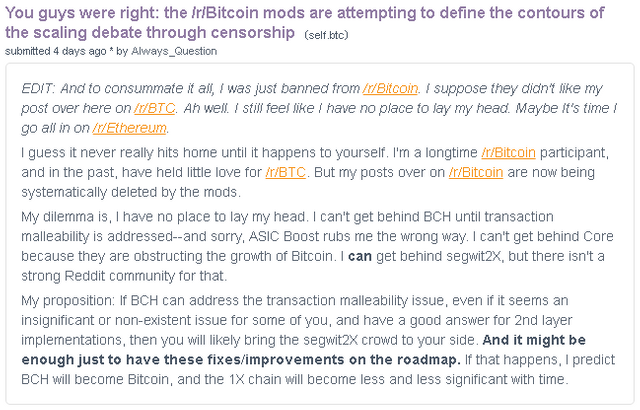 ---
When users were complaining that the fees are really high to transact with Bitcoin

This even though altcoin discussions are against the rules in the subreddit, I guess Litecoin is an exception due to Segwit...
What's even worse is that this gets upvoted...

---
Funniest comment I've read lately

---
To end it all off, I wanted to present you with a piece of information I found to be quite intriguing.
Posted by Rick Falkvinge who has his own Steemit account @falkvinge.
Based on Blockstream's behavior in the Bitcoin community, I have become absolutely certain that Segwit contains patents that Blockstream and/or their owners have planned to use offensively. I base this not on having read the actual patents, for they can be kept secret for quite some time; I base this on observing Blockstream's behavior, and having seen the exact same behavior many times before in the past 20 years from entities that all went bankrupt.
I was a representative of Microsoft. I would meet with people from Nokia, Ericsson, AT&T, and many other corporate names you'd recognize instantly, in small groups to negotiate standards going forward.
One thing that was quite clear in these negotiations was that everybody was trying to get as much as possible of their own patent portfolio into the industry standard, while still trying to maintain a façade of arguing purely on technical merits. Some were good at it. Some were not very good at it at all.
One of the dead-sure telltale signs of the latter was that somebody would argue that feature X should use mechanism Y (where they had undisclosed patent encumbrance) based on a technical argument that made no sense. When us technical experts in the room pointed out how the argument made no sense, they would repeat that feature X should absolutely use mechanism Y, but now based on a completely new rationale, which didn't make any sense either.
The real reason they were pushing so hard for mechanism Y, of course, was that they had patents covering mechanism Y and wanted their patented technology to go into the industry standard, but they were unable to make a coherent argument that withstood technical scrutiny for why it was the preferable solution at hand, with or without such encumbrance.
and here is a link to pending patents of Blockstream
https://patents.google.com/patent/US20160330034A1/en?assignee=blockstream
---
I wanna end this post, like I have done in my latest ones with saying that there is a lot I may not be aware of since I have not followed Bitcoins development actively in the last couple years, but the heavy censorship that is happening towards anyone speaking against Blockstream leads me to believe there is something they are trying to hide from the general public which may very well be in their self-interest and not about Bitcoins original idea about being next to free to use globally for anyone.
I am thankful of the Steem blockchain being immutable to censorship where anyone can state their concern and voice their opinion about anything, for free.
---
(in case anyone was wondering about the title, the developers on Bitcoin are called Bitcoin Core developers and the censorship reminds people of North Korea, hence the combination: North Corea.)