"The chart speaks louder than words"
Daily bitcoin technical analysis with fewer words and more information so that you can have maximum information just with a glance without wasting any time.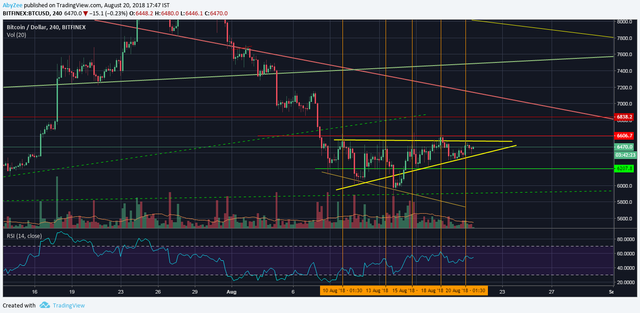 Bitcoin has been hovering in this range for past ten days
Looks like an ascending triangle is forming
The vertical orange lines showing that only the RSI has increased in the past 10 days but in comparison to that Bitcoin price hasn't increased much
Every time BTC tried to move upward, it has found strong resistance at $6600 level
The lower yellow trend line has acted as a support several times. What if this support is broken?
If the current price action of the bitcoin is only an RSI cool off, so that Bitcoin can further move downwards, then we may see bitcoin in $5600 - $5400 range.
A violent move is coming. Make your strategy and be prepared to catch the move


Disclaimer:
This is purely a technical analysis and it is to be used for educational, entertainment purposes only. This is not a financial advise to buy or sell Bitcoin and I am not a financial advisor. Do your own research before investing.



Please Upvote and Resteem


I appreciate your support
Follow me @ABYZEE