Steemit Good News Story #1 Attacking Global Poverty with STEEM and Steemit
In 2015 26 countries were identified as having part of their population living in below the poverty line.  The poverty line at the time meaning they live off less than $1.90 per day.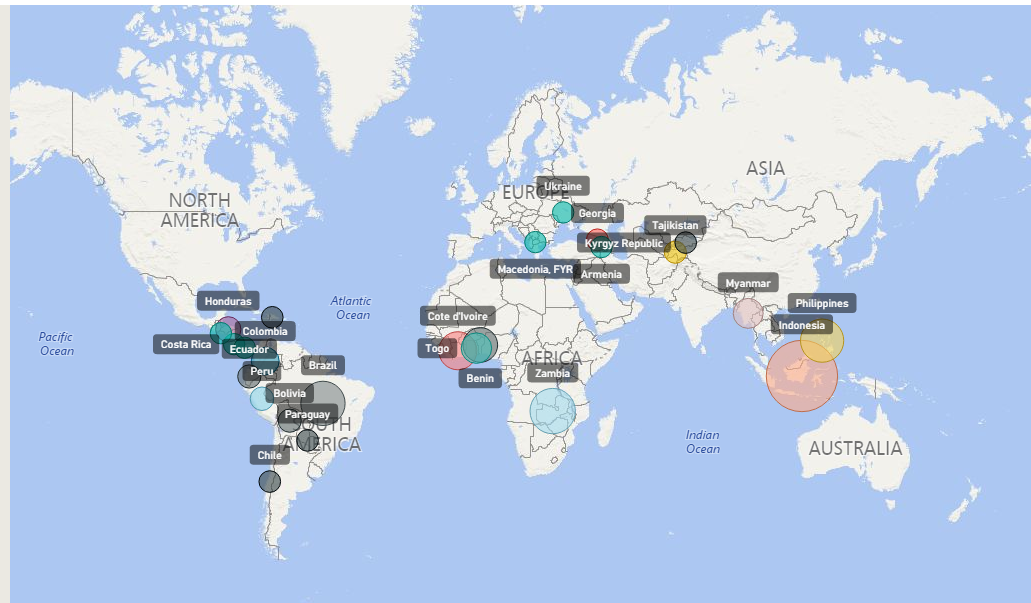 I obtained this data from https://data.worldbank.org/data-catalog/poverty-and-equity-database however this is limited to official returns submitted.  In 2014 36 countries were identified as more data has been collected.
Here are the 26 countries will the number of people in millions that are living on $ 1.90 or less per day in 2015.  This is the same data shown in the map above.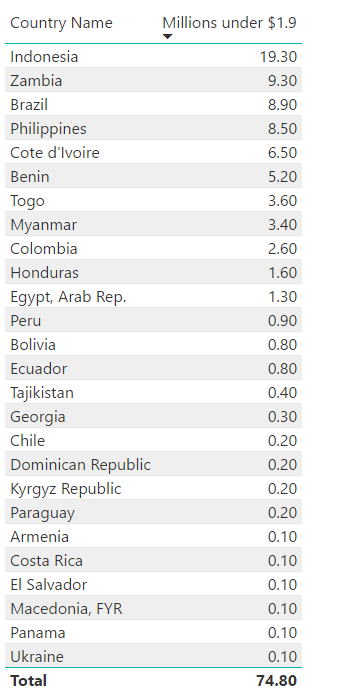 Let's focus on Indonesia
In 2015 Indonesia had 19.3 million people living on under $1.90 a day
"Indonesia's national poverty line is set at consumption outlays of Rp 302,735 (US$25) per month per person–about 82 cents a day."
Source. https://www.adb.org/sites/default/files/publication/177017/ino-paper-04-2015.pdf.
Okay I can already hear you say 'I thought this post was a good news story?" well stick with me because we are getting there
Average Payout per Steemit Post
Over the last few months I have been tracking the average pay out per post.  Taking every post, but excluding comments, in the month of October the average pay out per post was $2.20
You can check out the last report here
That's well above the Indonesian poverty line of 82 cents. Does this mean that a person in Indonesia could lift themselves out of poverty with Steemit? Now this is good news.
Looking at the Steemit Data
I connected to Steemsql held and managed by @ arcange  and I pulled all the rows from the comments table where the data is between 1 Nov and 14th Nov and where the category or one of the tags is Indonesia
For this two week period, there were 4787 unique authors of posts (not comments) using the category or tag Indonesia.  These authors posted 61,570 posts with a total pay out value of $123,111.  The average daily pay out for this tag/category averages at $8,793 and the average post value is $2.
This daily average of $8,793 @ 82 cent per person would lift 10,723 out of the local poverty line a day.  Awesome.  An average post value of $2 would lift authors reaching this above the global poverty line of $1.90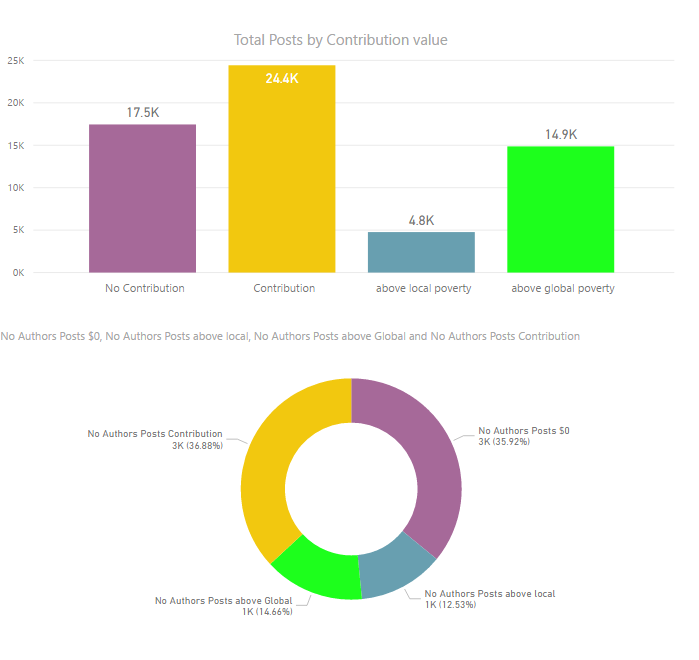 Let me explain these charts.  On the top is a breakdown of the 61,570 posts.  
• Posts labelled No Contribution have earned nothing. 
• Posts labelled Contribution have earned less than 82 cents and therefor only made a contribution to the author. 
• Posts labelled above local poverty are posts that have earned between 82 cents and $1.89, taking the authors earnings above the local poverty line  
• Posts labelled above global poverty are posts that earned $1.9 or more taking the authors earnings on the post to above the global poverty line 
The bottom chart shows how many authors had posts in each payment category.  Although 36% of authors have a post with no pay out, many of these authors have further posts with pay outs.  In fact only 16% of authors have no pay outs, some of which are down to content being down voted due to spam, plagrisim and other reasons.
The table below shows the steemains using the Indonesia tag or category sorted by the total post payout for that steemain for the two weeks in question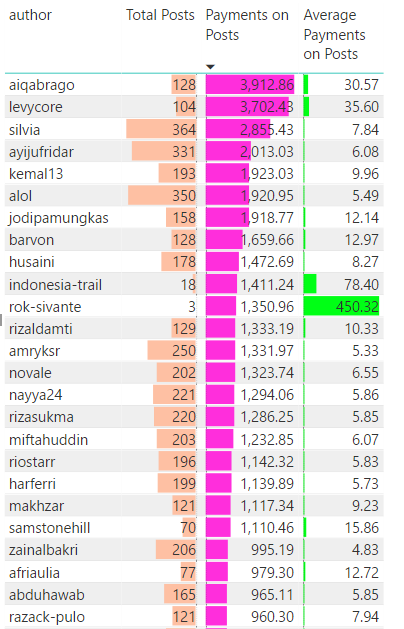 The same data, but this time sorted by average payment per post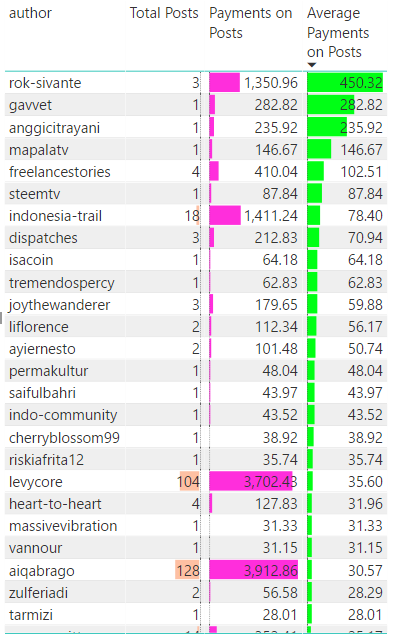 Conclusion
Steemit has the ability to reach millions of people around the world that are living below the global poverty line.  Indonesia being a perfect example.  Within a 2 week period, 27% of authors within this tag have earned more that the local poverty line with one or more posts.  This is true prof that together we can attack global poverty with Steemit.
This post is the first post in the series of Steemit Good News stories backed up with data.  Steemit is such an awesome platform and the possibilities are endless.  The blockchain data holds a lot.  It holds some 'dark' stuff and some 'suspicious' stuff.  But it also holds huge amounts of awesome stuff, stuff that makes a different. Stuff I want to spend some time focusing on.  This series will post the good news stories behind the data on Steemit
To start with, just before completing this article I went over to #Indonesia and I upvoted a number of posts with a $2 vote.  Why?  Because I could with the thanks of delegation I have received from @stellabelle and @fulltimegeek
Here are some of the posts I curated
https://steemit.com/indonesia/@roziansyah23/seorang-pengusaha-muda-20171123t1122636z
https://steemit.com/indonesia/@ettydiallova/salam-kenal-dari-etty-diallova
https://steemit.com/indonesia/@levycore/catatan-kurator-indonesia
You can make a difference too.  Hope over to #Indonesia and shown them some support. Help attack global poverty with your Steemit Vote.
 I am part of a Steemit Business Intelligence community. We all post under the tag #BIsteemit. If you have an analysis you would like carried out on Steemit data, please do contact me or any of the #bisteemit team and we will do our best to help you... You can find #bisteemit  on discord https://discordapp.com/invite/JN7Yv7j