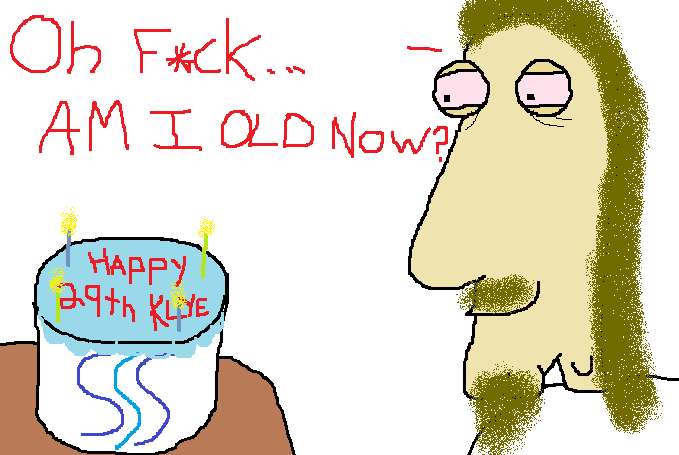 Looks like I've turned 29 today.. Enjoying a night to myself coding over some gin and juice. Seemingly my hairs begun to turn grey in the past few months, not sure if stress related or if I'm actually starting to become a grey bush, nearly impossible for me to tell really.
Roughly at Mid Point of My Life Expectancy
Birthdays have always been a time of reflection for ole @KLYE.. Another rotation around the sun marks yet another year of life experience passed and with it many new things learned.
The past year of my life overall has been friggin' amazing for lack of a better term, while I've faced my fair share of ups and downs overall I cannot remember a time in my life where I felt as comfortable in my own skin as I do now. Our STEEM network is in part to thank for this overwhelming explosion of growth I've seen in the past year, for the first time in my life I've not been forced to obsess over money (or rather the lack their of), finding work, feeling lonely or living as a derelict outcast. Incredibly grateful for the opportunities that have been laid out in front of me as well as the chance to grow into a respectable person.
Life wasn't always good, but given the right chance anyone can shine...
I'm proof of that.
A once wreckless and insensitive individual has slowly morphed into someone I never thought I'd be. While I'm still a wee bit much for some with my eccentric nature, foul language and degenerate MS-paint dick drawings the fact of the matter is over this past year immense personal growth has taken place in nearly all aspects of my life. While I do miss the carefree days of not giving a damn about anything which my younger years afforded me a certain calmness and tranquility has started to inhabit a once twisted & tormented soul.
Still have a long ways to go before this journey is over likely, but look forward to it more so than I have my entire life up till this point. Thanks to everyone who's been here for me.
---