Bilderberg and Bitcoin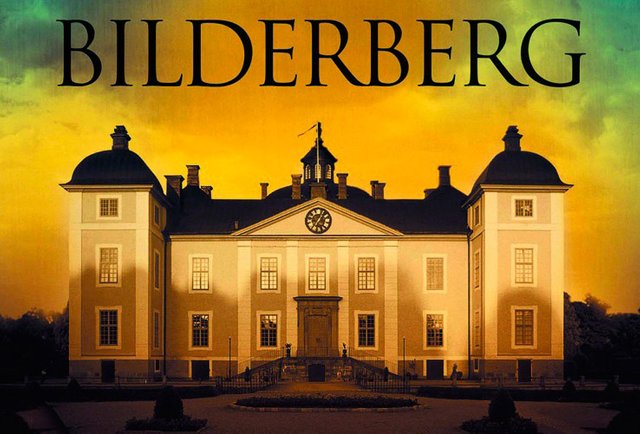 liberationschool.org
If you are invested in Bitcoin (BTC) you are no doubt aware of the fact that transaction fees have become absurdly high. At times even reaching $50 USD per transaction.
This has lead crypto-currency experts and enthusiasts to increasingly see BTC as a store of value much like gold. There was a time however, not too long ago when BTC was envisioned as becoming the currency of the internet and the future of money in general.
Today, as BTC transaction fees become less and less appealing other cryptocurrencies are positioned to step into the role of the premiere digital currency. Altcoins such as Bitcoin Cash, Litecoin, Dash and even Ripple are more likely to be currencies that could be used in everyday interactions as their transaction fees are presently much lower and faster than BTC.
As the popularity, and value, of Bitcoin has skyrocketed throughout 2017, it has also gained the attention of the big banks who now want in on the crypto-boom after years of deriding its chances.
In September, JP Morgan's CEO Jamie Dimon famously dismissed bitcoin – calling it a "fraud" temporarily lowering the price while, at the same time, a division of JP Morgan investors made purchases of BTC in the background.
It's no secret that there are powerful financial interests that see Bitcoin, and cryptocurrency, as a threat to their institutions and way of life. It is inconceivable to think that the highest echelons of Wall Street and of the banking sector are not actively devising strategies to control, manipulate, transform and/or eliminate any competition to the current financial system.
Detailing just how Wall Street and co. could end up controlling BTC is uncertain but there are growing fears that a BTC coup may already be well underway.
One of the primary avenues for obtaining this objective would certainly be to gain influence over the BTC miners and mining pools.

The following theory is not my own, it comes from a reddit post I came across this earlier today. I don't claim to know if this is true or not, but it's a very interesting theory to consider at the very least.
I highly recommend checking out the original reddit post and the interaction in the comments. There's a lot of back-and-forth in relation to the BTC core camp and the BCH proponents who both claim that the other is in danger of becoming an instrument of centralization:
https://www.reddit.com/r/btc/comments/7m046d/how_the_bilderberg_group_the_federal_reserve/
---
The Bilderberg BTC Theory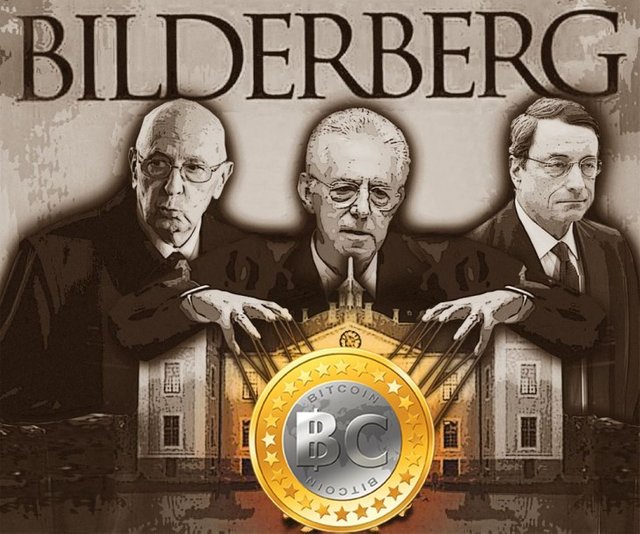 btcworldnews.com

According to the theory, members of the Bilderberg Group, the Federal Reserve, and Master Card have made significant investment in Blockstream through subsidiaries holdings.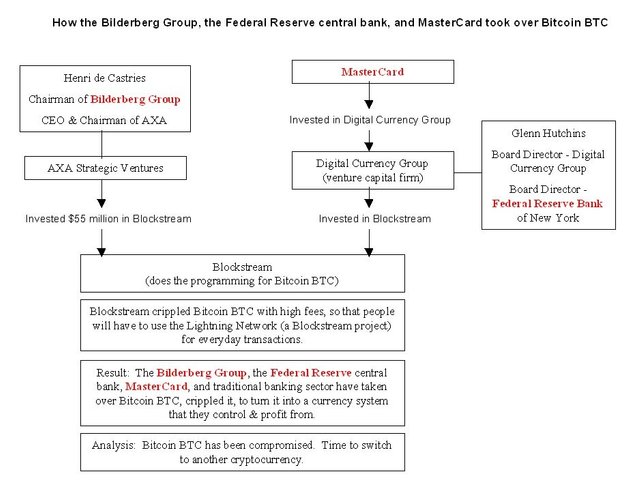 The diagram shows how certain financial institutions and actors have invested in Blockstream with the intention of increasing transaction fees to such a level that it disincentivizes its use as a currency.
According to the theory, the increased transaction fees push BTC towards the adoption of the Lightening Network, a Blockstream creation, in order to solve the issue.
Thus, if elite financial actors have significant investment in Blockstream they will have undue influence the BTC network.

Blockstream
Blockstream provides a range of software and hardware solutions and expert professional services to companies deploying new blockchain-based networks. Elements, our core software platform, was released as part of the open source Elements Project; it's currently one of the most mature protocols for blockchain developers. Together with PwC and a growing network of partners, we combine our technical depth with world-class domain expertise to deliver solutions that cross industries and use cases.
AXA Strategic Ventures invests $55 million in Blockstream
The Lightning Network
Blockstream is collaborating with industry leaders to create a Bitcoin micropayment system that supports high volumes of tiny payments using proportional transaction fees and that operates lightning fast. We are now developing Bitcoin Lightning prototypes and creating consensus on interoperability.
For non-insiders, it's extremely difficult to say if this is an accurate description of what's occurring with BTC at the moment but it does raise some eyebrows.
On one hand, it may simply be wealthy investors recognizing the shifting financial landscape and making wise investments for the future. While on the other hand, it could also be a slow motion crypto coup d'etat meticulously measured and planned in advance.
---
The Bilderberg Group
"The Agenda of the Bilderburg Group is aggressively and explicitly corporate fascist in nature"
- James Corbett (2014)



Once a secretive group, the Bilderberg Group consists of some of the world's most wealthiest families, along with elite figures from the highest levels of world finance, politics, government and key members of the media who have met annually since 1954.

At the heart of these meetings of high profile western capitalists, is the element of secrecy media of any sort is not permitted while likewise no meeting minutes released to the general public.

Fellow Steemians including @corbettreport, @lukewearechange, @pressfortruth, @titusfrost, @joshsigurdson and others have done extensive reporting on the Bilderberg group. In the past, @pressforttruth (Dan Dicks) and @lukewearechange (Luke Rudkowski) have been arrested for attempting to interview members of Bilderberg.

For those unaware, here's a useful discussion about the Bilderburg Group with James Corbett and Dan Dicks.


The Bilderberg Group holds annual meetings gathering some of the most influential and powerful actors on the world stage.

The official narrative of the Bilderberg group used to be that there was no such group. Nowadays however, the dates and attendance of meetings are published, and the story being that these famous and busy people, normally subject to scrutiny by paparazzi, need time to relax and take time away from public scrutiny. It's an "annual, unofficial, invitation-only" social event.
Media Reporting
Iain Hollingshead wrote in The Telegraph in the run up to the 2010 Bilderberg that "Dan Brown aside, conspiracy theories don't come much bigger than this". He began the article "I have just discovered that a shadowy cabal of global luminaries, including Henry Kissinger, David Rockefeller, Prince Charles, Peter Mandelson, Lord Carrington, David Cameron, Queen Beatrix of Holland and the chairman of Barclays Bank, have been plotting to overthrow national governments and form a fascist one-world empire" and stated that "part of the lure to conspiracy theorists is that the group wasn't properly reported in the mainstream media until very recently."
Problems
The intense secrecy and use of armed guards belie the claim that Bilderberg is a mere social event. Willy Claes, who attended Bilderberg in 1994, said on Belgian radio that at Bilderberg each participant is given a report and they are "considered to use this report in setting their policies in the environments in which they affect".[6] In 2005, the Bilderberg Steering committee chair, Étienne Davignon, concluded a BBC interview with the remark that "informal and private networks like Bilderberg have helped to oil the wheels of global politics and globalisation for the past half a century".[7]
---
Bilderberg Membership

Here are just a few of the high profile attendees of past Bilderberg meetings.
David Rockefeller Jr. (deceased)
Henry Kissinger
Zigniew Brzezinski (deceased)
Prince Bernard of Holland (former Nazi SS Officer - deceased)
Queen Beatrix of Holland
Bill Clinton
Prince Charles
David Cameron
George Ball (deceased)
Tony Blair
Gordon Brown
Angela Merkel
Rupert Murdoc
Leaked List of 2015 Bilderberg Attendees
http://www.telegraph.co.uk/news/worldnews/europe/11659892/Bilderberg-members-2015-Whos-going-to-this-years-secret-summit.html
Henri de Castries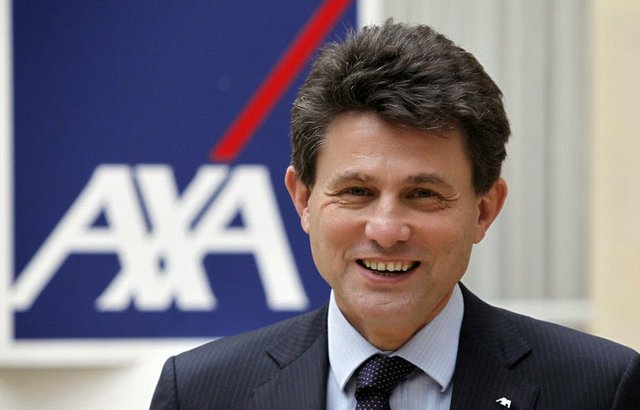 Boursier.com
Henri de Castries is the current chair of the Bilderburg group has a long career in the banking and financial sectors.
AXA, CEO and Chairman 2000-2016

HSBC – Independent Non-Executive Director, Member of the Group of Renumeration Committee.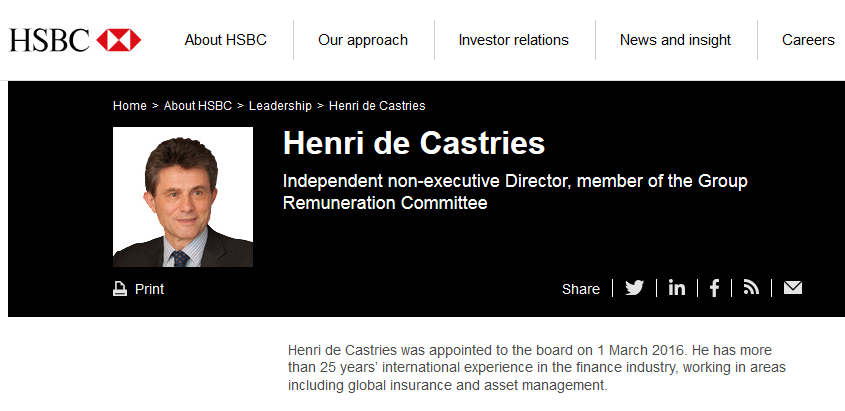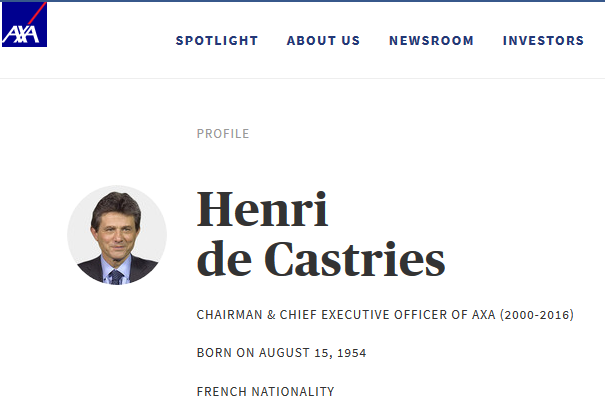 Regular Attendee of Bilderburg Conferences since 2002

Association pour l'Aide aux Jeunes Infirmes, a French charity focused on the providing assistance to young handicapped people –Administrator
According to Castries' HSBC bio:
He has previously worked for the French Finance Ministry Inspection Office and the French Treasury Department.
Mr de Castries is Chairman of the French think tank Institut Montaigne. He also serves as a non-executive director of Nestlé S.A. and of the French National Foundation for Political Science and as a member of the Advisory Board of Tsinghua University School of Economics and Management.
---
Conspiracy

Even if this particular theory is disproven, I think it's worth entertaining ways that the international financial puppet masters will look to manipulate Bitcoin and the crypto markets going forward.
Opening futures trading of Bitcoin began December 18th as BTC was added to futures trading on the CME and there's also concern that manipulation is likely to occur here.
I really have no strong opinions on this except that I do believe that the status quo financial order will not allow Bitcoin to challenge their established institutions without a fight.
That being said, my own intuition is that a target of control will be the exchanges.
DEX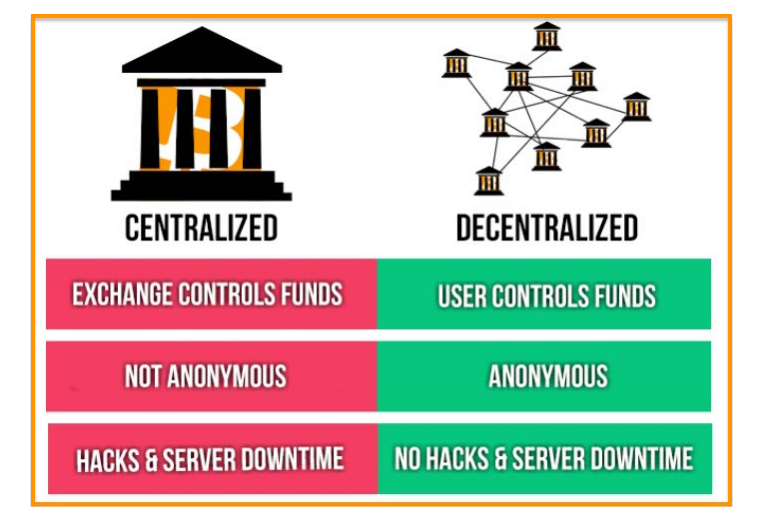 Exchanges are the centralized connection points between the fiat banking system and the crypto realm.
Eventually, it's hoped that we won't need to use exchanges as crypto currencies could very well be commonly adopted across the internet, legitimized and used and the need to transfer cryptos into fiat will greatly diminish.
In the meantime, I personally feel that we need more decentralized exchanges in order to help reduce market manipulation and enable more tangible decentralization.
An exchange that allows its users to control their crypto funds.
An exchange that doesn't have a single point of failure like centralized server hostings or databases that are prone to hacks.
An exchange that has no trusted third party setups.
An exchange that no government can shut down like the Chinese exchange shutdowns.
An exchange that is not controlled by a single or group of companies.
An exchange that respects the privacy of its users and doesn't ask for numerous registrations and KYC verifications.
Already there are a handful of decentralized and semi-decentralized crypto exchanges up and running and in the works.
Fully Decentralized:
Semi-Decentralized:
Additional Source:
bitcoinmagazine.com
---