GENESIS - A Quick Study in Hebrew - the First Letter - Aleph
a quick study in Hebrew - aleph is the first letter in the Hebrew Alphabet.
"The original pictograph for this letter is a picture of an ox head representing strength and power." (see the chart below)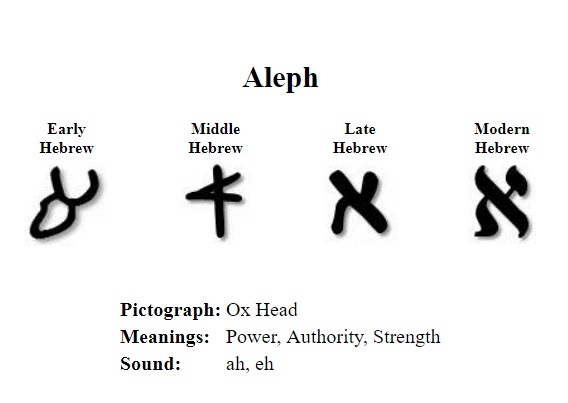 from the middle Hebrew we get our symbol for the number 1.
this middle Hebrew form of the letter was adopted by the Greeks. It became the first letter of their alphabet, "alpha".
if you turn the middle Hebrew symbol a quarter turn to the right you have an early version of our capital letter "A"
from this Hebrew, and then the Greek, we get our expression - the "Alpha" Male - meaning the dominant one, or the leader.
Alpha also is used as "the First" or "the Beginning" as in when Jesus said, "I am the Alpha and the Omega, the first and the last, the beginning and the end." Revelations 22:13
the "a" in Aleph is pronounced like the "o" in "ox" or in "olive". I use the mental image, "Olive Branch", to help me remember the letter's sound and it's shape - I picture a branch with two leafs, one leaf up and one leaf down.
be sure and check out the short video about "aleph" on that page or click here to watch the same video on Youtube > Ancient Hebrew Alphabet - Lesson 1 - Aleph
GENESIS - A Quick Study in Hebrew - the First Letter - Aleph