TL;DR:
For Today:
Bottomline: Though we see STEEM/BTC 0.0008 support level being re-tested and so far holding with a clear bullish divergence behind it, the inability to maintain a higher low yesterday is somewhat demoralising for longs. If we continue to see further reversals hence retesting this 0.0008 again, It should break through this support and head towards the 0.0005 levels next. In the event this happens as a sharp quick move, I will then be looking to establish a sizable long just above that support level.
Post Mortem:
From yesterday's post:
Bottomline: My optimism for this reversal to stick has increased a whole lot based on recent price actions. Near time wise, it should continue to trend upwards to re-test that 0.00097 spike level. If it breaks that, then we head back up above 0.001. The nagging thought that still plagues me is that we have not seen capitulation yet, and that is what needs to happen before all the weak hands have been cleansed before a new virtuous sustainable recovery uptrend cycle can begin.
Well, it seems gut instincts continued to prevail and the uptrend line was broken through and we are back retesting the 0.0008 lows again. The earlier levels at 0.000812 shared in previous post seems to be supporting the price well at this time.
Let's quickly review through the charts:
Direction: We currently have positive or bullish divergence again (lower lows in price, higher lows in indicator). This is evident from the current green 2-hr candle rebound off the lows, now at 0.000836.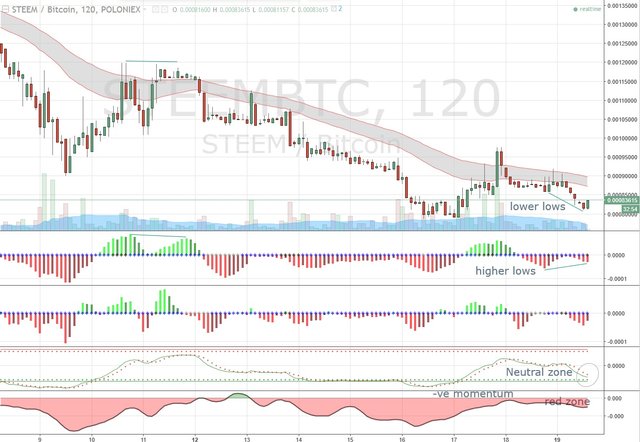 Probability: Though still in neutral zone, the downward price action has continued to push trend wave indicator closer towards the oversold territory. This bodes well for an rebound in prices. On the other side, we still see red in the momentum indicator. Balancing both factors, I would say it boils down to a 50-50 chance of upward direction getting confirmation at this stage.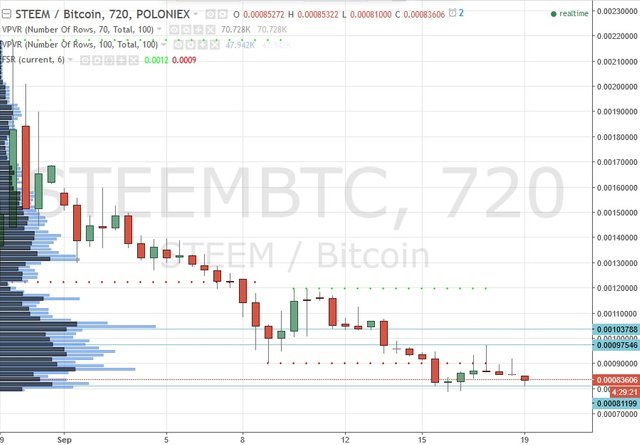 Support & resistance: Steem price has stayed within the expected range in the last 24 hours. No change in near term resistance (0.000975, 0.00104) or support ( 0.000812, 0.00052) levels.
In terms of disclaimers: these are my own views based on price actions alone and I have tried my best not let any qualitative factors influence that view (there should be enough of those shared around steemit for anyone to form a perspective based on less quantifiable information). I will not be responsible for any trades that you may end up taking based on them. You are ultimately responsible for all your trading actions.
In terms of disclosures: I currently have a long STEEM/BTC position which i may add to it when signs of capitulation based on chart signals emerges.
Appreciate any thoughts, comments, upvotes :) I don't really know if this daily post is helpful to any of you so any feedback to improve the write-up would be appreciated. At this stage, I am considering to take a break from blogging on STEEMIT and review other opportunities instead.
Have a profitable day ahead!