Let's recap from my last post:
Bottomline: Although we seem to see some signs of bottoming at the moment, I doubt capitulation has occurred at this time - which means STEEM/BTC could continue its downward descent after this retracement has run out of steem.
That retracement did continue and it pulled back above the 1st resistance level of 0.00092 but below the 2nd one at 0.00104 as shared in my last post . However, this sharp spike was not sustainable and a bear divergence emerged quickly, reversing this spike. Nevertheless, the current uptrend looks intact for now.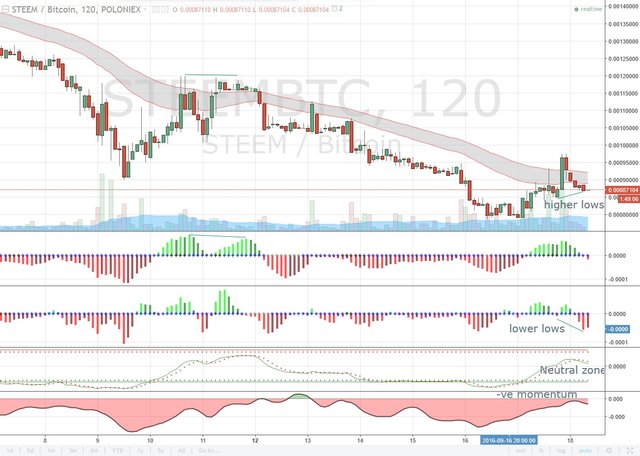 Direction: Most recent "higher lows" of price against "lower lows" of short term indicator, coupled with an intact upward trendline joining past 3 lows, bode well for a continued price recovery for STEEM/BTC
Probability: Still treading in the neutral zone, as the quick reversal of that earlier up-spike avoided STEEM being overbought. Momentum, although negative, has continued to hover near the zero level, It would not take much to cross over to positive territory at this stage.
Support and Resistance: The recent spike high at 0.000975 would be the new, near-term resistance. Beyond that the next one remains unchanged at 0.00104.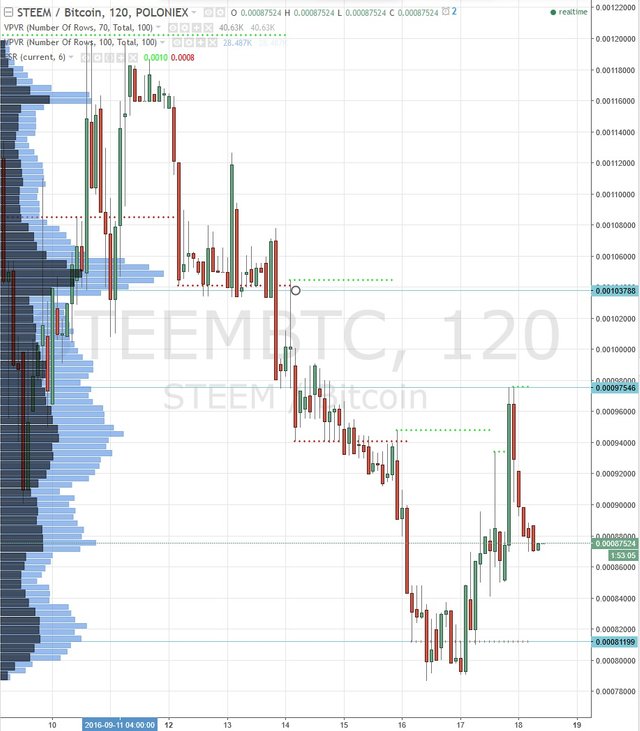 In terms of support, 0.000812 should provide some. Beyond that, we go back to no-mans-land for volume profile and I would continue to go with 0.00052 based on pre-boom tops and bottoms seen.
Bottomline: My optimism for this reversal to stick has increased a whole lot based on recent price actions. Near time wise, it should continue to trend upwards to re-test that 0.00097 spike level. If it breaks that, then we head back up above 0.001. The nagging thought that still plagues me is that we have not seen capitulation yet, and that is what needs to happen before all the weak hands have been cleansed before a new virtuous sustainable recovery uptrend cycle can begin.
In terms of disclaimers: these are my own views based on price actions alone and I have tried my best not let any qualitative factors influence that view (there should be enough of those shared around steemit for anyone to form a perspective based on less quantifiable information). I will not be responsible for any trades that you may end up taking based on them. You are ultimately responsible for all your trading actions.
In terms of disclosures: I currently have a long STEEM/BTC position which i may add to it when signs of capitulation based on chart signals emerges.
Appreciate any thoughts, comments, upvotes :)