TLDR Bottomline: Current STEEM/BTC seems to be consolidating in a triangle formation which means a breakout should be expected shortly. At this stage, the more recently completed bear divergence should pan out and I expect this P&D cycle to complete and retrace fully downwards back towards to retest the 0.0007 levels.
From previous post :
Bottomline: I believe this is just a pump rather than a credible recovery post reaching final bottom. My view is STEEM/BTC would still need to hit 0.0005 1st sharply before a sustainable rebound can happen. I am staying out of this pump. Nevertheless, if you feel up to punting this, the near term resistance levels are 0.00812 and 0.000893 is where i would cover longs if riding this coat tail. when the dump starts, it should retest 0.00069 again
Well, steem did continue pumping up after last post was published - all the way past my above indicated 2nd target to reach a high of 0.000931 before pulling back into the cloud area - If you had followed those support levels, your long trades would be in profit albeit having to exit a little earlier on the 2nd target hence foregoing that last stretch of upside - that's always a better situation to be in rather than having an exit target that was never met.
We next saw a rebound from the cloud and a bull trap ensued as reflected in another pullback down from the lower peak. Currently we see a consolidation forming a triangle reflecting price undergoing a tug of wall with similar pressure from both bulls and bears. This usually leads to a breakout in either direction and the move should be substantial.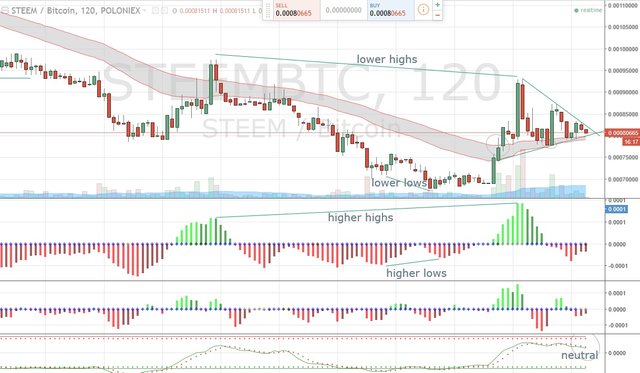 Direction: We have a longer bear divergence (lower-high price vs higher-high oscillator) engulfing the more recent shorter bull divergence (lower-low price vs higher-low indicator). However as the formation of the of the bear divergence completed most recently, that would probably influence the next move if it is able to break past the cloud resistance right below it. Strength-wise, we are neither overbought nor oversold, while momentum is finally showing us to be in the green zone.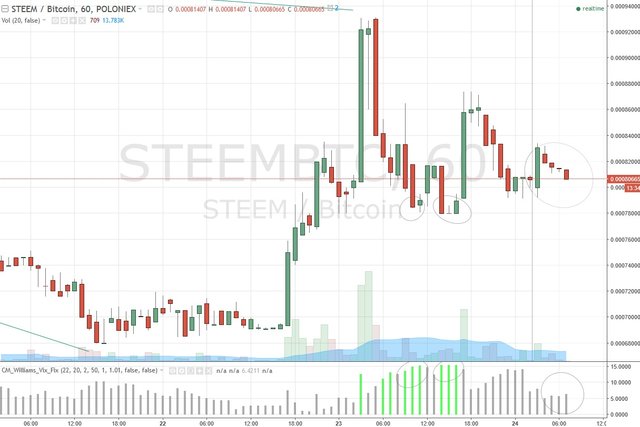 Unlike recent 2 bounces where we saw a series of consecutive green vix bars right before that happened, there are none in sight for now. That would indicate a lower probability that we could see bounces of such magnitude in the near term.
Support & Resistance: Near term wise, we could easily see STEEM rebounding and testing the 0.00087 area again. If that breaks, then the next stop would be to test the previous high of 0.0093. Otherwise, resistance levels are at 0.00078 to test that previous low, and after that it should head to just below the lows of 0.0007.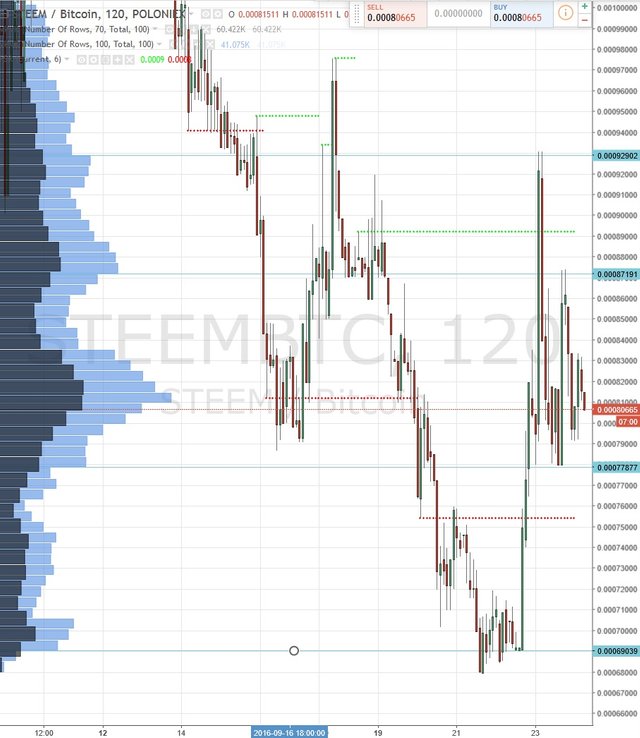 In terms of disclaimers: these are my own views based on price actions alone and I have tried my best not let any qualitative factors influence that view (there should be enough of those shared around steemit for anyone to form a perspective based on less quantifiable information). I will not be responsible for any trades that you may end up taking based on them. You are ultimately responsible for all your trading actions.
In terms of disclosures: I currently have a long STEEM/BTC position which i may add to it when signs of capitulation based on chart signals emerges.
Appreciate any thoughts, comments, upvotes