Betting Broker Review | Sportmarket Pro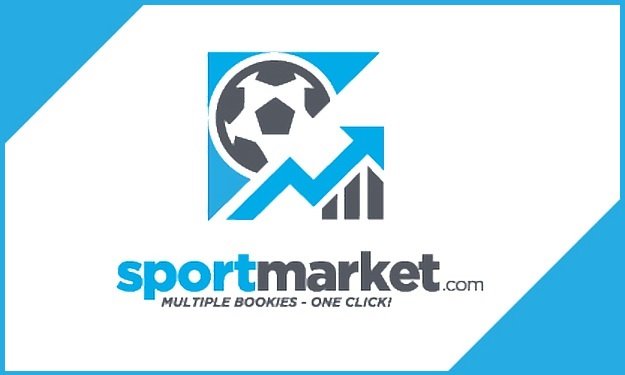 I have been using Sportmarket Pro myself for the last 5 years and they now account for 99%+ of my personal betting activity. They offer an all in one solution to serious bettors which no longer requires them to have individual bookmaker accounts and manually shop for the best odds.
---

If you are a Micro Stakes Player who bets 1€-10€ stakes and are into Sports Betting mainly for the fun without caring much about winning or losing, this service is probably not for you. If you are a more Serious Player and have low to high stakes (10€ to 100k €+) while aiming to actually make a profit or even a living out of Sports Betting, having a deeper look into this broker might be something that can really help you increase your overall earnings by a lot!
Nearly all professional Sports Bettors use broker services like Sportmarket because they are able to offer the best available odds with very high betting limits while not limiting winning players.
---

Sportmarket is a betting broker that offers accounts at the big asian bookmakers and exchanges. ( * ) They offer a service called Sportmarket Pro which is software that allows you to automatically find and bet the best available odds on the market! ( ** )
The bookmakers that are included into their platform
(all allow high stakes and do not limit winning players)
Singbet
Ga288 (GalaxyBet)
The Bets that offered on their platform
Sportmarket Pro offers mainly bets that have high liquidity and very low margins. Since they are not aimed at smaller recreational players who love to gamble and take combo bets (***).
The markets they offer bets on...
Soccer
Basketball
Tennis
American Football

Baseball
Ice Hockey
Rugby Union
The type of bets they offer...
(both Pre-Game and Live)
Asian Handicaps ( **** )
1x2
Over / Under

Corners
Team Totals
Both To Score

Correct Score
Half-Time
...
---

The website from Sportmarket Pro is very clean and intuitive to use with a lot of advanced features.
This is what the main page looks like when being logged in...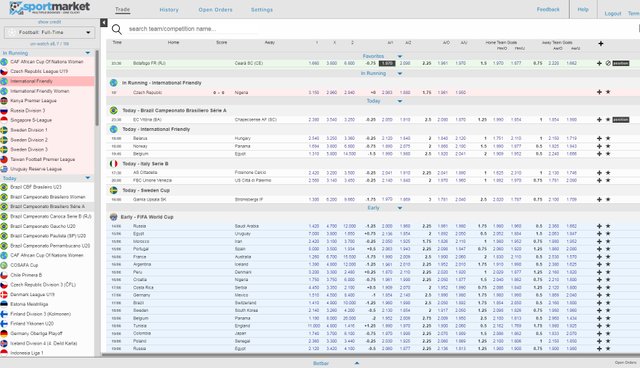 On the left side you can select the market you want to see all the different leagues from. They get shown on your main page which lists all the best available odds on the market which move up and down in real time. The main page shows the Matches you marked as favorites (which makes them easy to follow), In Running which shows all the matches that are trading live from the leagues you selected, Today which are all the matches from the leagues you select that specific day, Early which lists all the matches that are listed in the near or distant future.
This is what it looks like when clicking on the bet you want...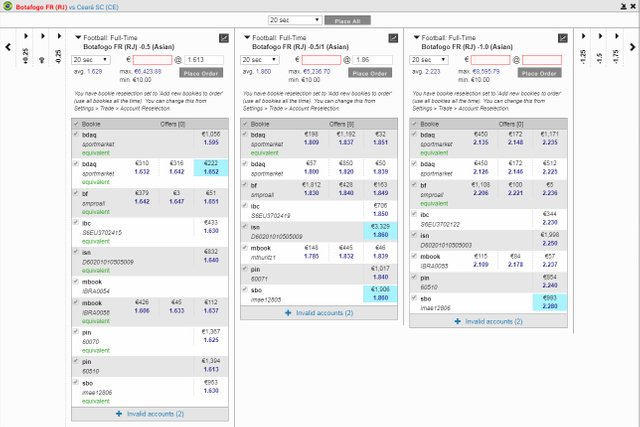 You instantly get all the information on the listed bookmakers, available odds and maximum limits. All bookmakers work with dynamic lines which means the odds will adjust after you place a maximum bet and you will be able to bet again afterwards. When placing a bet, the software will automatically take the best offer available at the market.
---

Aside from the more obvious advantages, Sportmarket Pro also has a lot of features aimed towards Sports Traders and more Professional Players...

Keeping track of betting statistics is something all profitable sports bettors do ( ***** ). Most bookmakers only give a very basic way of seeing your betting history which helps them hide your losses. Sportmarket allows you to see and filter all the bets you placed with them. These are my personal results since the start of last Football season placing 5709 bets in total with a +2.62% ROI. Most of my Profit as expected came from The Belgian Jupiler League.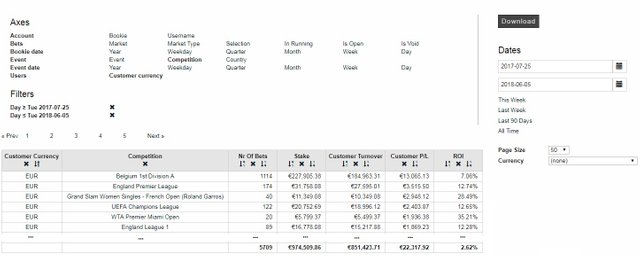 Sportmarket Pro allows you to see the odds move in real time and in most cases ahead of how how they change on accounts directly with the specific bookmakers. This can give a huge advantage when betting live since it allows you to read the market and highly improve your timing of placing mainly live bets.
| | |
| --- | --- |
| Sportmarket allows you to set your target odds on both pre-game and live bets. You can select the amount of time and the odds you want. If the odds move to the point where you set them they will automatically be taken with the stakes you selected if they are available. This is a great tool for Traders or Live Bettors. | |
---

Sportmarket Pro allows you to select the matches you are following and add them to a favorites list which will always put them on top. This allows professional players and traders who are betting multiple matches at the same time to have all info of those matches close to each other.

Sportmarket pro only lets you bet in traditional stable fiat currency, but they do accept Bitcoin Deposits and Withdraws. They use the latests xe.com rate and charge a 1% fee.


There are plenty of other features that Sportmarket Pro Offers
Mobile Version
Lower Exchange Commissions (2.3% on Betfair instead of 5%)
Maximum Stake setting so you don't bet more by accident.
Odds History Charts to read the market.
Position indicator to see what you already placed bets on.
Individual bookmaker accounts.
Sound Notifications on goals or red cards.
Custom Layout based on bets you want to see.
Free Player to Player transfer
Based in Europe with European Licence
...
---

I have been using Sportmarket Pro for nearly 5 years now and I could not imagine going back to sticking to 1 bookmaker which makes me often miss out on the best odds or manually shopping for the best odds which is a nightmare when it comes down to the time management and often made me be too late to catch the good odds. The only thing I don't really like about Sportmarket is the fact that they charge a 1% fee on Deposits and Withdraws with Neteller / Skrill / Betcoin and only have this available for free when doing it directly to your bank account. In all the years I used them, I never had any kind of problems when it comes down to user experience, deposits or withdrawals...
---

Even though Sportmarket Pro is aimed towards the bigger players, it is still quite accessible to small to mid stakes player. The minimum deposit is 250€ and bets can be placed for as little as 10€ (50€ in case Pinnacle is the bookie). The Sportmarket Pro Service is free but you will need to have a minimum monthly turnover (total amount staked) of 5000€ or more in order to make use of it. This is to ensure the speed of the service avoiding players with microstakes clogging the system.
I would highly recommend anyone who is somewhat serious about Sports Betting to check it out and also read all the articles I listed below. If you decide to give Sportmarket Pro a try and are willing to give me a bit of support, feel free to use my referral link below. I also added a normal non-refferal link.They are currently not accepting customers from US, UK, France or any other country that is not in their sign up list due to regulations. If you have any more questions about this service, feel free to contact me in our SBC Discord Channel
---
---

Reference Articles