Every year, over 80,000 pilgrims make the trek at the end of July to Portland, Oregon for the Oregon Brewers Festival (OBF). Founded in 1988 when craft brewing was just getting off the ground, this festival celebrates a flourishing industry with the state of Oregon alone being home to 206 brewing companies who operate 246 brewing facilities situated in 74 cities across the state. Portland now has the distinction of having the most breweries per capita of any US city with 96 breweries in operation within the Portland Metropolitan area as of July 1, 2016.
This 29th annual OBF took place at Tom McCall Waterfront Park in downtown Portland containing a wide range of beers -- Tans to braggots, cream ales to coffee beers, goses to gluten free, pales to Pilsners, radlers to reds, and saisons to stouts. The main festival poured 88 beers from craft breweries across the United States while the International Beer Garden will featured another 25 beers. Each year the list of international beers changes with this year's festival highlighting beers from Japan, China, Germany, and the Netherlands.
While this festival remains the largest Portland based beer festival, events celebrating beer can be had just about every weekend during the summer months with additional festivals scattered throughout the year. Here's a listing of some of the annual beer related festival favorites.
Organic Beer Festival, late August
This annual celebration celebrates awareness of organic beer by serving up over 50 beers, ciders, and mead along with food, sustainability oriented vendors, live music, and a children's area.
The Feast, mid-September
Feast Portland has burgeoned over 40 events that celebrate the diversity of Oregon's and Pacific Northwest's food culture. As this festival grows in size and scope, they add additional breweries and cideries featuring their wares during this festival.
Holiday Ale Fest, early December
More than 50 winter warming brews converge on Portland's Pioneer Courthouse Square for a warm and celebratory 5-day holiday event.
CollaboFest, late January
#PDXNOW Presents Base Camp's Collabofest, an annual opportunity to taste never-before-sampled recipes prepared by collaborations from 16 innovative Portland breweries and two cider makers who join forces to create unique collaborations.
Brewstillery, late February
At this festival hosted at Stormbreaker Brewing, breweries and distilleries team up to create the perfect pairings.
Portland Spring Beer and Wine Festival, late March
During this event held at the Oregon Convention Center, breweries, wineries, distilleries, cideries, and meaderies pour samples. Cheese, chocolates, and other culinary delights are available for tasting as well.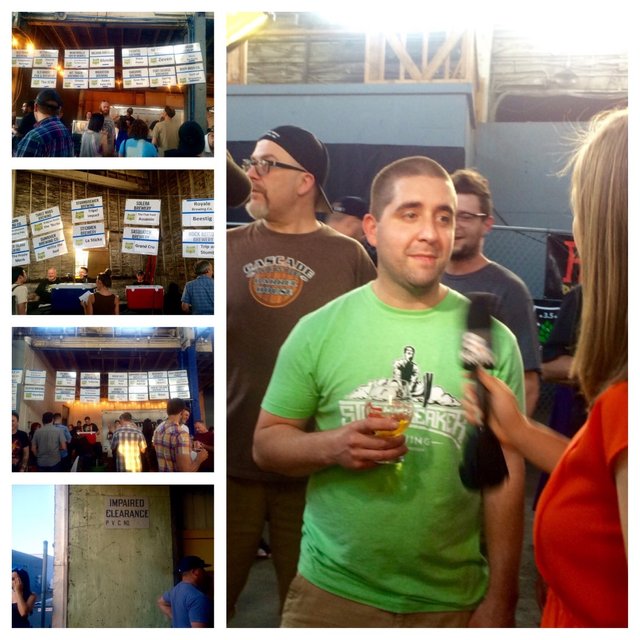 Cheers to Belgian Beers, mid May
The Belgian-style beer festival features a single yeast strain, which over 60 brewers use to brew a unique Belgian Style beer.
Pints in the Pearl, early June. This all-ages festival feast offers food, music, family friendly entertainment, and exclusive
beers brewed by Pearl District breweries Fat-Head's, BridgePort Brewpub, Deschutes Brewing and 10 Barrel Brewing Company.
Cider Summit PDX, mid June
This annual cider summit features over 150 regional and national ciders along with a range of food offerings and live music.
Portland Fruit Beer Fest, mid June
Another craft beer festival in Portland is the three-day fruit beer fest that kicks off Portland Beer Week. This fest offers a diverse array of breweries and cideries highlighting both local makers and national breweries along with music, food and all-ages activities.
Portland International Beer Fest, late June
During this three-day beer festival, one can sample over 200 world-class beers from 16 countries including some rare, hard-to-find, exotic beers.
Portland Craft Beer Fest, early July
During this festival, all breweries within the city limits of Portland, Oregon have the
opportunity to showcase their beers. Also, featured will be selections of Portland's craft wines and winders and locally based food vendors.
This article focused on the top 12 Craft Beer Festivals in Portland. You can check out this website for a comprehensive listing of 2017 Portland beer festivals.
This article was penned by me and an unabridged version of this article was posted at 52 Perfect Days. (http://52perfectdays.com/articles/13-craft-beer-festivals-portland-oregon)