NO SPRAY ZONE: a new beekeeper's introduction and how spraying is dangerous to bees
---
A newbie beekeeper wants to educate the community on the dangers of pesticide spraying.
---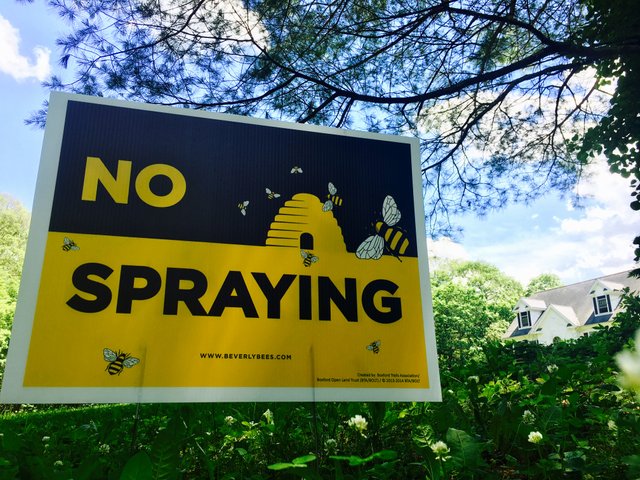 ---
The hive
My family has just become newbie beekeepers! I am incredibly exited. We have discussed keeping bees for many years now but it took a while to finally make the commitment. Getting bees usually requires ordering your bee boxes months in advance, we had to order our two boxes in February. You can see one of our three pound boxes just filled with bees.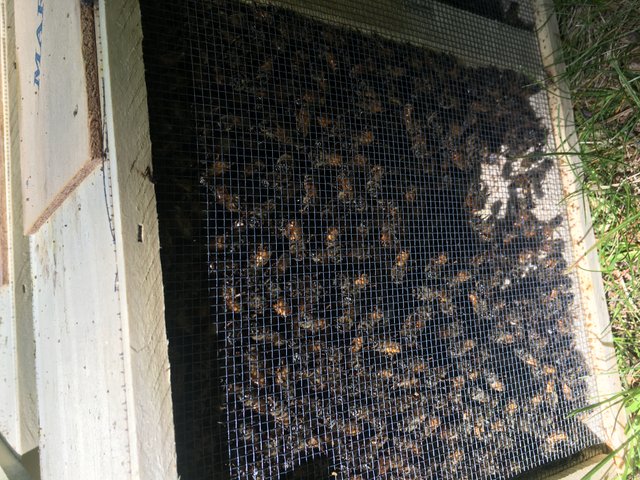 After getting our bee boxes settled and our Langstroth hive setup, we extracted the queen from her protective box. You can identify the queen by the green dot on her back. Each hive will only have one queen, although worker bees can be turned into a new queen with royal jelly. Our queen has some workers in with her to keep her company and help her eat through the candy (white blob) that is keeping her locked in. Once all the bees are in the hive, she will eat her way out to be with the rest of her colony.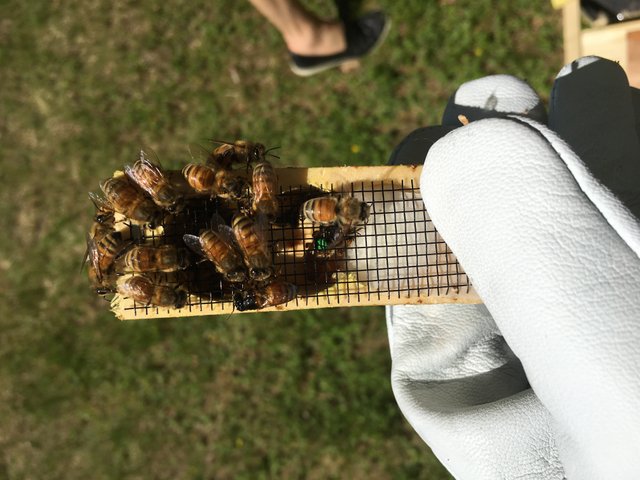 Installing the bees was a pretty simple project that involved just pouring the bees out into the hive, after spraying them down with sugar water. I will admit that this was pretty intimidating; bees were swarming everywhere around me, an experience I had never had before. It was humbling to say the least. Respectful to the bees as they respected me.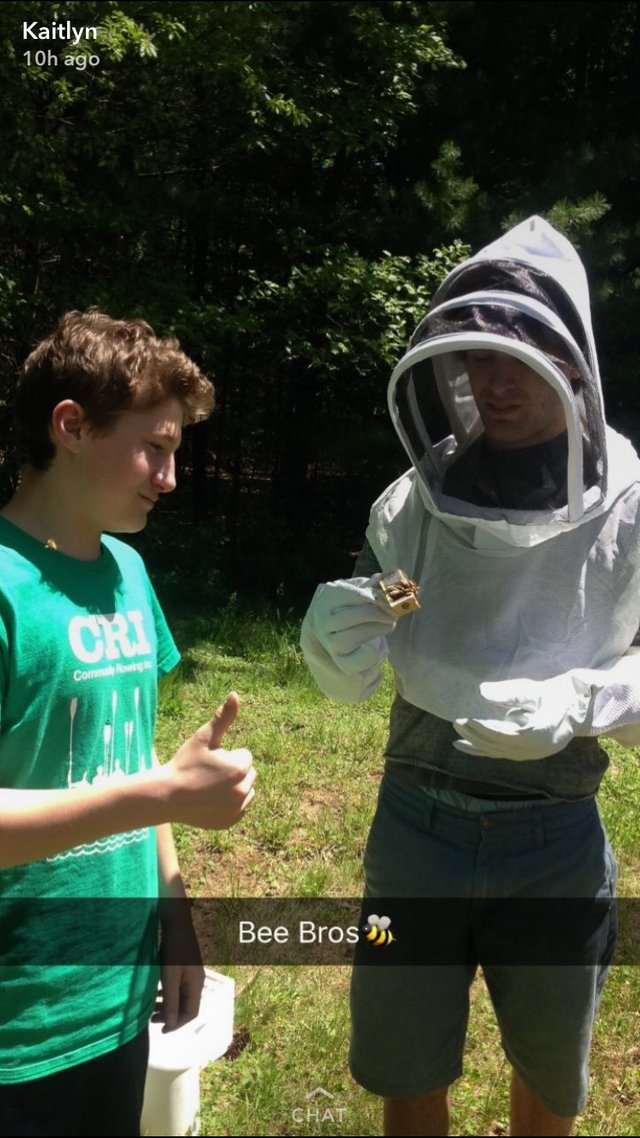 Now our hives are going strong! We have been feeding with sugar water to give the bees a bit of help starting their new home. Now we have added a second layer of combs and a second brood box to both of our hives. Our bees have been collecting nectar around our farm and you can see the pollen they bring back below.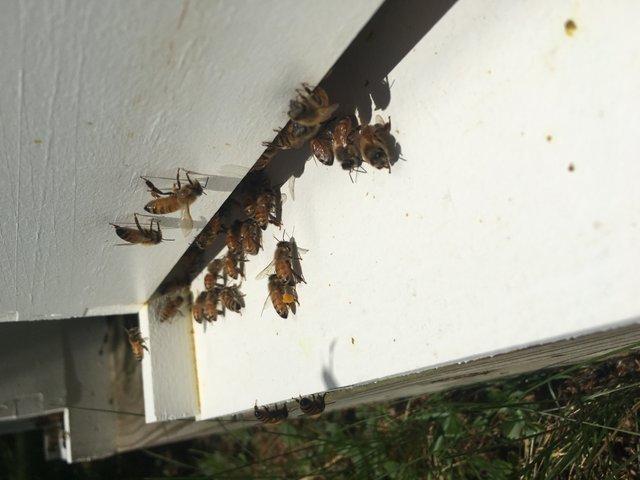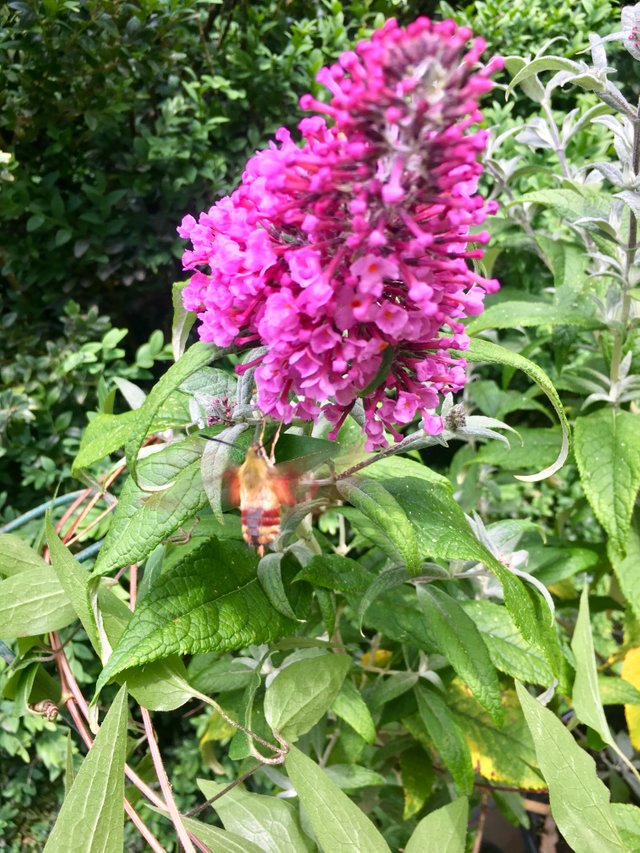 This is a bonus picture of a hummingbird-hawk moth that was enjoying one of our flowers. You can learn more about this really interesting insect from the Mass Audubon.
Mentors?
We don't have great connections to many local beekeepers yet so we have been learning from one of my favorite YouTubers Cody Don! There is so much to learn with beekeeping, it is good to have an experienced mentor to help you out. You can check out his channel here and his beekeeping playlist here. To help other beekeepers like my family, steem might be a great place for a beekeeping community.
What are they spraying?
If you live in mosquito country, you might see signs on the side of the road exclaiming "NO SPRAYING!". What are they spraying and how can this hurt bees?
Pesticides of various types can have many different effects on honeybees. Some types of insecticides can kill bees instantly on contact, thus protecting the queen bee and hive. Others can be transported on the bee's body in contaminated nectar or pollen causing harm to the entire colony once she returns from foraging. Some pesticides are also linked to the devastating Colony Collapse Disorder.
In our area, the Central Massachusetts Mosquito Control Project uses a range of pesticides to control the local mosquito populations. In particular they use the product Anvil 10+10 (sumithrin and piperonyl butoxide). This synthetic pesticide mimics naturally occurring pyrethroids from chrysanthemum flowers. This is sprayed from the back of trucks around our cities.
Neonicotinoid insecticides and fungicides have been shown to be extremely toxic and are dangerous at very low doses. Even worse are the sub-lethal effects of these pesticides; very low doses can cause disorientation, reduced foraging and other dangerous behavioral disruptions. These nicotine-like pesticides work by binding to and over-stimulating nicotinic acetylcholine receptors in the brains of insects. Bees have an abundance of these receptors compared to other organisms.
Just because pyrethrum and similar insecticides are "natural" and quick to degrade does not mean they are not dangerous. Natural does not equal safe. Pyrethrum is moderately toxic to bees and can kill them. If applied late at night while the bees are in their hive, the bees should be unharmed. The problem is improper spraying times have caused many bees to die when workers spray during improper times like late morning.
Oh and just because pyrethrins are pretty safe for humans, the piperonyl butoxide is considered a carcinogen.

Beekeeping on Steem
When the subcommunity features here on steemit begin to be rolled out, I hope to gather beekeepers in the community and form a great knowledge base for new and experienced beekeepers alike. Steem is a great place for informational content to be rewarded appropriately.
This might be something well suited for an @chainbb forum. I haven't looked into how to start a sub forum so if anyone knows that might be good to get started ( @whatageek?).
I know there are some beekeepers here on steem already: @joshglen @shantamcbain @daddykirbs @beesteem @biobees and probably many, many more. I hope they would be willing to help bolster the community further!
---
I hope this break from crypto was enjoyed. I did promise to write some new content!
As always stay critical!
Kyle