Exploring a Secret World - Beautiful Sunday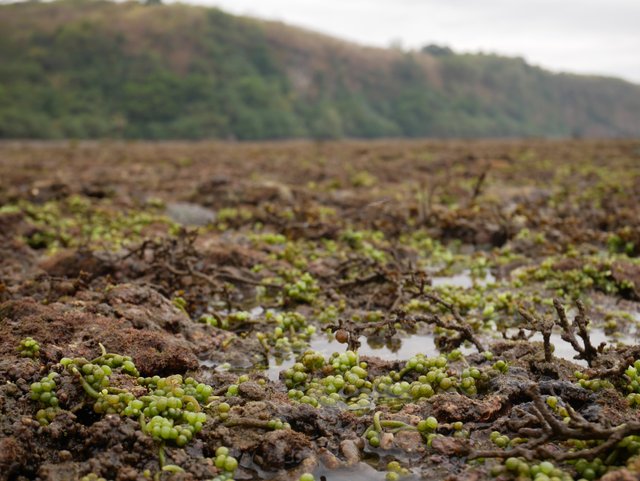 The sun has set and the air goes colder. The gentle sounds of the waves gives us comfort and tell us to unwind. Hello again and welcome the final part of our trip to Lian, Batangas in the Philippines. A place away from the city and the boisterous crowd. If you missed the first two parts of our adventure feel free to visit the links below.
Come with me today as I take you and see what wonders await when the tide is low.
Exploring a Secret World

Last time we ended our story with a majestic sunset. A wine bottle at hand and bossa nova music on the background. As the night approaches, the children were able to setup a bonfire from the dried wood and bamboo that we collected earlier that day. My son learned from me how to start up a bonfire from our previous camping trips. It is important to learn stuff like this as you might end up cold and in the dark during camping trips.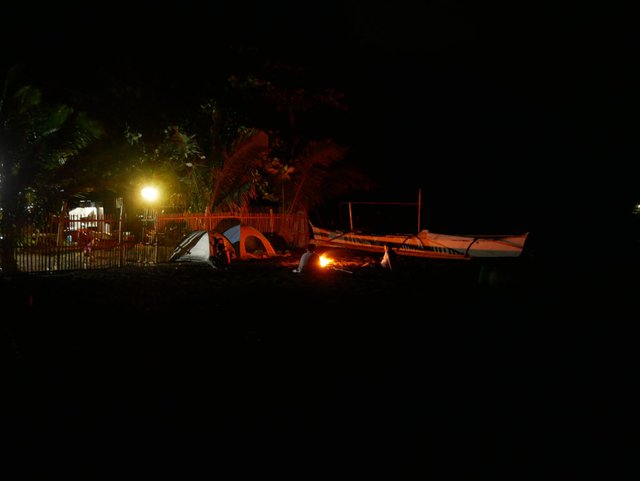 It is very relaxing just to sit around the campfire and tell stories until you all get sleepy. Maybe even roast some marshmallows or hotdogs as a snack during story telling time. The popular stories always told are local folklore and ghost stories. Ending up scaring the kids most of the time and thus forcing them to all squeeze together inside one tent.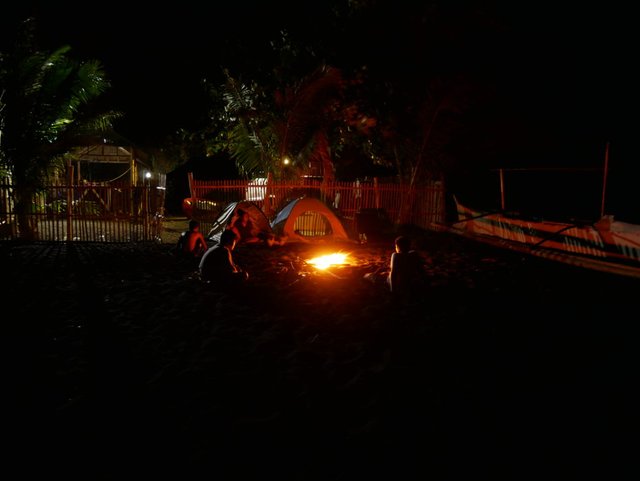 The warmth of the fire, the crackling sound and gentle glow all comes into play. A cold breeze blows, but the fire embraces us with enough warmth. As the night goes deeper, the children one by one headed to the tents to sleep underneath the stars. The fire slowly dies out and we head to my tent to call it a day with beautiful thoughts from throughout the day.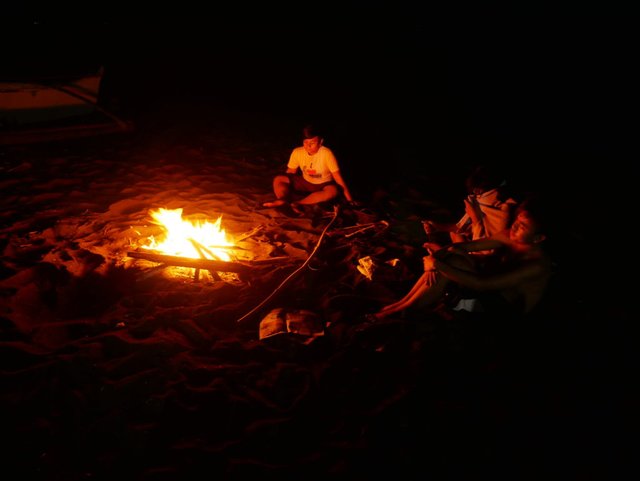 I rolled around the tent and could not fall asleep. I decided to go outside again and take some photos. The photo below looks like that the sun has just set. In fact this photo was shot in complete darkness of the night, with a higher ISO from the camera with a little light from the hut.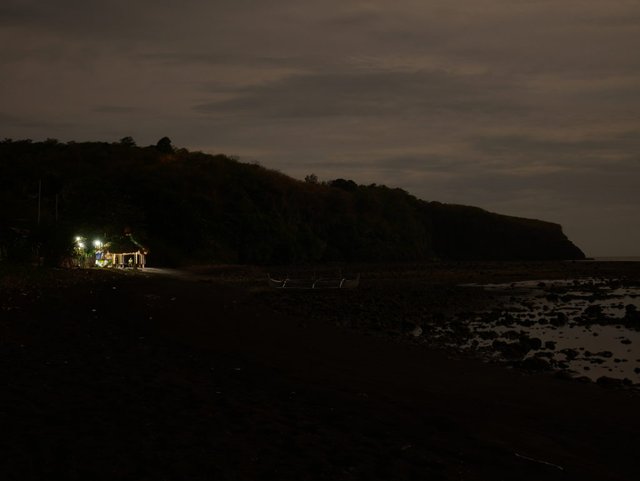 This was taken around 11 pm and it is a good thing that the houses leaves the lights on. Walking around a bit got me sleeping so I went back into the tent and finally got some sleep.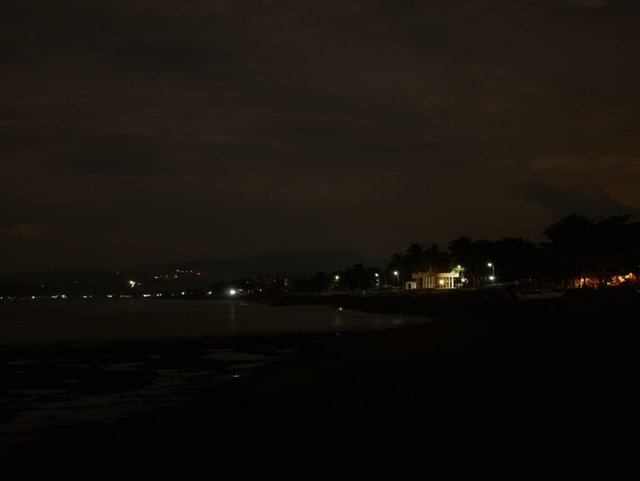 I woke up again and I thought dawn was approaching when I heard motor sounds from boats. As I checked the clock it was 3 am, it was hard going back to sleep so I just went outside again. The moon was high, the tide was low and I saw fishing boats headed out to sea.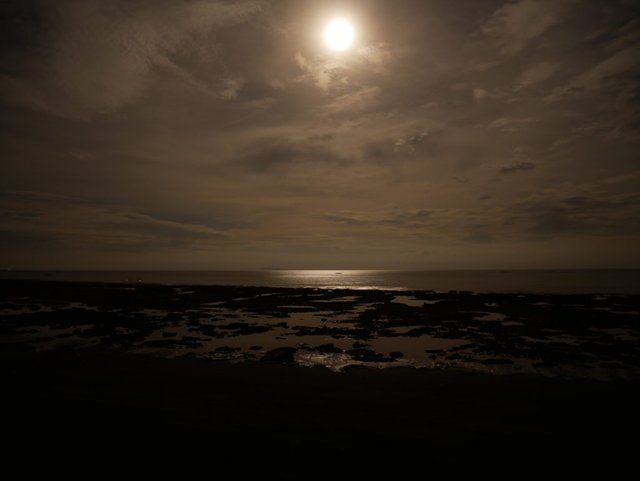 This is the time they go out to sea as I was told that more fish can be caught when the moon is shining high.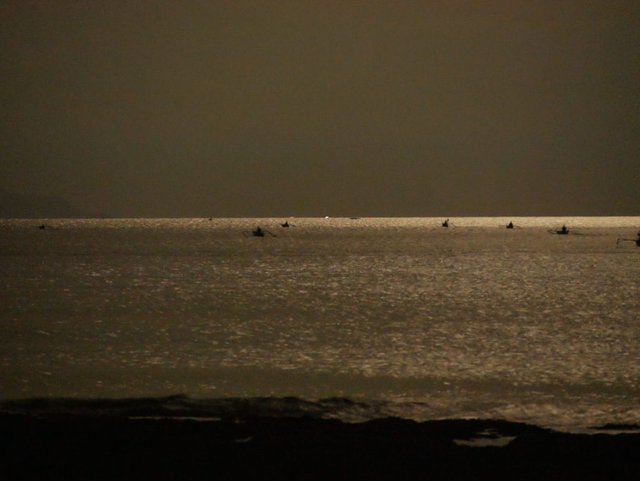 The photo is a grainy as I had to bump up the ISO on the camera to get a closer shot of the fishermen. Here you could clearly see three guys on the boat. It is quite exciting to catch them in the morning as see what they caught which they sell at a very cheap price. After an hour of just sitting on the beach underneath the moonlight and watching the fishing boats. The sandman finally caught up with me and I went back into the tent. As soon as I closed my eyes it was dreamland for me.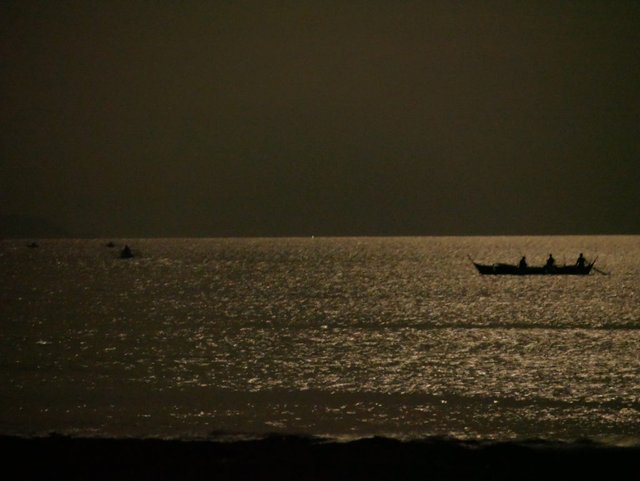 Morning came and I heard the children playing outside. As I looked outside my tent, the kids were picking up something from the rocks.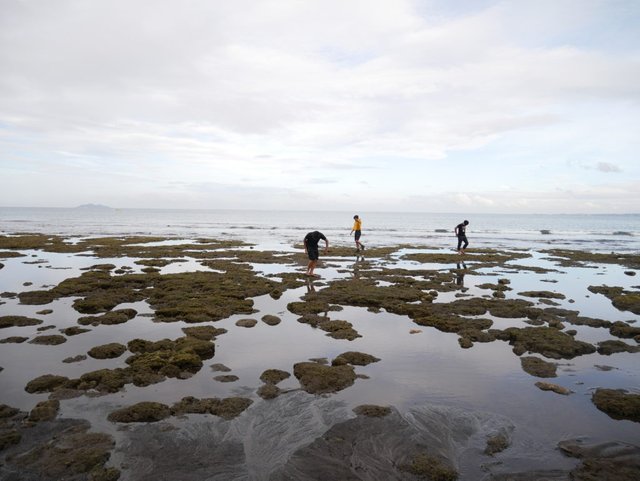 I called out to them and they came running to me excited to show me what they found.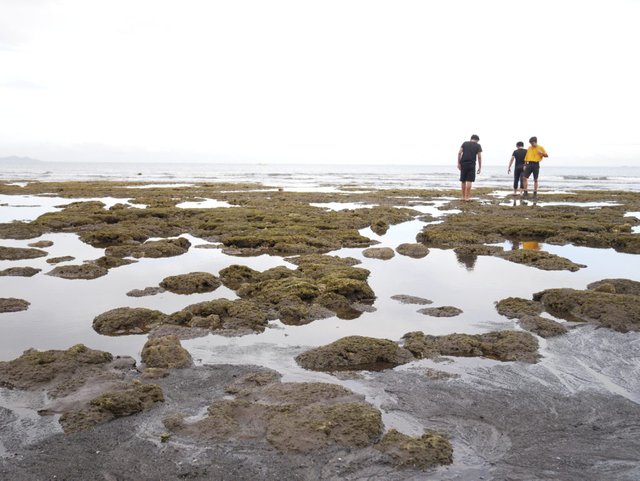 To my surprise, they were picking up starfish on the rocks. I was fascinated to see real starfish here, but I immediately asked them to put them back where they found them. It is amazing to see diverse marine life thriving in this area which is cannot be found in beaches near our city. The caretaker of the place we were staying mentioned that the area is protected by the Department of Natural Resources.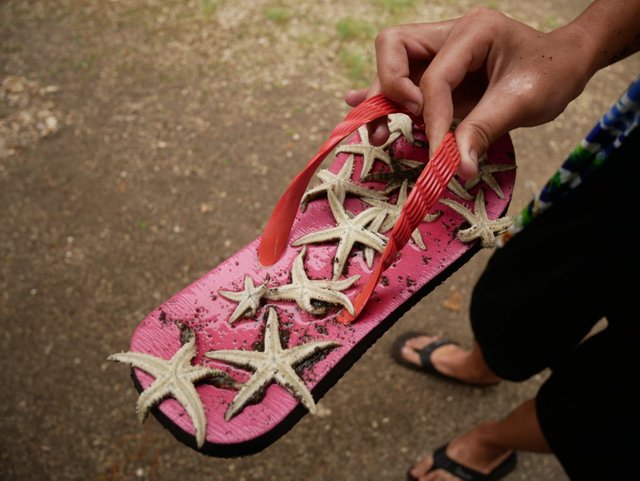 She pointed out to me to explore the right side of the beach as there are so many marine life that can be found. It was time for me to do my final exploration and armed only with my camera.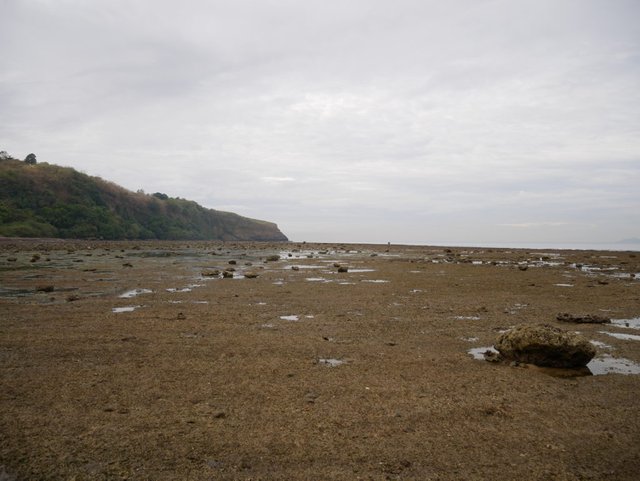 The tide was low and exposed a beautiful world hidden underneath the water. The first creature I saw was like a large worm the slowly crawled on the sand. I do not know what it is or what it feeds on, but better not touch it.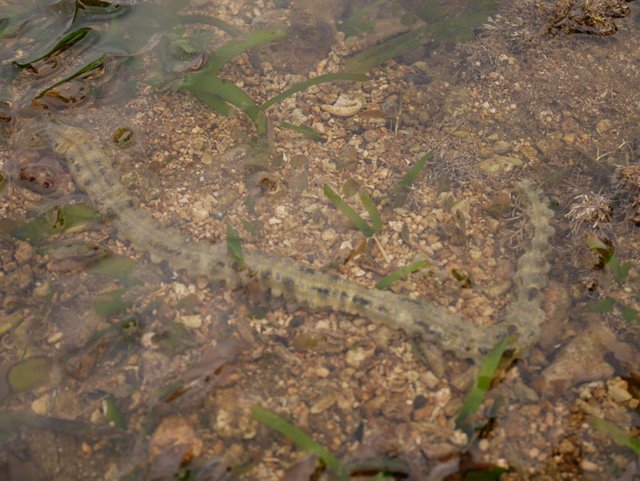 Now sea urchins are very abundant here, you could see them everywhere. I am just not sure if this is the species that can be eaten.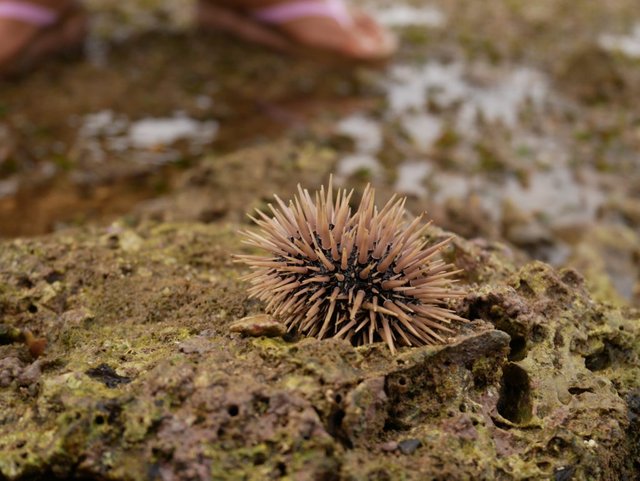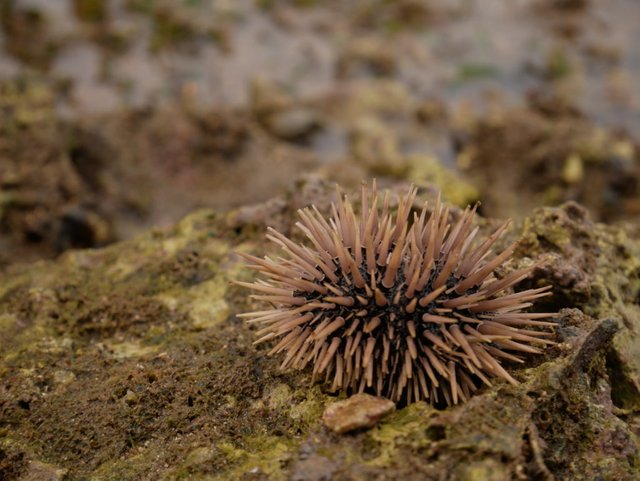 Lots of small hermit crabs are exposed hanging on the the rocks.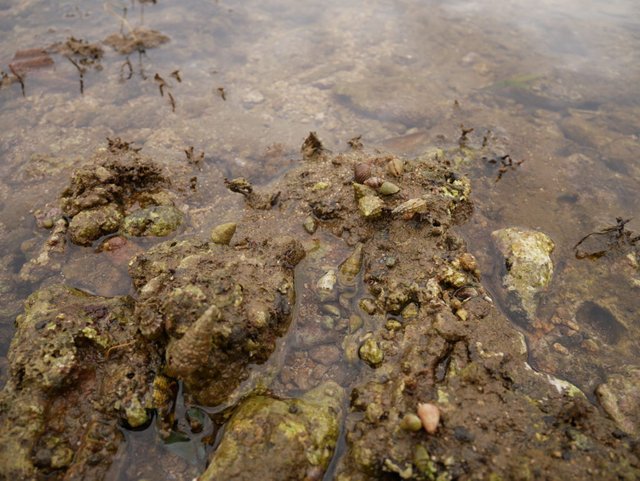 As I walked further on the rocks, the things that I found became stranger. I do not know if this is some sort of coral perhaps. I could see that it is alive as it moves a bit.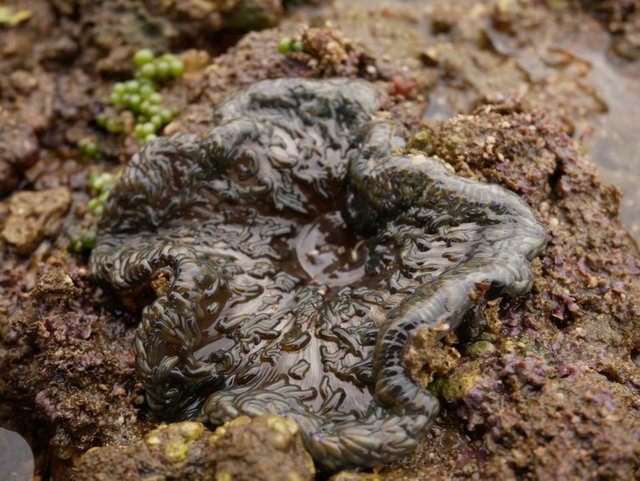 There were more of them on the rock and this one had a lighter shade of green color. If any of you could identify it please do share with us as I would love to know what it is.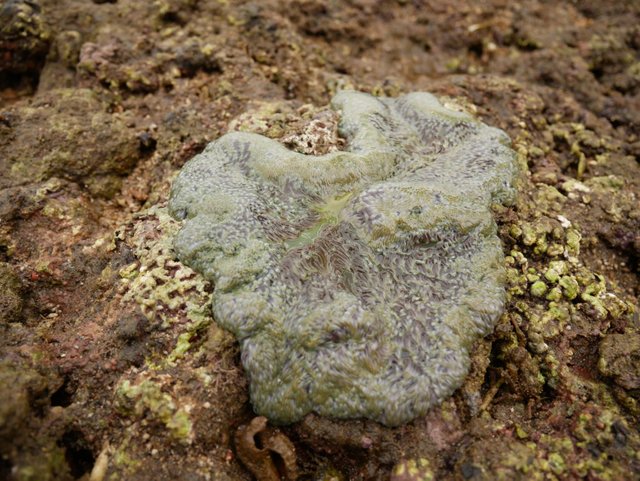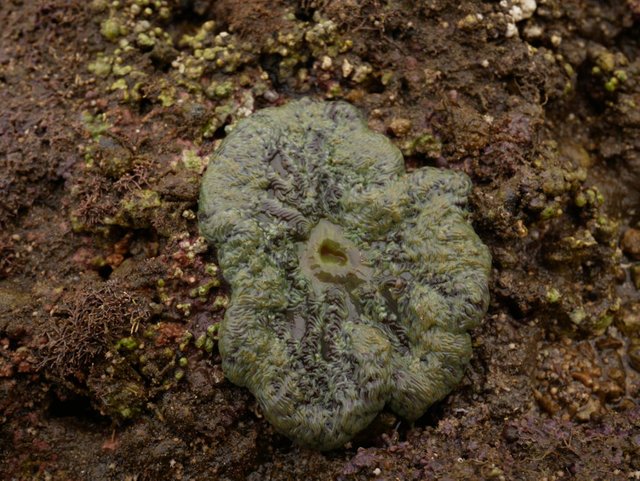 Lots of shells were also everywhere and the one below looks really nice. As I was about to pick it up, it crawled away and hid underneath a rock.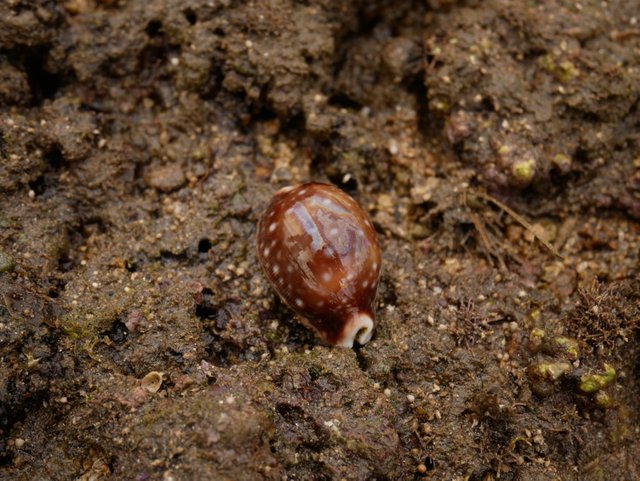 It was like a secret world opened up to me which only appears when the tide is low. The area appears to be untouched and is so alive. Seaweed that appears to be wild sea grapes were thriving and almost covers all the rocks. It made the rocky beach look so gorgeous like a terrain with abundant natural wealth.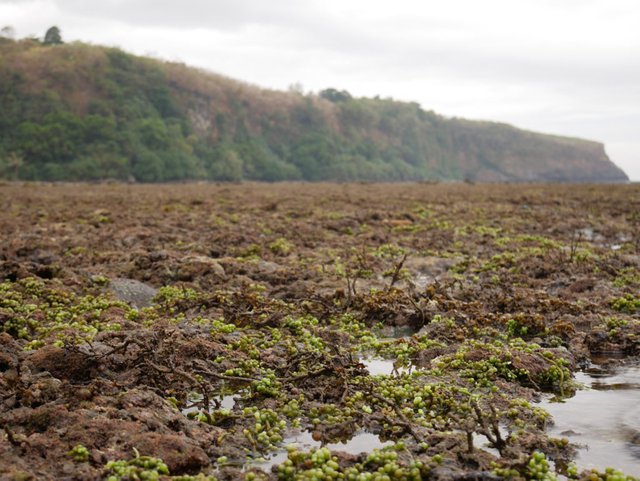 It would be nice to fix up a salad with some of these sea grapes. I was a bit hesitant to take some with me as I am not used to foraging. A local guide would be advisable to ask first what is safe to eat.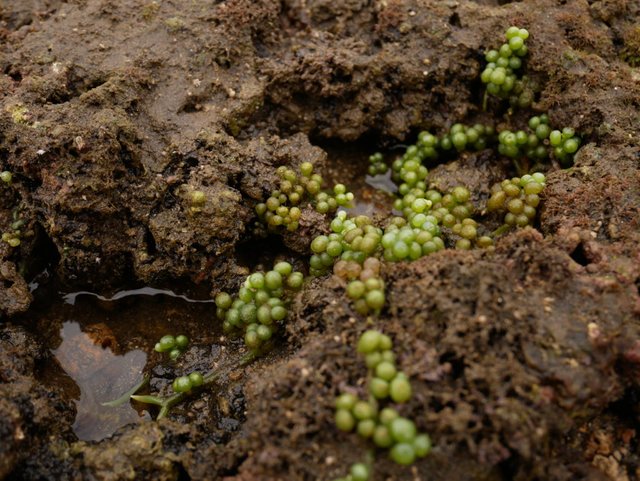 Another live coral with beautiful shades of lime green that almost glows.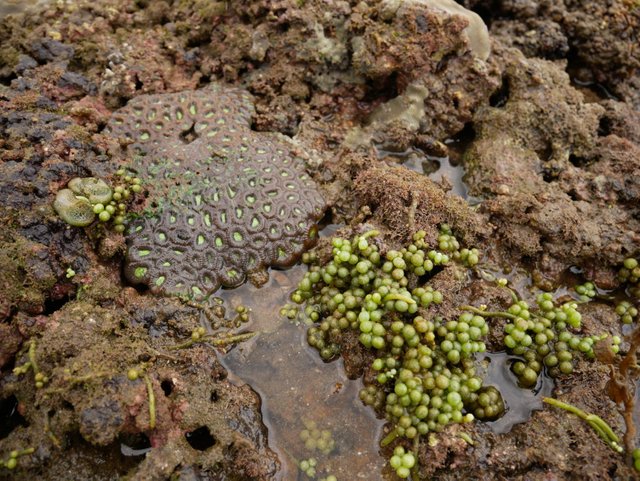 The terrain is covered with patches of small natural pools. Each pool looks like a unique aquarium complete with plants and some has little fishes that are trapped. I spotted this tiny fish with a glowing blue color.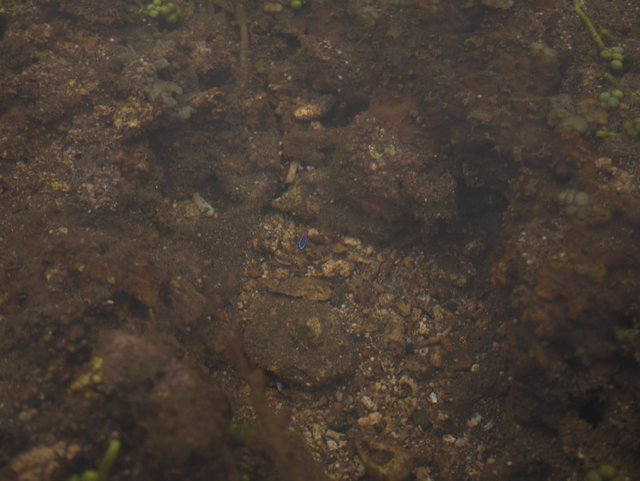 One of the natural pools of water that can be a perfect design for an aquarium. A great place to get some ideas if you are an aquarium hobbyist. I have an empty 75 gallon aquarium at home and makes me think to have it set up again.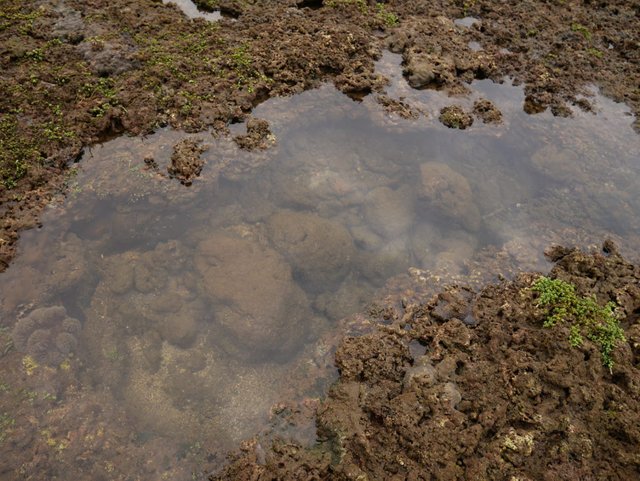 Things became more and more stranger to me and somehow I feel I am in an alien world. I have never gone snorkeling maybe that is why I am so amazed with everything that I am seeing here.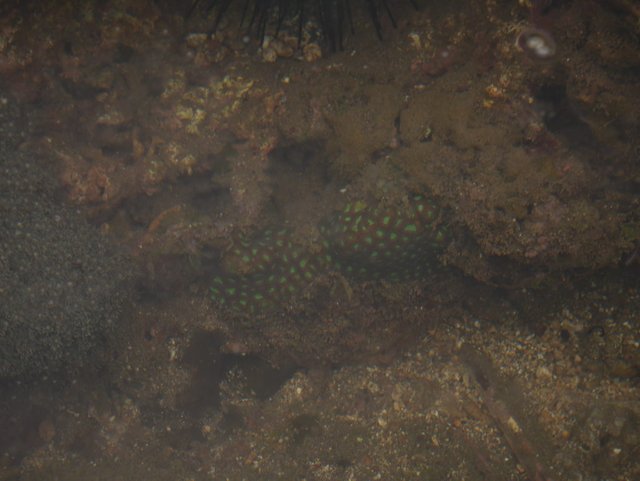 Some pools are a bit deep and I have a feeling that more fish are hiding underneath the rocks. I tried to find some, but unfortunately couldn't find larger fish in the area.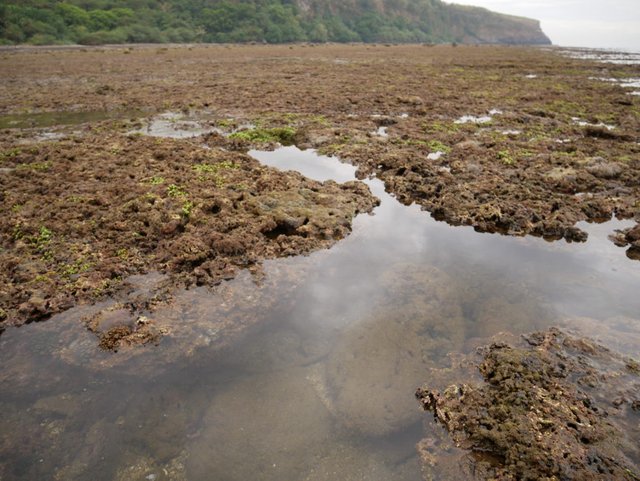 A small crab quietly waits for its prey of small fish that may pass by. A different kind of species which is the first time I have seen. I do not see this kind in market places and it is not advisable to just grab and cook any crab. Some of them are poisonous and leave you ending at the hospital.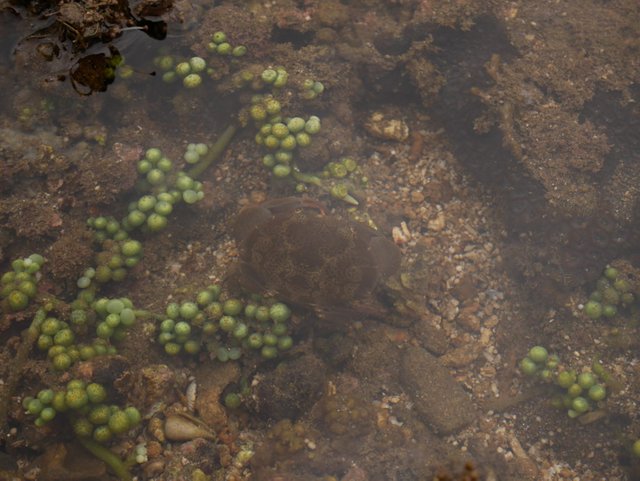 Colors are everywhere and I was not expecting seeing pink colored plants on the beach.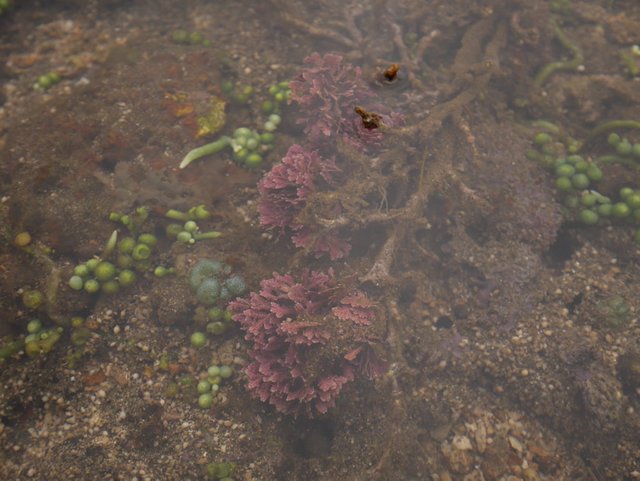 As I walked further, this very large coral startled me and there were two of them. The strands were swaying underneath the water like plants being blown by the wind. Also looks like a good hiding place for small fishes.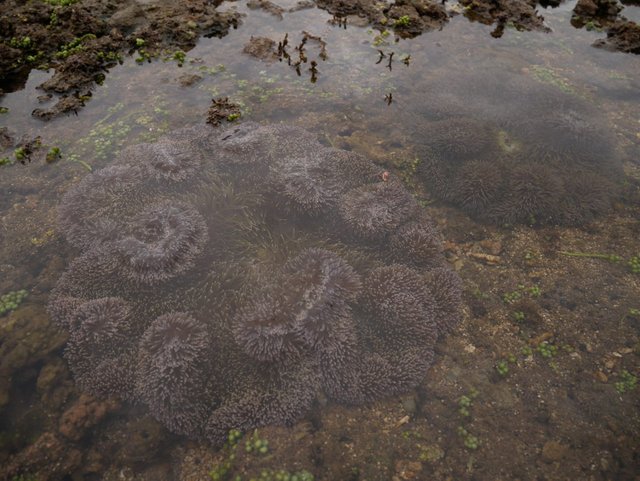 I found a small crab hiding inside, probably it realized that it was a great hunting spot.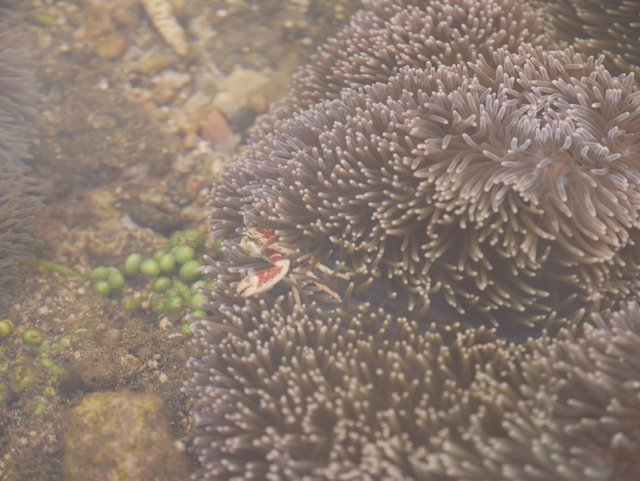 Something crawled near my feet what looks like a long centipede. It could give a nasty bite and I am not waiting to find out. I immediately stepped on top of a rock. It moved very quick and hid inside one the crevices.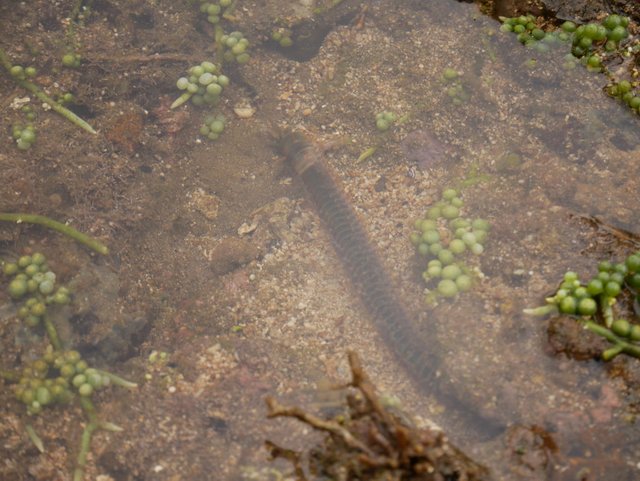 This looks like a sea cucumber and do correct me if I am wrong. I watched as the small antennas on the top were moving around and looks like it is sensing for something.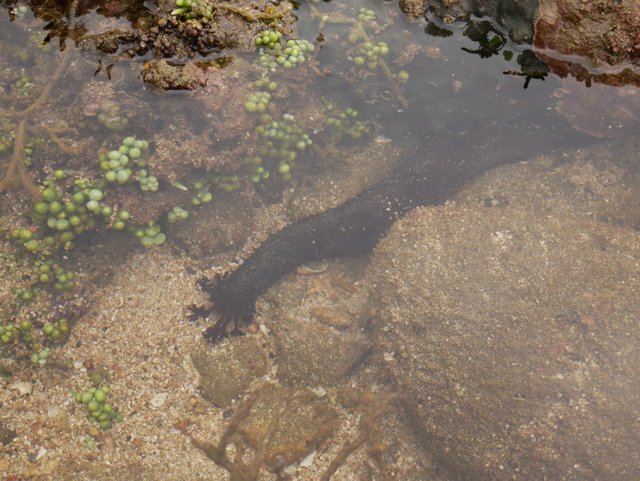 I didn't see much starfish in this area unlike the rocks near our camp where the kids found a lot of them. Here I only found this one that is large but unfortunately a dead starfish. Just another part of the cycle of life in this ecosystem.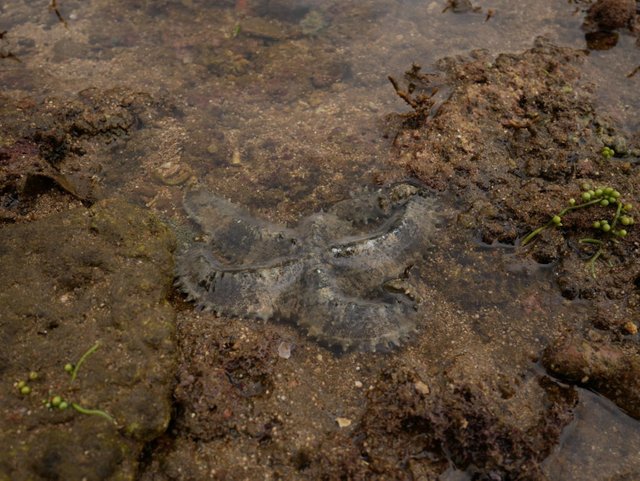 It was time to go back and end my exploration. Rain clouds were coming in fast and my camera is not weather sealed. I didn't realize the weather suddenly changes here as it was very sunny when I started. Looking back at this beautiful terrain at first you may think that it is all rocky and may look uninteresting. We always love beaches with pristine fine white sands, but we must always remember that things or places may not always seem to be. Some most unique places are just hiding beneath the tides. This secret world is best hidden away from crowd, but if you do wish to visit. Only take home photos and memories with you, leaving no rubbish behind and keeping the place magical.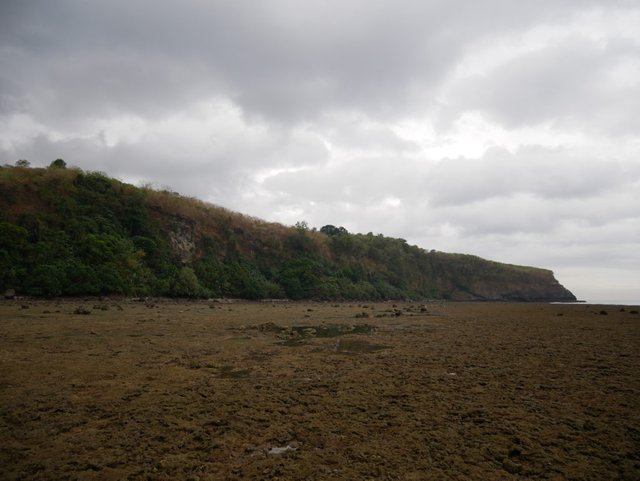 Thank you for joining me in exploring this beautiful place in Lian Batangas, Philippines. The world is a beautiful place if we just know how to harmoniously live with it.
Until then enjoy the rest of the weekend and have a good evening.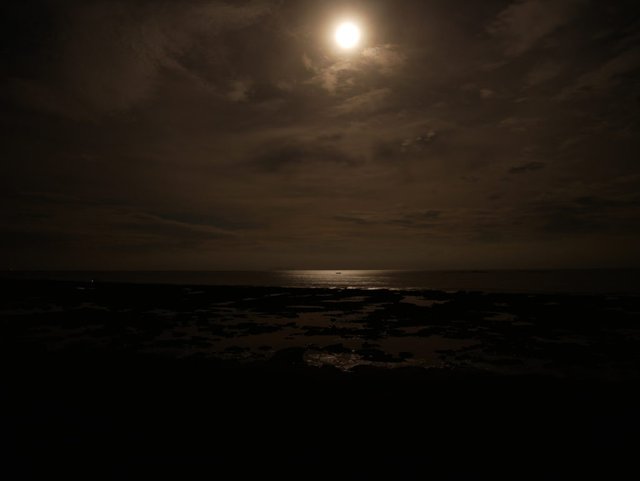 Follow @surpassinggoogle to witness an extraordinary person in this platform and vote for @steemgigs as witness
Discovering exceptional content in the community follow @curie and vote as witness
To have a glimpse of awesome content from the Philippines check out @bayanihan
All photos are original and taken with
Lumix GX85 with Sigma 50mm and Olympus 40-150mm




---
Posted from my blog with SteemPress : http://watersnake101.vornix.blog/2019/02/10/exploring-a-secret-world-beautiful-sunday/
---