Mu Kratha – Do it yourself BBQ and Hot pot combined
หมูกระทะ (Mu Kratha)
Hiiiiii Steemians! Today I'm introducing this 'Mu Kratha' food set, a combination of a Chinese hot pot and and a Korean BBQ, then we claim it to be ours and have it all over Thailand 😀
As seen in the photos, there are a pan mountain in the middle used for grilling meats surrounded by a soup in some kind of pot canal for boiling vegetables 😀
'Mu' means pig or pork
'Kratha' means pan
Though, it's not all just pork. Places offer pork, beef, chicken and seafood. Most of this type of restaurant often offer deals 'All you can eat' with prices range between 99 up to 299 Baht (Street food). In malls, you probably have to pay a little more. Sometimes could go as high as 1xxx Baht.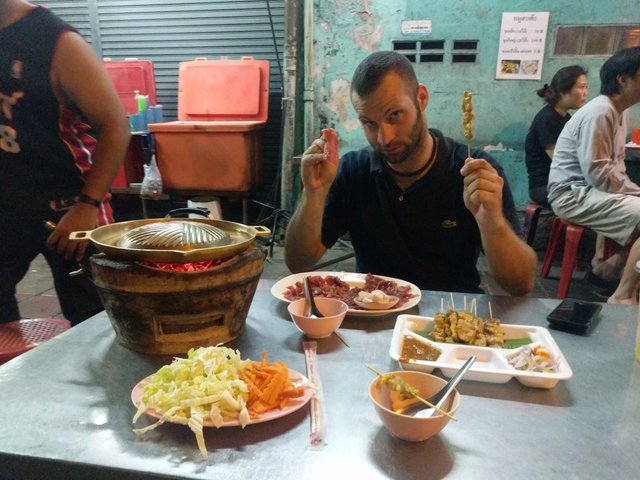 A secret local Mu Kratha place near Yaowarat (Bangkok Chinatown)
Yaowarat or Bangkok Chinatown is one of the most well known spots tourists like to go for food. Once it gets dark around 6-7 ish, the street is packed ! Every place is full ! Lots of lots of food to choose from. – The Mu Kratha place I'm introducing to you today is actually 10 mins walk from the busiest road, Yaowarat. Again, Surprisingly, not so many tourists know about it or they just don't care 🤣
The place called 'Iam Potchana (ร้านเอี่ยมโภชนา)' featuring this unique way of cooking/eating that we love so much! Do it yourself BBQ & hot pot… 'Mu Kratha'
Last time went there with a friend from the US who once was my couchsurfing host in Los Angeles 🙂 Glad to meet you again Costis!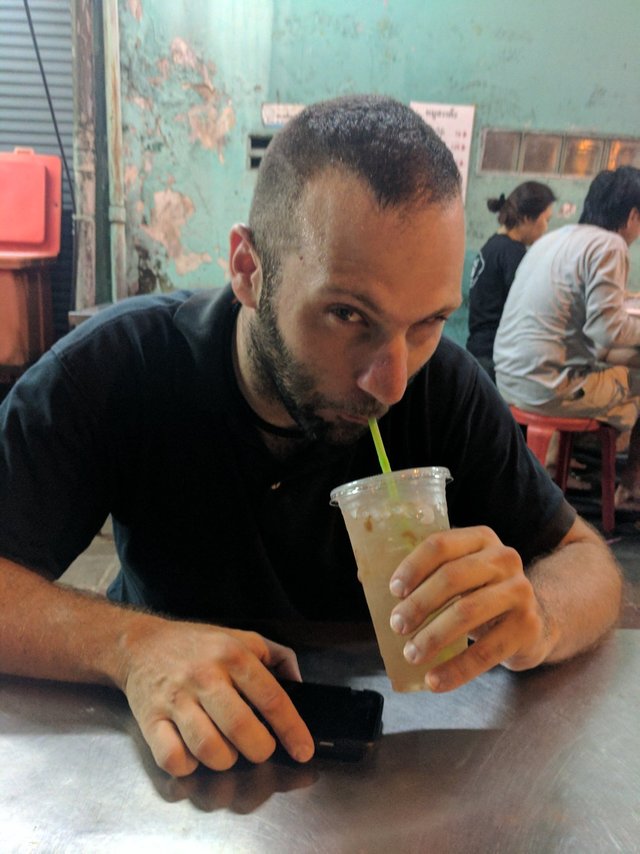 Plum juice
What he had in his hand was a sour plum juice (sour plum smashed and mixed in light syrup with a bit of salt) from a drink stall in front of the restaurant. He said it was interesting. 15 Baht = $0.50
What to order?
Mu kratha : A set of meat and veggies (200-300 depends on types of meat you order).
Mu Satay : Pork seasoned, skewered and grilled. Served with a thick peanut sauce and a pickle cucumber, onion in vinegar.
Whatever drink from the drink store in front of the restaurant.
Where is Iam Potchana?
เอี่ยมโภชนา Iam Potchana
215/2-3 Yi Sip Song Karakadakhom 1 Rd, Khwaeng Pom Prap, Khet Pom Prap Sattru Phai, Bangkok, Thailand
** 10 mins walk from Yaowarat or Bangkok Chinatown
** On the way walking from Yaowarat to Iam Potchana, don't be too surprised if you see some girls/ladies (Both real ones and some others). It's one of the spots! If you know what I mean..
Previous deliciousness ..
0.33USD Boat noodle in the Center of Bangkok, Thailand !
Amphawa Floating Market - Eat the crab out of everything!
FOLLOW @WAYBEYONDPADTHAI FOR MORE DELICIOUS / WEIRD / INTERESTING FOOD POSTS.
SUBSCRIBE TO THE CHANNEL FOR MORE FUN VIDEOS
VISIT THE BEST CASUAL THAI FOOD SITE FOR ALL POSTS.
Stay healthy. Eat good food. xoxo.