Progress happens when we are busy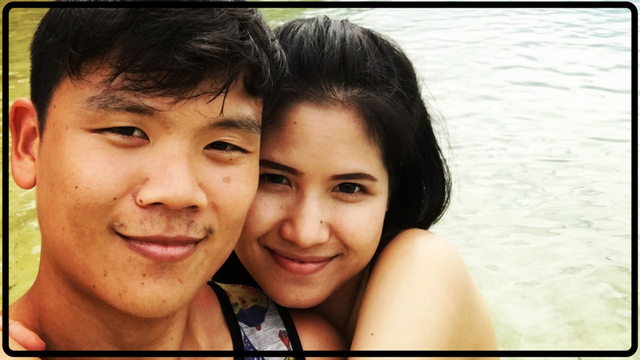 We met while I was a make-shift English Teacher
I don't have any credentials, I spent most of my time as a volunteer in the mountains, and I had randomly met a yoga teacher who adopted me into her home and her sister really needed to fill a spot in the private school she was working, long story for another day, I suppose.
She was my teaching assistant. The problem with being bilingual is the teachers at school are not used to having a foreign teacher who is capable of holding both Thai and English conversation. So there was a lot of gossip and rude Thai comments that people around me thought I couldn't understand.
Getting a gig with an Asian face to teach English is very frowned upon in Asia, the Thai's get paid very low wages while foreign teachers work less and make four times the money. I received a small pay cut the reason the director gave me was, "you don't look farang."
I didn't really care too much, the pay was above what I needed for Thailand, and it was a good opportunity to give back to my yoga teacher. So I worked and after three teaching assistants quit because the school had so much drama, I met the Northern Thai girl who sounds like a Singaporean when she speaks English.
It was quite troublesome for me to control the classroom of 25-30 kids, especially the 1st grade kids. My new teaching assistant packs a whip with her voice, and the kids lined up like it was execution time. I don't know what makes her so scary, but the kids then realized how lovely it is to have me as the teacher.
Life was smooth sailing until
We taught our classes very harmonously. My teaching assistant and I decided to teach together, so that she would have more opportunities to speak English. I didn't like their lame workbooks and curiculum, so I did many on the fly sort of gamification to get the kids really guessing what I am up to. My teaching assistant flew with me quite well, given I didn't really have a teaching plan at all.
The kids were very engaged in our partnered teaching, and of course, the Thai teachers that saw us really didn't like how happy we looked together.
So there went out a rumor that we started dating.
She was really taken in by the drama that happened without us really doing anything besides our job. I forgot about face when I became a traveler.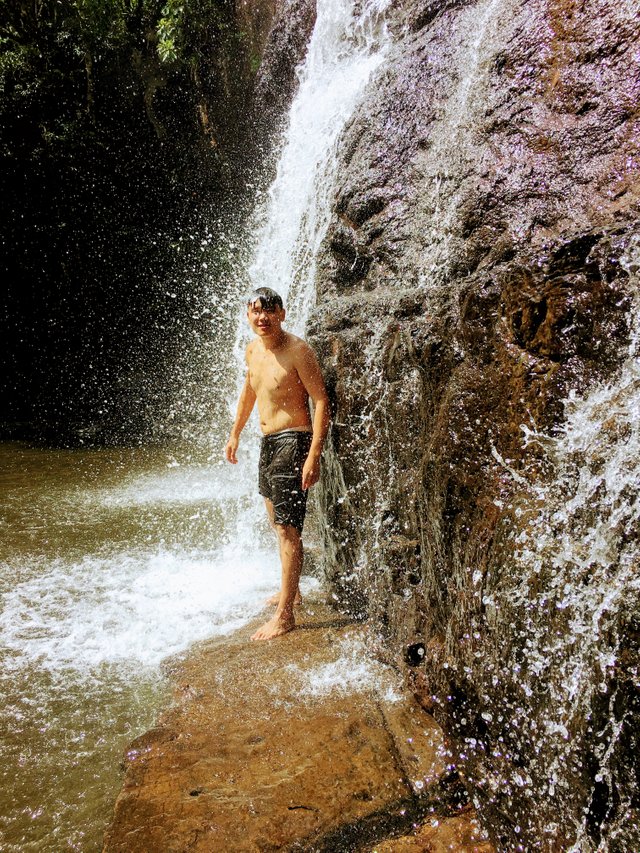 I didn't really care what people thought of me, because I always knew that there would always be another place if the current one wasn't a place I could cultivate my healing.
She cared. She didn't like how the Thai people would look at her and shame her for teaching with me. I couldn't do anything to make her feel any better. The work environment really stank and the people were very unfriendly towards foreign teachers. "Fake" smiles were very normal, and as you walk away, you can hear the backtalk.
I was ready to leave, I'm exhausted from the drama, and it really wasn't conducive for me to change teaching assistants so often. This school was preparing kids to pass exams but fail at being good human beings. I needed to go.
So I asked my teaching assistant, "I'm going to start traveling again, would you like to come with me?"
It was a playful question, I didn't really mean it when I asked.
She agreed, and we quit our jobs at the end of the semester and started to travel.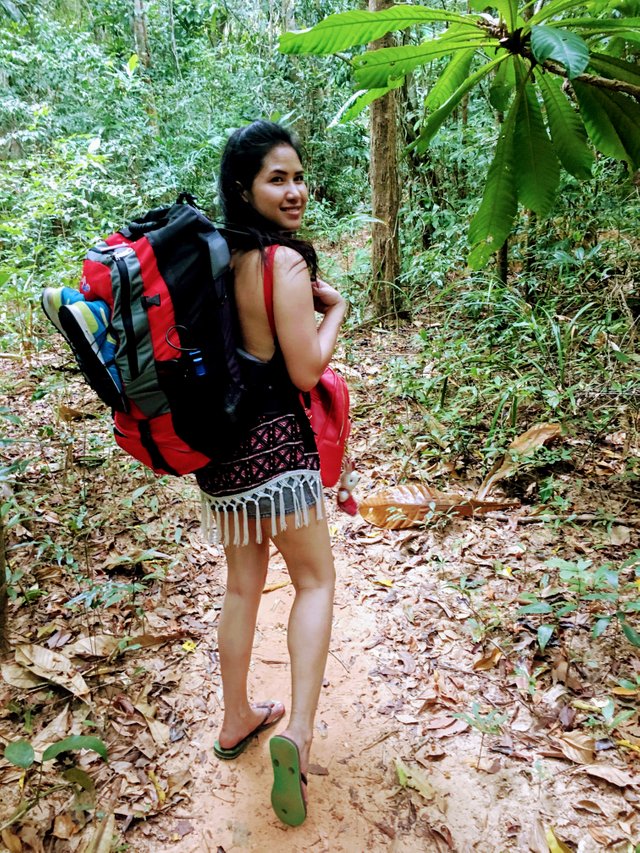 Relationships are meant to be tested
I think the romance came without us expecting it. My heart and relationship experience so far had been with girls that spoke English. I'm a very written kind of lover, so it takes a gal who is willing to read my heart to truly understand where I currently am with myself.
I write when I'm furious, happy, sad, excited-- any sort of emotional experience I have, because I am normally numb to everything. When it is written down somewhere and I'm having a downswing into the black hole that consumes everything intangible, given that I still survive my own destruction, the little stories I write are like back ups of myself because I don't have an Adam Sandler that will record my life because when I wake up in the morning feeling like I don't know who I am.
We both are sort of broken from our past life experiences, and our communication heavily relied on my growing Thai language and her willingness to learn English. She had experienced my dark holes that come randomly and I expected her to distance herself because it's a typical human reaction to sudden scary experiences that are unfamiliar.
I wanted to show her all that I experienced through SE Asia, first with the farm I worked in Cambodia. (I think I wanted to scare her in going back home at first). The farm collects rain water for cooking, showering, and to convert into potable water for drinking. We have limited electricity and internet, and it truly is in the middle of nowhere with dirt roads for access.
She loved that we slept in my two person hammock at night. The bugs didn't really bother her, and even the stinky market we had with smelly dead animals didn't stop her from buying ingredients to cook for me and my awesome Khmai friends at the farm. I was running out of reasons why I needed to push her out of my life. So I decided to do or die. My buddy had really converted my motorcycle into his farm work horse, even with her muffler broken, she ran errands for him daily.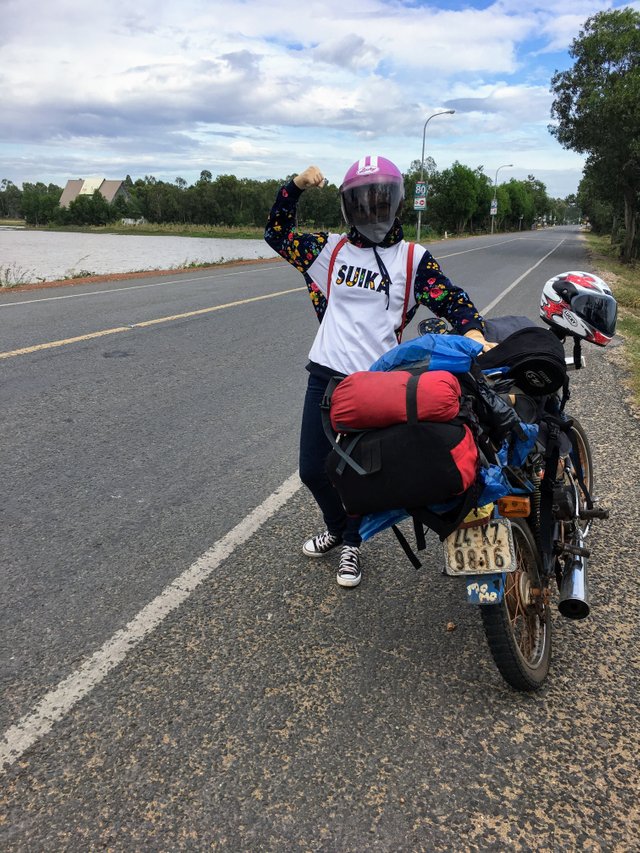 I fixed up Momo and she ran pretty decently up until we reached Phnom Penh. The mechanic there helped me replace crucial parts for my next test--err.. adventure
We went on a long motorcycle road trip crossing Cambodia to southern Vietnam. We reached Vietnam in time for the Lunar New Year. The traffic scared the hell out of her, with the locals honking left and right, big giant tour buses driving past like we were tiny little bugs on his windshield. This was my second playthrough, so I knew what was up. It wasn't too stressful for me anymore since I've been here a couple of months before. I had a feeling that my new mate would enjoy food here, because we sort of use similiar ingredients in our foods, Thai & Vietnamese.
I was often a sour apple, as it is incredibly uncomfortable for me to have everyday people in my life. But after many arguments which we both came back from each time, I felt like it wasn't so bad to have a partner. She really helps with the entire process after I get triggered by something. Down into the rabbit hole of my anxiety. Shackled by my trauma. She sits there waiting for me.
She says:
Whenever you're ready to get back up, I'll be here no matter what.
I didn't wanna keep the beautiful girl waiting. So I decided to heal faster each time I fell into my hole. I wanted to have more and more adventures with her and meet so many people that make her laugh and smile. I saw her true self and what meaning she brought into my world. I saw the meaning for us as life partners as we experienced each other and shared it with the world.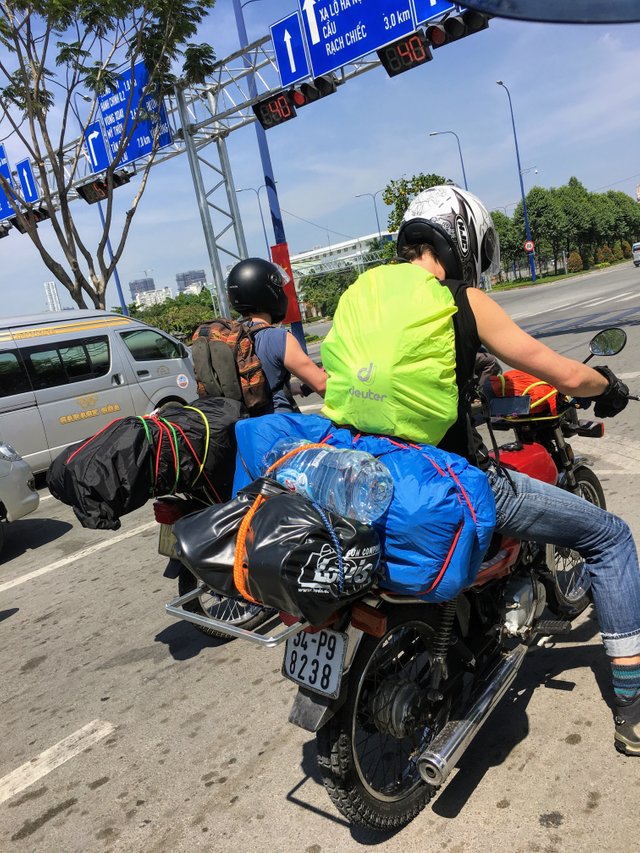 Good company comes in form of a random stranger who shakes the everyday routine of the person.
Like a shooting star, we were clumsy and silly Thai backpackers who really left behind many laughs and enjoyable experiences as we practiced being true to ourselves. We became better friends for one another as we survived through rain storms and chilly weather. The drama that I carried in my backpack came out and each step we took as a couple my bag kept filling up with new drama. It felt like a new story was unfolding, and I suddenly decided I wanted to be here with her. The world became closer to our hearts and now we are partners that enjoy spreading love and joy with all we are able to spend time with.