Annie Leonhart of Attack on Titan: An Entry for @julstamban's Anime Villains Drawing Contest
Going against the flow takes a lot of courage. I respect that. Maybe people who can do it are just stupid, but… Well, what I'm sure of is that people like that are rare.

-Annie Leonhart
Shingeki No Kyojin (Attack on Titan)
I missed the Art contest initiated by @steemph.cebu last week due to hectic workload, but I stumbled upon @julstamban's ongoing Art Contest which I immediately saved for the weekend. In this challenge, the villains of our favorite Anime are being used as a subject. You can see more of it here.
Normally, protagonists are highlighted all the time simply because they're the lead stars of every story. They get beaten countless times, but they always got our back. The more they get oppressed, the more sympathy we give to them, and the more hate we grow to their antagonists or commonly known as the villains. Villains may get all the hate and animosity from the audience, but still, they play equal importance as the protagonists. Without them, there will be no spice, no thrill, and no excitement in the story.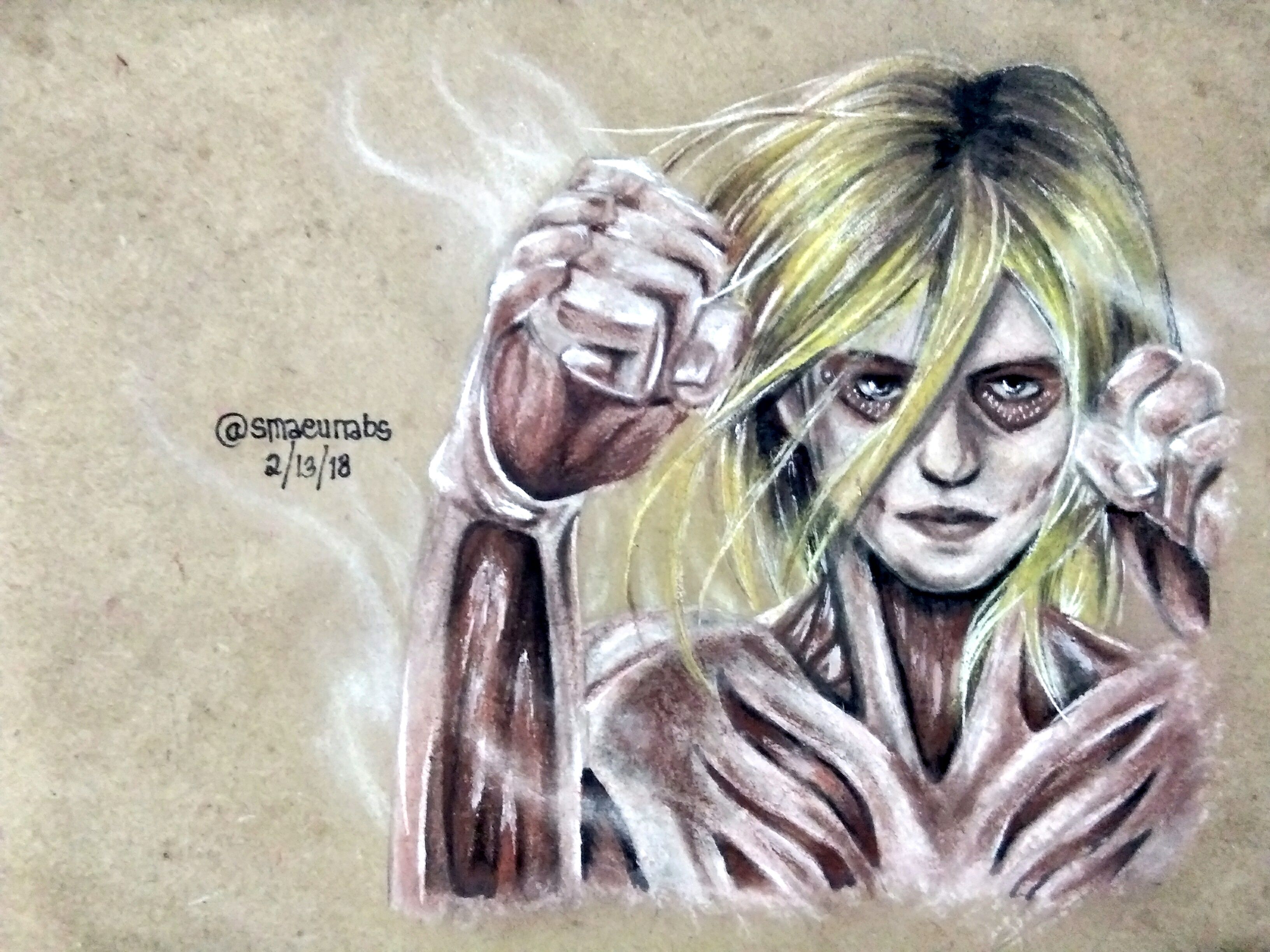 Annie Leonhart of Shingeki No Kyojin. A supposed to be the protector of humanity from the Titans who turned out to be one of those monsters who exist for the Annihilation of mankind.
Weeks ago, I posted about My Top Three Favorite Anime aside from One Piece. I chose one antagonist character out those three Anime. I could choose one of the homunculi from Full Metal Alchemist: Brotherhood, the protagonist/antagonist, Light, from Death Note, or one of the Titans from Shingeki No Kyojin (Attack on Titans). Well, as you see, I chose the third option since I wanted to have a realistic portrait of a titan using my ever fave Soft Pastels.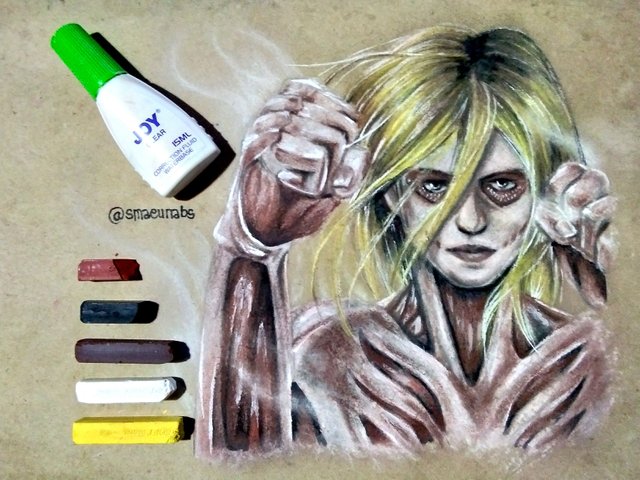 Art Materials Used: Old brown envelope, soft pastels, and correction fluid
---
The Process
---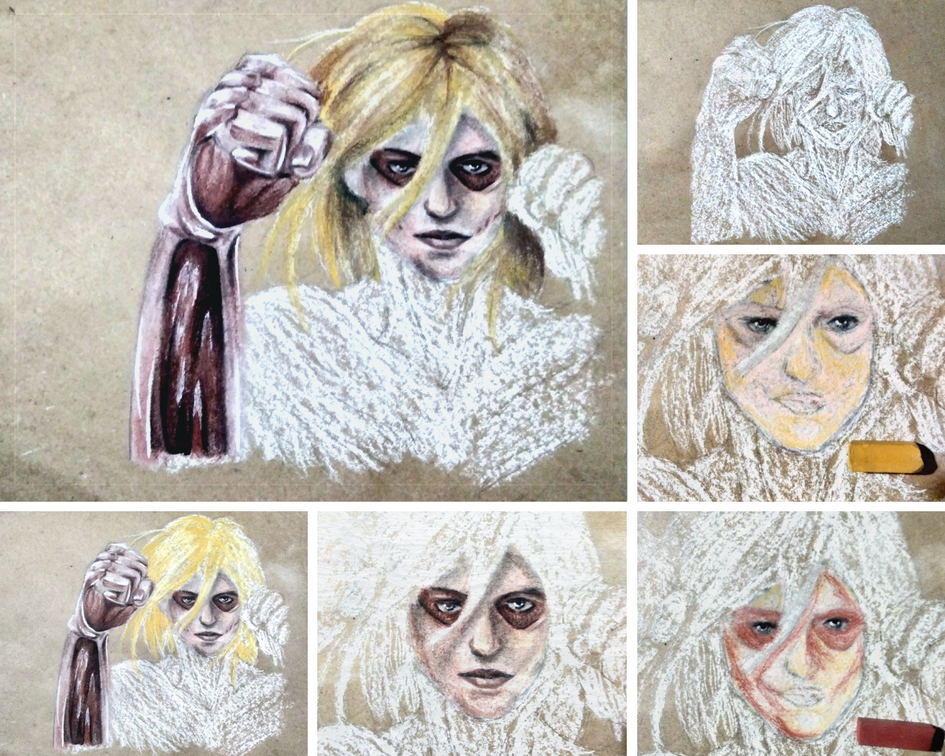 This is an attempt to make a realistic version of Annie Leonhart.
It took me two days to finish this Artwork due to laziness. I would focus myself on it for a minute and spend the rest of an hour slouching. So this is my accomplishment for the first day. As you can see, it looks like an alien at first. I started from the lightest to darkest colors. I believe applying such technique is essential not only in soft pastels but also in charcoal and other forms of art mediums. It is easier to darken than to lighten any artworks. Pastels are hard to manage especially when you are dealing with a fiber-like canvas surface like this brown envelope. The more you smudge and blend the colors, the more visible the fibers would be.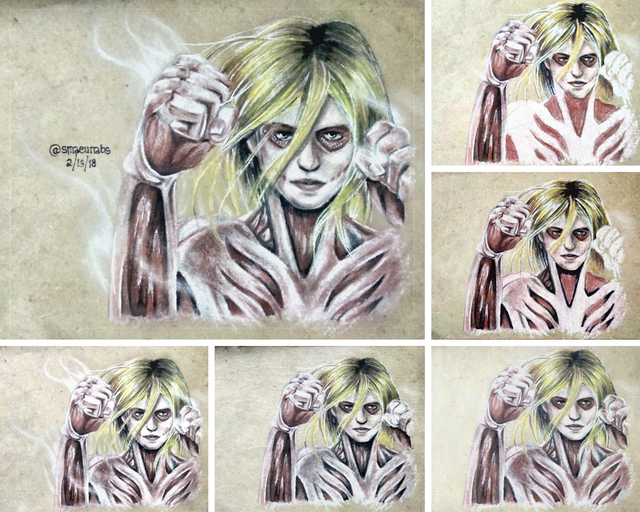 On day two, I focused more on Annie's hair and makeup. I'm not really satisfied with how the hair ended up, but I have to end it there since layering another color would tear this old brown envelope apart. Instead, I proceeded with her body's details. I added a smokey effect to make it more dramatic while Annie is transforming herself into a Titan.
---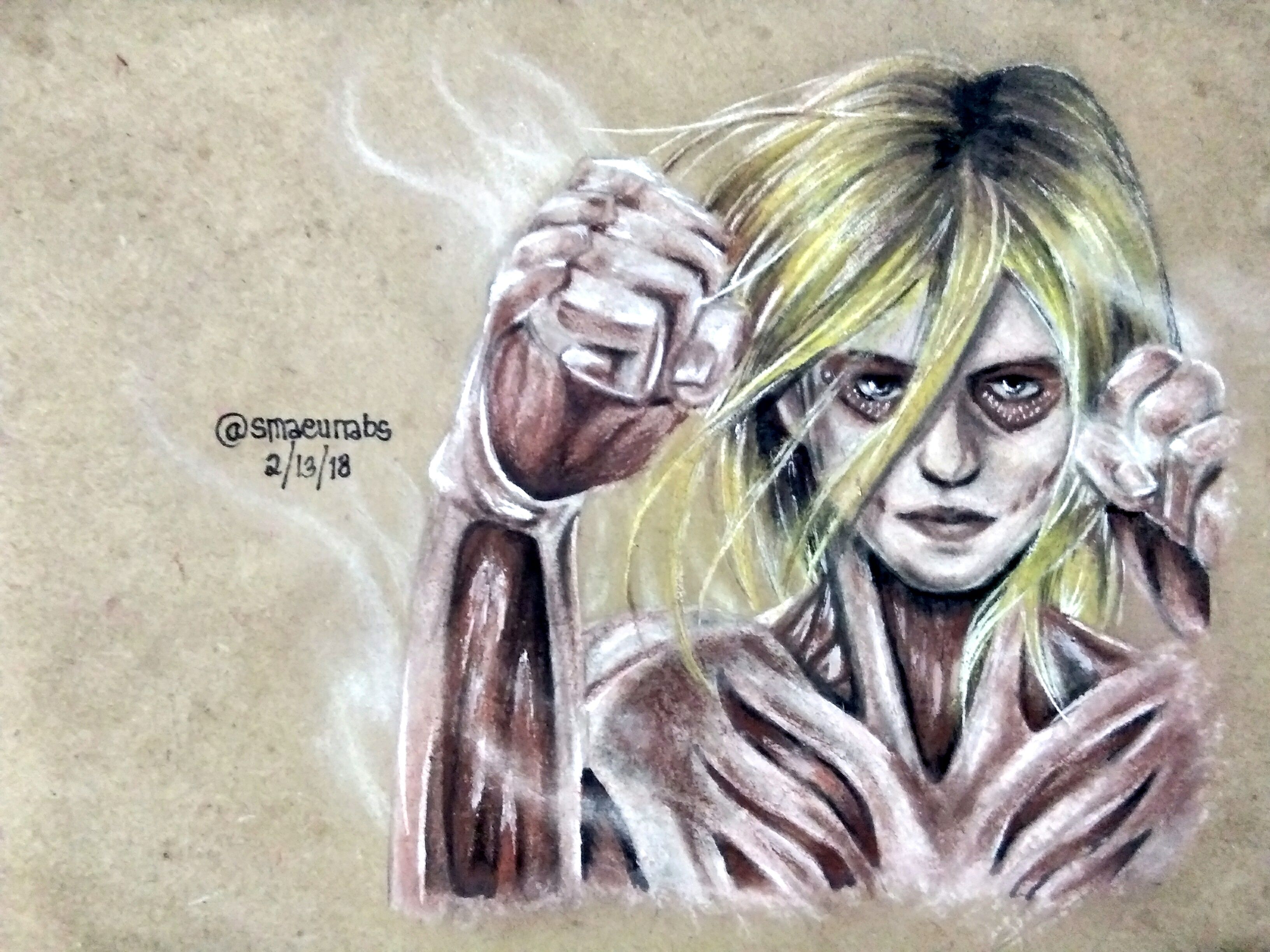 So there it is! How about you? who is your favorite Anime Villain?
---