Compliments of the season to you all. I am going to be making further review of the atomic wallet application in this post. Click here (link) to download the wallet application (PC users).
The main purpose behind the creation of atomic platform is to offer a perfect mean of managing all our cryptocurrency assets in a single interface. Also in this wallet, there's a feature of atomic swap and exchange which is absent on other conventional wallets and allows for easy exchange of tokens to other tokens/coins by its users.
If you want to swap your tokens for other tokens, just login to the wallet, click on Atomic swap tab. The swap page then comes up with 3 tabs at the top of the page which are; the Markets tab, Place order tab and My orders tab.
If you want to place an order for your token, click on Place order tab after which 2 cryptocurrency logos will appear with a right pointing arrow indicating the cryptocurrency you're swapping into.
You can click on both tokens logo displayed to either change the token you want to swap or the token you're swapping into. On clicking on any of these logos, the tokens that are available for swap within the application comes up after which you can select any of your choice.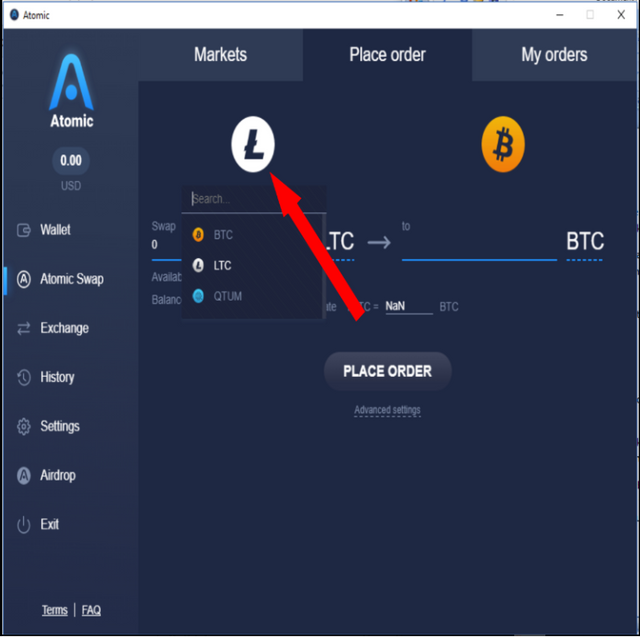 After choosing the tokens to swap into and the tokens you want to swap, you can thereafter choose between automatic trade or market price by clicking on the Advanced settings tab.
Automatic trade allows you to set your own rate of swap while the market price option cannot be edited and only make the swap of your tokens at the current market rate. But users can decide to choose both options and set a margin in which they want over the destination token price in form of percentage in which the swap will be done under market price to attract more traders.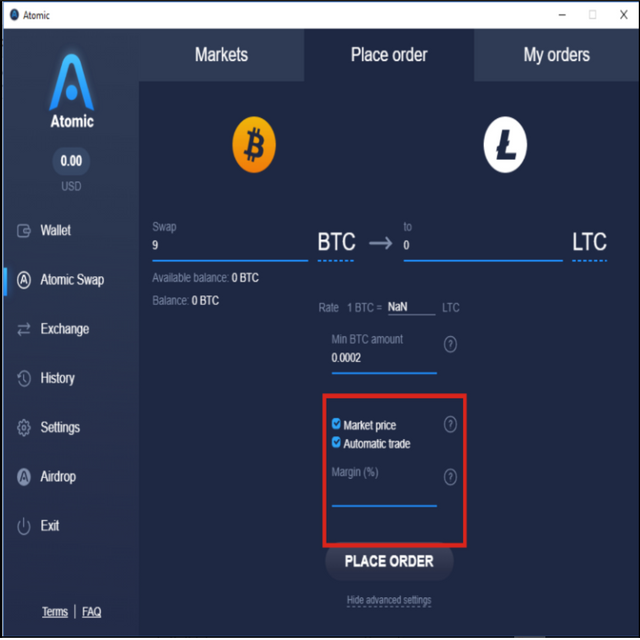 After setting your price successfully, you can thereafter put the amount of tokens you want to swap and immediately, the amount of the tokens you'll get after the swap comes up on the other end. Then you can click on Place order link.
Checking the progress of your orders is very simple, just click on My orders tab on top right of atomic swap page which is meant for swap orders that is in progress, active orders, and lastly swap history.
Swap orders that are being currently in operation displays under the Swap in progress page, Swap orders that have not yet been carried out are shown under active orders while the history page displays the entire history of your swap orders.
Markets tab on the atomic swap page is meant for the current market orders and it displays the current market orders of your desired tokens to b swapped just like how it's being displayed on exchange platforms.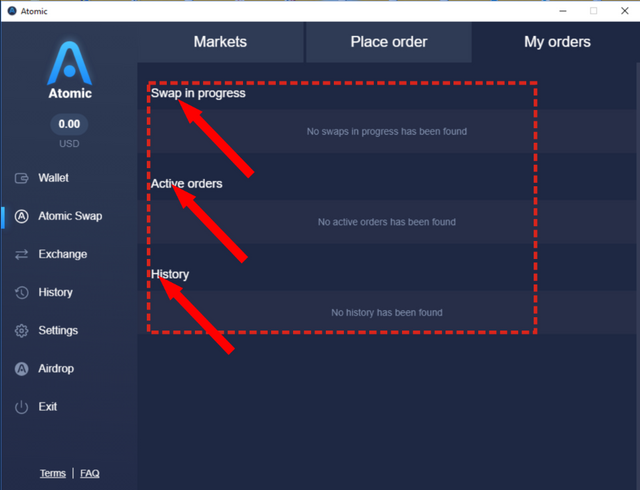 You'll agree with me that atomic swap feature inside the atomic wallet is a feature which is absent n most conventional wallets which saves its users the stress of having to use exchanges platforms before they can make exchanges of their tokens into other tokens.
For more enquiries, please check the links below;
Telegram
Support page
Support Email
Author Bitcointalk username: dvmmayowa
Bitcointalk link: https://bitcointalk.org/index.php?action=profile;u=2505500