---
UNIMULTIVERSE BITS KEYSTONE KAPERS BIT-00-A
This is a video where I look at Keystone Kapers by Activision for the Atari 2600.
As video games go, what this game portrays is pretty down to earth... no spaceships, particle beam weapons, aliens, ghosts, or anything so far outside normal for life on Earth in the 1980s.
Inspired by Keystone Cops, you play as a Keystone Cop or maybe a Keystone Security Guard, chasing a criminal in a mall. Controls are simple, and the pixel art is as simple as expected for the time, yet for all it's limitations, quite nice.
I think the 1st time I played this game might have been in 1988, when visiting a friend whom I hung out a lot with in the summer of that year, I remember finding this simple yet fun game very interesting, it wasn't very hard to imagine running though a mall attempting to chase down a criminal. I was reminded of this game years later when seeing Bonanza Bros for the Sega Genesis for sale (or maybe for rent) in a mall, that was in the early 1990s on a trip to the community of Antigonish. I remembered Keystone Kapers, and many times over the following years and I wanted this game... eventually (sometime around the end of the 1990s or start of the 2000s) getting a PC game collection that included the game, and over a decade later (2015 or 2016) finally getting the cartridge for the Atari 2600.
If you enjoy playing simple old games on the Atari 2600 this one is fun and easy to play.
---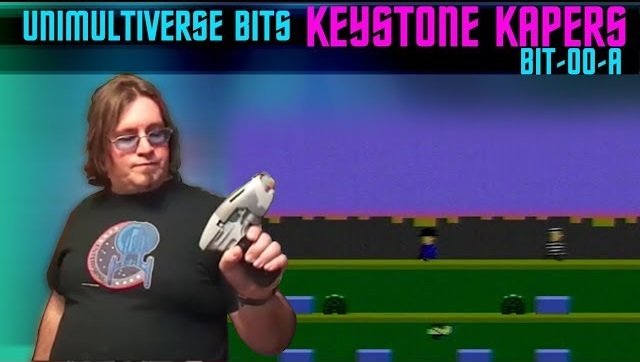 Anyway if you enjoy this at all feel free to look for more of my videos places like DTube