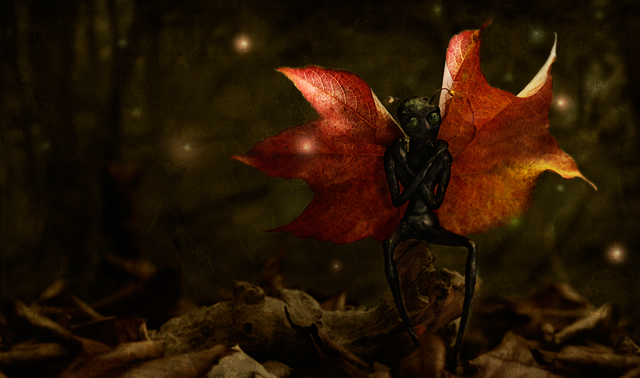 ☘
The storm is raging outside the windows, so I think it's time to introduce you to my autumnling from 2014. This little creature has somehow grown close to my heart. Well camouflaged between the leaves, the autumnling comes out at this time of the year to enjoy the play of colors, while the dancing will o' the wisps are reflecting in his eyes.
Vor den Fenstern tobt der Sturm, daher denke ich, es ist Zeit, euch meinen Herbstling aus dem Jahr 2014 vorzustellen. Dieses kleine Wesen ist mir irgendwie besonders ans Herz gewachsen. Gut getarnt zwischen Blättern kommt der Herbstling zu dieser Jahreszeit heraus, um das Farbenspiel zu genießen, während sich die tanzenden Irrlichter in seinen Augen spiegeln.
☘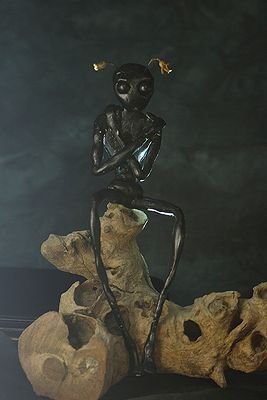 ☘
This time I started again with a small clay figure with a skeleton made of wire. I painted this figure completely black with acrylic paint.
Angefangen habe ich auch dieses Mal wieder mit einer kleinen Knetfigur mit einem Skelett aus Draht. Diese Figur habe ich mit Acrylfarbe komplett schwarz angemalt.
☘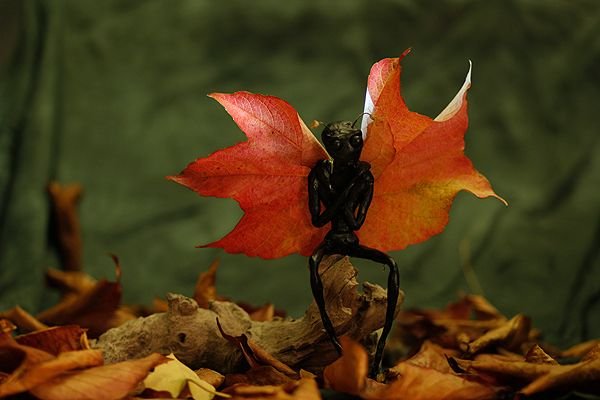 ☘
If you work with digitally edited photography mostly, you always have to consider what you take on the original photo and what you digitally add. In this case, I decided to photograph the figure with these beautiful, red leaves wings. I also set up the entire scene with the small piece of wood he´s sitting on and the surrounding leaves.
Wenn man wie ich in den meisten Fällen digital Fotos bearbeitet, stellt sich immer die Frage, was man auf dem Ursprungsfoto schon aufnimmt und was man digital hinzufügt. In diesem Fall habe ich mich dazu entschieden, die Figur schon mit diesen wunderschönen, roten Blätter-Flügeln zu fotografieren. Auch die komplette Szene mit dem kleinen Stück Holz auf dem er sitzt und den herumliegenden Blättern habe ich direkt fotografiert.
☘
☘
So I could limit the image editing to adjust the colors, add textures and paint over some spots digitally.
Somit konnte ich die Bildbearbeitung darauf beschränken, die Farben anzupassen, Texturen hinzuzufügen und manche Stellen digital zu übermalen.
☘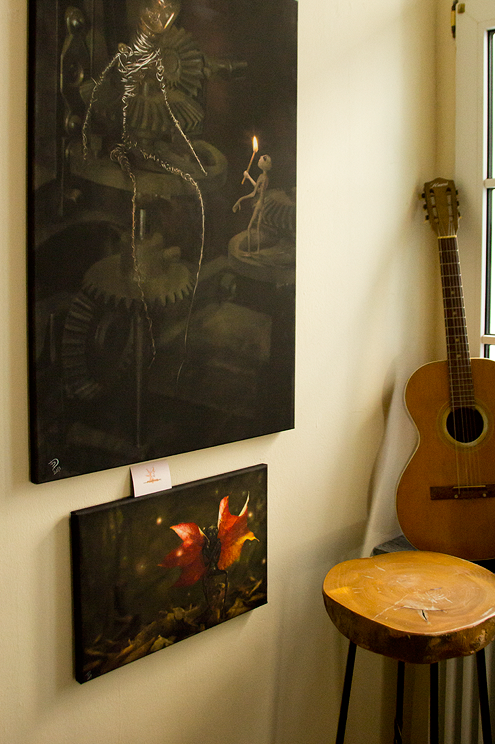 Printed on canvas for my exhibition | Gedruckt auf Leinwand für meine Ausstellung
☘
8 months ago I already wrote a post about this picture, which was pretty pointless with a handful of followers. It got exactly 2 upvotes. Maybe this time I will get 3!
Vor 8 Monaten habe ich schon über dieses Bild einen Post geschrieben, was ziemlich sinnvoll war mit einer Handvoll Followern. Hierfür gab es genau 2 Upvotes. Vielleicht schaffe ich dieses Mal 3!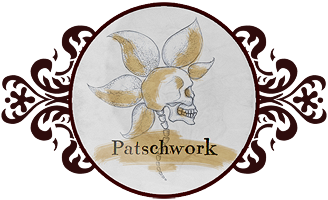 Thanks for reading! | Danke für´s Lesen!
---