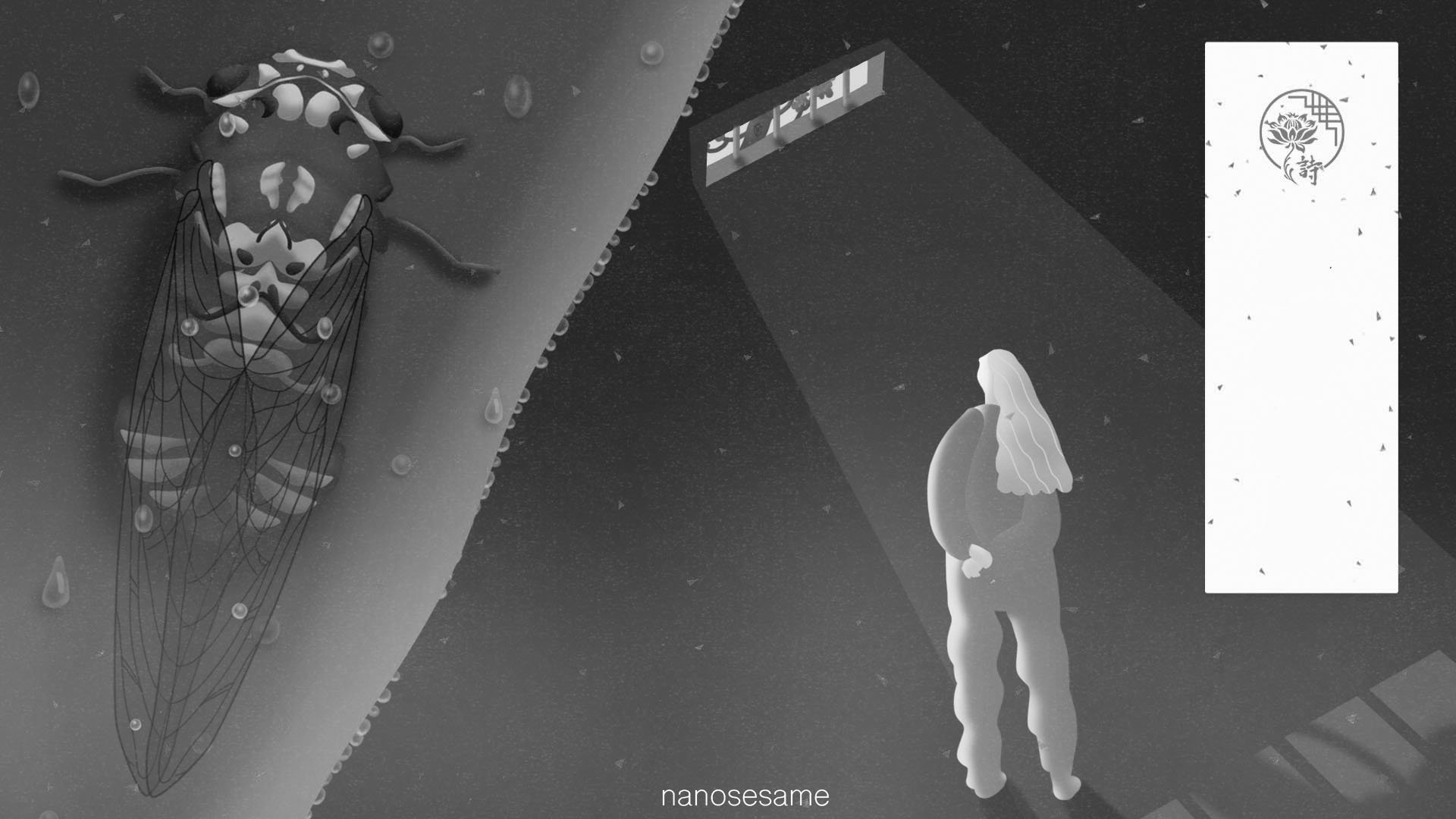 This is my drawing for the coming Chinese Culture Project. And this post is publish through SteemPress. I had just set up the theme and so please have a look too :) (Still look very simple, I am doing migration, copying post to WP xD)
This week is a sad poet. Not trusted by the Emperor and put into jail. He used cicadidae to compare his silver hair at the golden period of a scholar. And he linked the foggy in Autumn to the corrupting political environment, in which the sound of cicadidae can't be listen, and the dew makes it difficult to fly.
這是明天樂筆思塾的插圖,而今天設定好了WORDPRESS的版面,現在還是空空的,正努力當搬運工xD
這次的主角故事是悲劇類。不被重用,懷才不遇,還被關進了牢獄。而他用了黑蟬跟自己的盛年白頭做對比。詩人也用了秋霧亦使蟬聲不能遠播,也令蟬難以飛翔,來比喻當時朝延的亂七八糟。

Process 過程
I split the framing into two part. One is cicadidae and one is the poet. The poet looking at the tree outside. And you may find there is a very little cicadidae on the tree. I draw a scholar suit for the poet in the draft, and I found it is weird as he is in jail and so I changed it to the white jail suit.
So, please come and see the colour version, the appreciation and MV too~
這次我用了分割畫面,一邊是蟬一邊是詩人。詩人在獄中看著窗外的樹,如果再細仔看,上面有一顆小小黑點,就是蟬了。而我在草稿時畫了文人的衣服,覺得哪裡怪怪的,不,他應該要穿電視劇常看到那種白色囚犯裝。所以改了,頭髮也放了下來。
明天請來樂筆思塾看彩色版本,還有解詩跟MV喔!


Thank you for passing by. This post is available on :


---
Posted from my blog with SteemPress : http://nanosesame.vornix.blog/2018/07/04/draw-on-blockchain-chinese-culture-project-ep11-illustration-prelude-%e6%a8%82%e7%ad%86%e8%a9%a9%e5%a1%be%e7%ac%ac11%e6%9c%9f%e6%8f%92%e5%9c%96%e5%85%88%e8%a1%8c%e9%a0%90%e8%a6%a7/
---