❗❕❗Tutorial😉💙 "Mystical lake"🐟🌳👼 Draw with children🎨 One day at my work🤗💙 Part № 9
Hello, my dear friends! 🤗
Spring has begun and you know what? The children wanted to draw nature.
I always encourage this desire, because drawing landscapes is difficult, especially for children. I don't know what this is all about, but my students find landscapes boring. But I believe that they are just afraid to spoil their drawing.
Today we will draw a mystical lake with Misha. He is 11 years old and his grandma also goes to our Art Center. But she attends a group of 20+ for moms, grandmothers, dads and grandfathers. In general, for adults who want to get a dose of relaxation after a hard day at work. 🤯
So! Let's start! "Mystical Lake":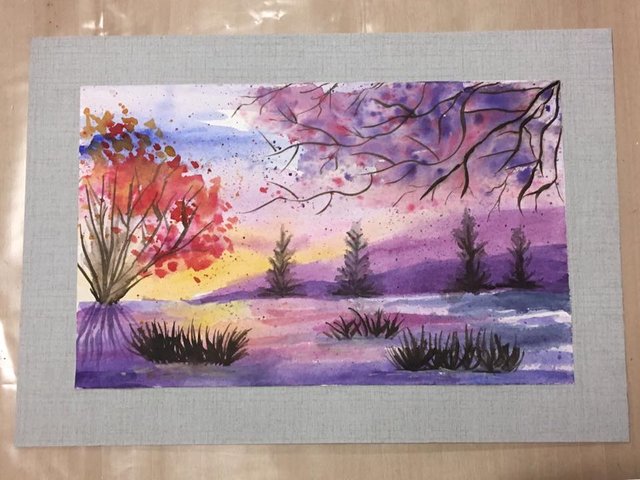 Materials:
💙paper for watercolors;
💜colors for watercolors;
🖤simple pencil.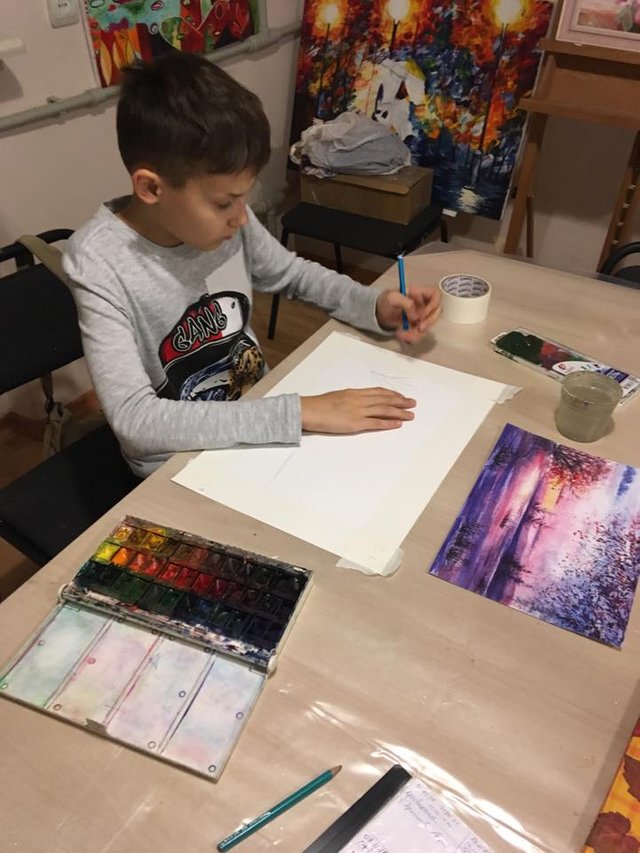 1.In the beginning, we made a sketch.
No need to draw details! The sketch should be easy and simple.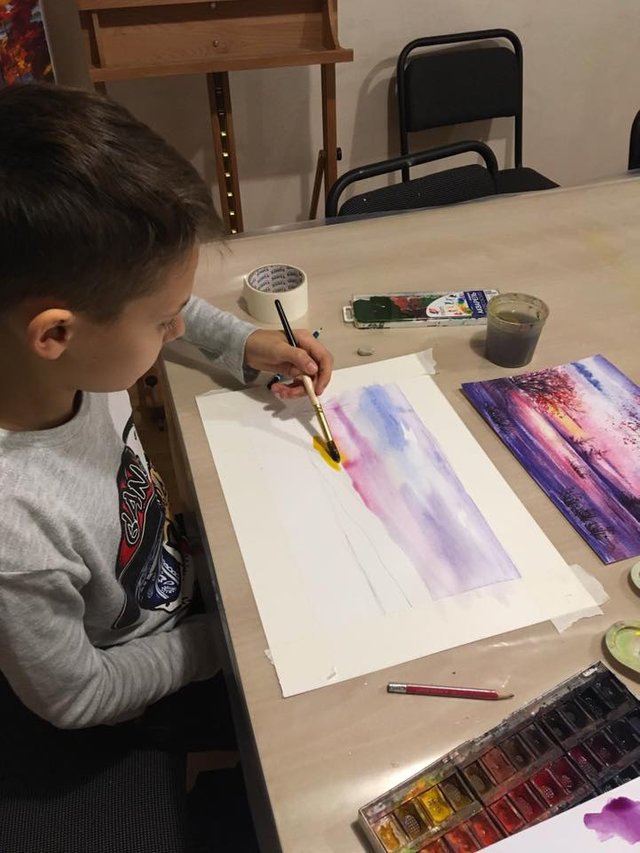 2.We started making the background. Watercolors love water, so use more water, let watercolors spread out on paper.
Clouds we will do later. They should be shorter.
Only a special paper for watercolor to withstand a large amount of water.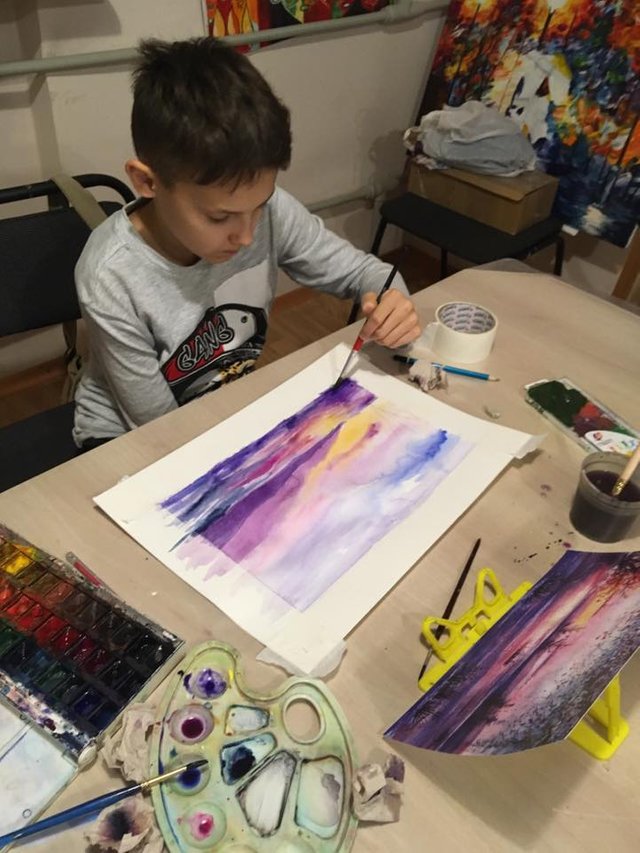 3.We made the sky and the mountains. The mountains that are closer to us are brighter and richer, the mountains that are farther, lighter.
We started making the lake. The part of the water on which the rays of the sun fall is yellow. And the water around is bright. The other part of the water is darker.
Do not be afraid to show contrast!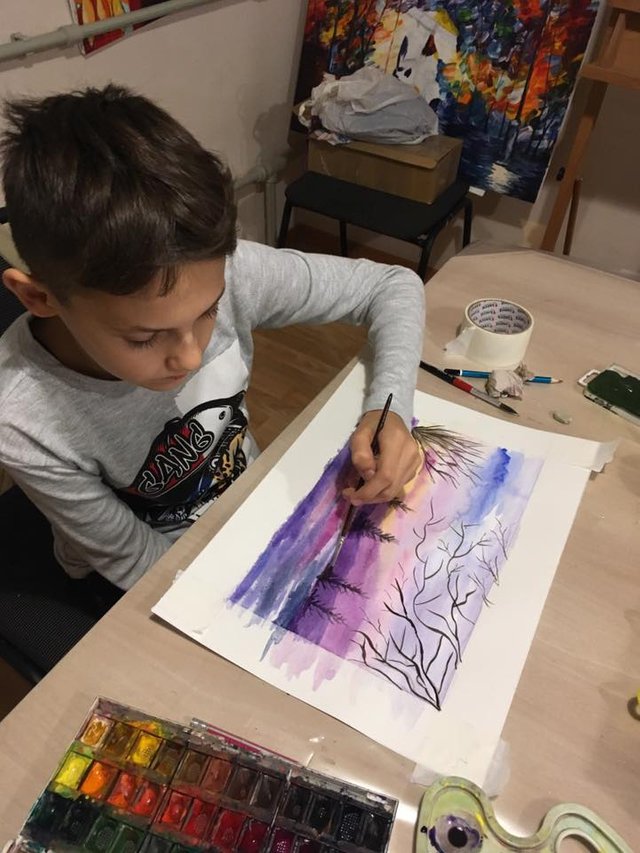 4.We took a thin brush and traced tree branches, bushes, and trees in the background.
Do not forget to draw grass on the surface of the lake.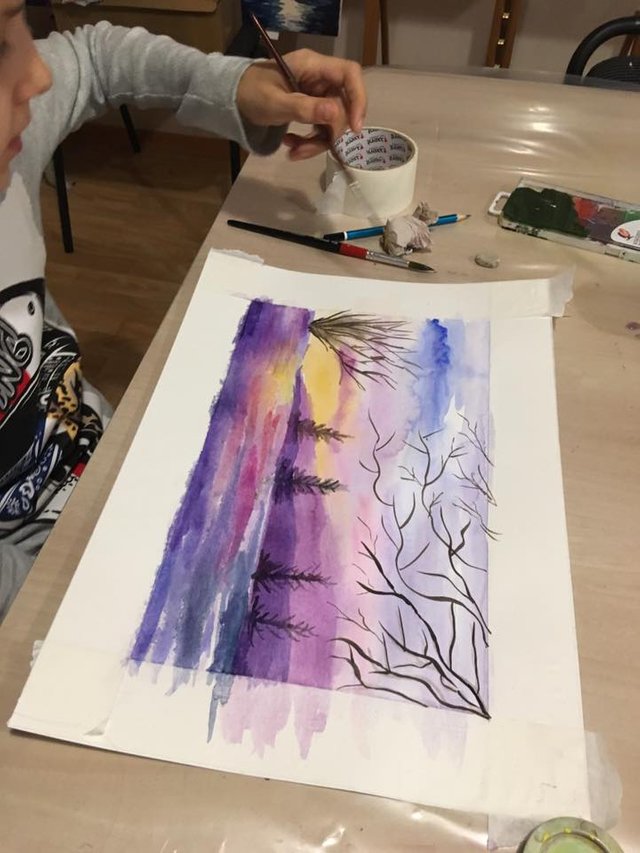 5.When the parts are dry. We took two tassels to make leaves.
We took a lot of water on a brush, took paint and hit one brush on another. Splatter turned out.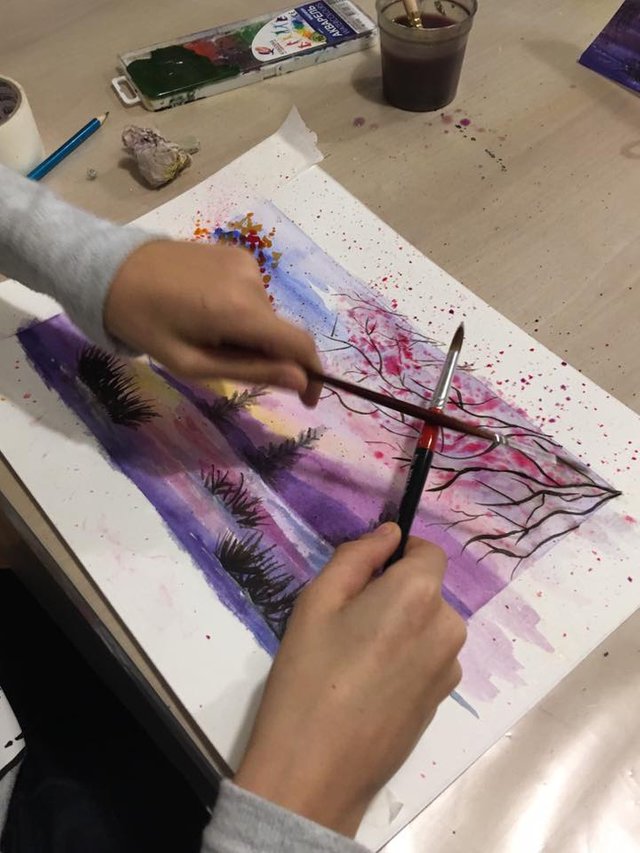 Don't be afraid to use more water! Give drops to spread!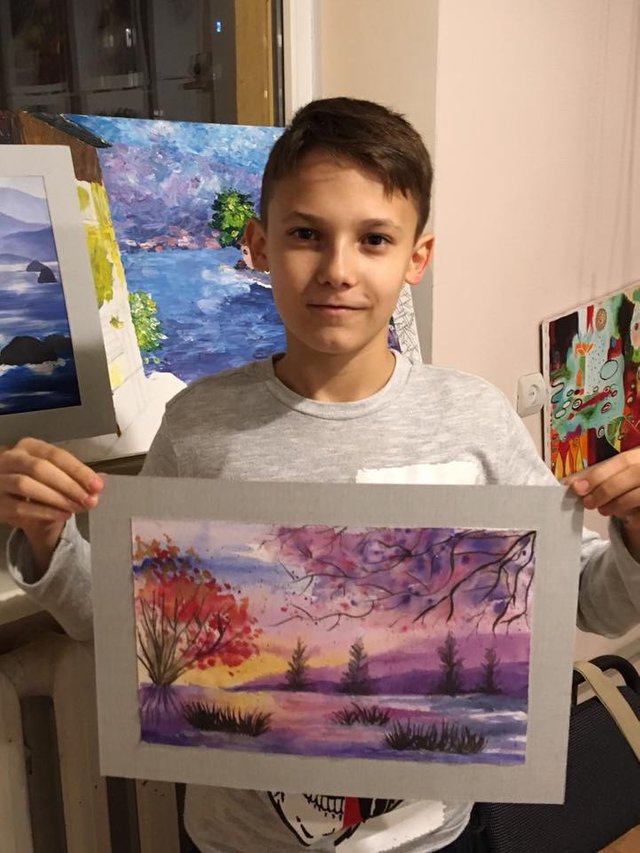 The finish! 😁
The pupil is pleased. And what do you say about the mystical lake?
I'm waiting for your opinion in the comments. 😊🧡
Hope you enjoyed this tutorial. My students and I are always ready to share original ideas and inspire you. 😇
Today I say HUGE THANKS: 🧡
@trincowski , @chekohler , @alexworld , @artzone , @artzone.curators , @celinavisaez , @delishtreats , @artzone , @humanbot , @veryspider , @betzaelcorvo , @celinavisaez , @dexxx30 , @lynncoyle1 , @wolfhart , @sudefteri , @nesni996 , @veryspider , @art-venture , @creativecrypto , @mind.inception , @steemingmark , @artbyclark , @flaccidfervor , @patschwork , @ivanic , @maxijgcomm , @kevmdm , @randomwanderings , @glenalbrethsen , @hlezama , @audreybits , @road2horizon , @janton , @melooo182 , @dandays , @splatz , @ivanic , @audreybits , @tibfox , @diytube , @patschwork , @appreciator