Rough Self-Portrait and an Observation of Thoughts (Original Drawing and Writing)
Beobachtung
Ich habe heute ein schnelles Selbstportrait gezeichnet und die Idee entwickelt, dass kein Portrait unabhängig von der Qualität der Arbeit, ja nicht ein mal eine Fotographie oder eine andere mechanische Abbildung, so vollkommen sein kann, wie das des Künstlers von seinem bereits transzendent selbst geschaffenen Avatars. Sollte mein Körper tatsächlich die Schöpfung meines Bewusstseins sein, oder ist es die unseres gemeinsamen, geteilten Bewusstseins? Oder zeige ich mich mit dieser These gar eitel und verdiene eine Zurechtweisung durch das Schicksal, Entstellung des Körpers oder schwere Krankheit? Ich vertraue darauf dass der Kosmos mich liebt in meinem Selbstwachstum. Ich bin dankbar für meinen Körper, ganz gleich ob ich an seiner Schöpfung mitgewirkt habe oder er ein göttliches Geschenk ist.
Und doch, gelegentlich zittere ich in einer elementaren Furcht vor Schuld. Das Verhalten meines Avatars verursacht mentale Verwirrungen. Sowohl die Frage, wie ich das Verhalten vor meinem Gegenüber rechtfertigen kann als auch die Frage, ob überhaupt die Möchlichkeit besteht irgendetwas zu verbergen. Als seist du getrennt von mir, als würden wir uns nicht bedingen.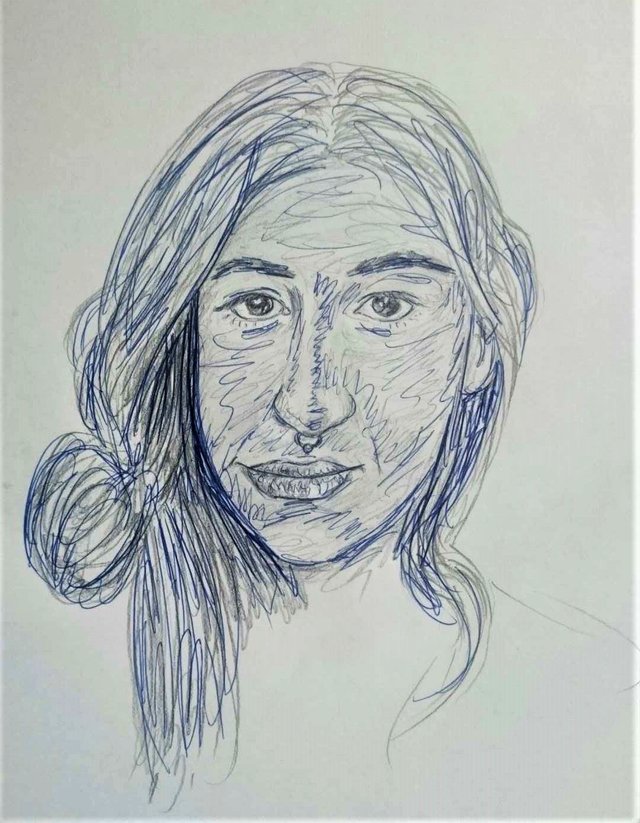 Observation
Today, I drew a quick self-portrait and developed the idea that no portrait, no matter how good the quality, not even a mechanical photographic picture, can be as perfect as the transcendental creation of the artist which has become her self made avatar body in this world. Should my body really be the creation of my consciousness, or is it imagined by our shared consciousness? Or do I show myself vain with this thesis and deserve a correction by fate, disfigurement of the body or serious illness? I trust that the cosmos loves me in my self-growth. I am grateful for my body, whether I participated in its creation or it is a divine gift.
And yet, occasionally I tremble in a basic fear of guilt. The behavior of my avatar causes mental confusion. Both the question of how I can justify the behavior before my counterpart as well as the question of whether at all the possibility exists to hide anything. As if you are separate from me, as if we were not conditional.
Viel Licht und Liebe <3 Lots of Light and Love <3