Hello Kittens! 🐱 Today, still quite a serious topic, which I would like to shine crypto currency!Bitcoin to grow!
Let's see what bitkoyn is!
Bitcoin (abbreviated BTC) is an electronic payment system in which virtual "money" (bitcoins) is circulating.
The history of creating crypto currency has no clear chronology.
For decades, experts in the field of cryptography have worked to create a unique decentralized system, whose work is based on mathematical calculations. Using the experience of their predecessors and their own experience, Satoshi Nakamoto and Hal Finney in 2008 created the world's first crypto currency - bitcoin.
The entire Bitcoin ecosystem is stored in a block house.
Imagine that every transfer (transaction) in bitcoin is recorded on a separate page. The sequence of pages forms the chapter of the book - the block.
To write a new page (for a new transaction), we need to "flip" all past pages and chapters. That is, each new transaction is executed in a chain - with processing of old blocks (turning pages and sections). The new chapter of the book can begin only after the completion of the old one. And all the chapters form a book, and the blocks form a block. Pages and chapters can not be pulled out or changed. Access to the block is open to all members of the system.
That is, the block is a large open database, which stores encrypted information about all transactions.
You can use without even understanding the details
As a new user, you can start using bitcoyne without even understanding the technical details. After you have installed a bitcoin purse on your computer or mobile phone, it will generate your first bitcoin address, which you can create as long as you need. You can share your addresses with your friends so they can pay you or vice versa. In fact, this is very similar to the work of e-mail, except that the bitlock addresses should only be used once.
This is just a brief information about the system.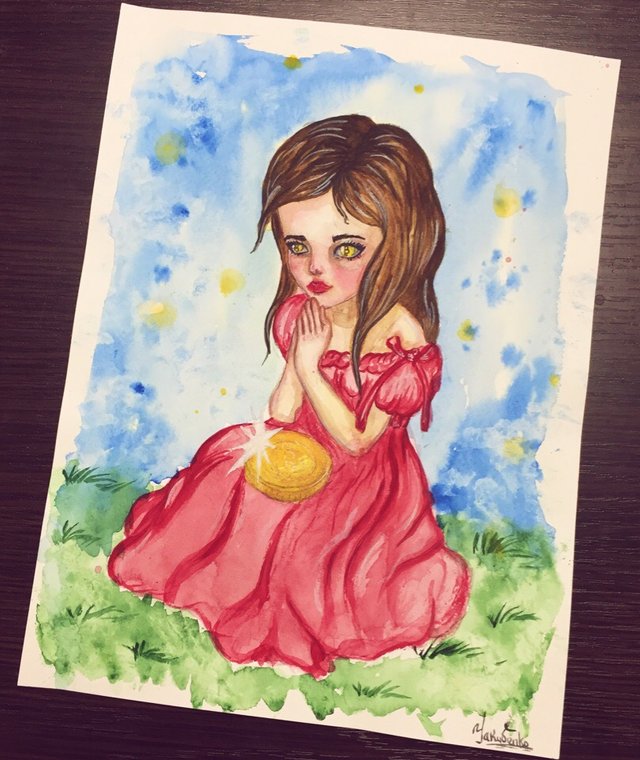 Now let's go back to my art. Process:
Pencil drawings seem a little naked. As if you are spying on the girl who is preparing to go out into the world ...
Earlier I could not stand photographing pencil drawings, they seem to me a bit naked ... Like the process itself. For me it's something intimate in the work. As if you are spying on the girl who is preparing to go out into the world ...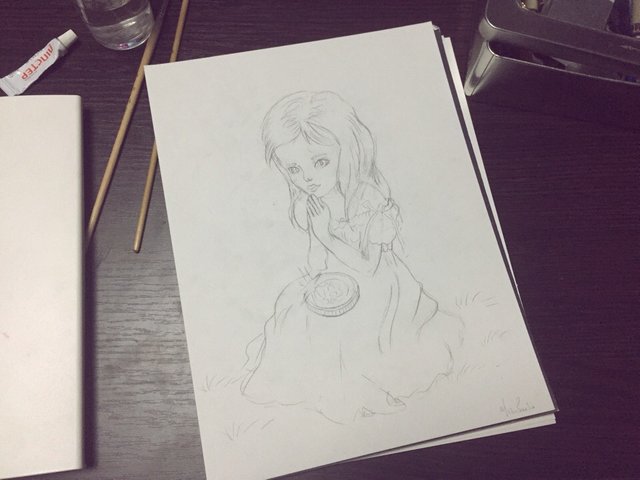 The second stage is the background. 
In order for the background to turn out, you can soak the sheet with water. For this you need water and a brush. Wet the paper with a wet brush. Important: when you decide to wet the sheet with water, do not touch the main drawing. Your paint will be tekti where there is a wet sheet. if you poke the main drawing then the paint will flow to it.
Blue background
In this illustration, I used my favorite color for the background. I like the color blue not only because he's noble, but also because the illustrations look more expressive. A blue background decorates the main drawing. I can not say anything wrong about other colors that I will use in the background, I just want to say that I like blue more.
I advice:
If you paint with watercolors, then use watercolor paper. It's strong. Watercolor is the most water drawing process. Simple paper can shrink from water. A watercolor paper is durable and well absorbs watercolor paints.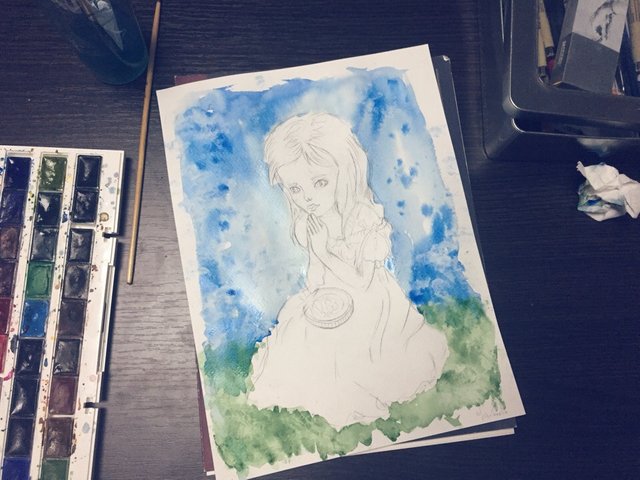 After I finished with the background, I give my drawing time that paint would dry out.
By the way, watercolor dries very quickly. As far as I know, watercolor is the best in this.
Then I proceeded to the main drawing.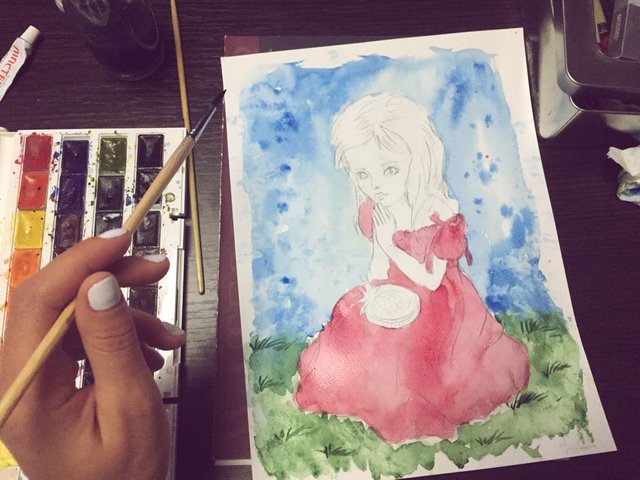 We paint hair. 
I  still at war with this stage. I do not always get to convey the color and shade of hair that I conceived. But this time I did it. It is this color of hair that will turn out as a result, and I conceived.As always, the process of colorizing hair consists of stages. Watercolor generally likes layering. So do not be afraid to lay down a tone for a tone.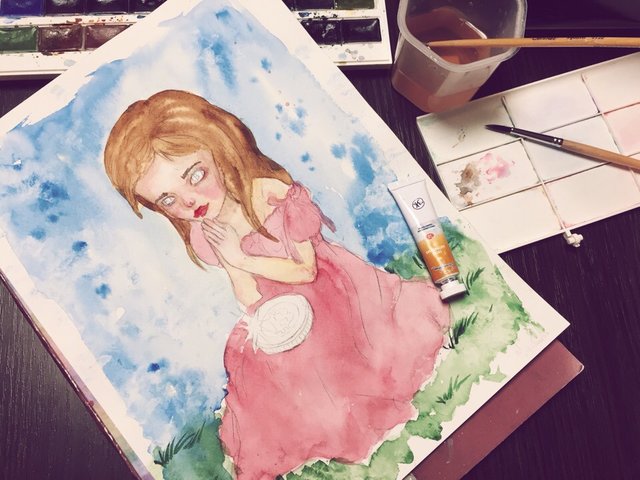 A little rest during work
Yes, I drink. I drink beer :) that's a scoundrel :) hahahaha. but I'm not much indulging, just a little and not often. I think sometimes it even needs to be relaxed and just having fun :)
That's how much inspiration now :) Now I'm hugging why many artists are drinking and becoming voracious alcoholics. But I hope such fate does not await me. After all, I'm an exemplary girl. hahah :)))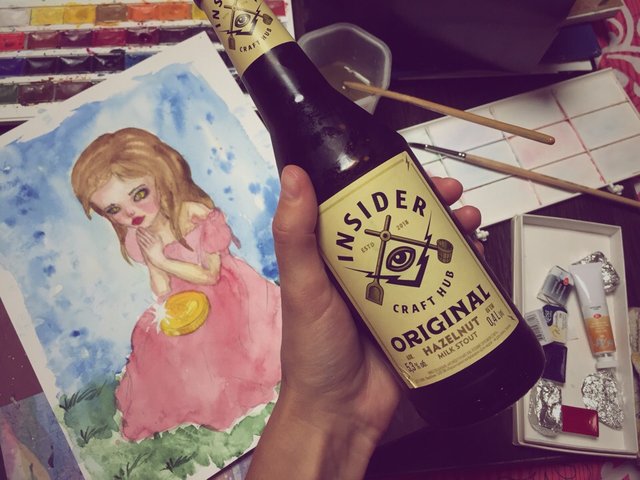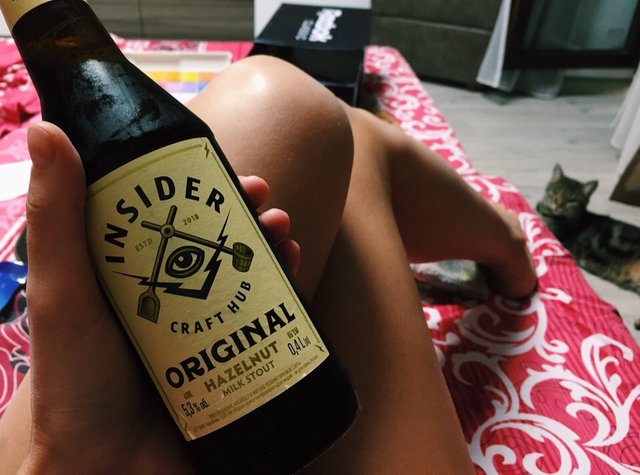 Brushes I use
It's simple - I have a synthetic or imitation of some nap.And why synthetic? The first brush in my hand was a squirrel. But, I particularly did not like the way it moves. For me, she seemed kind of looser, and pile moulted. Tip: but you do not need to buy expensive ones. Why? Yes because 😃 For me it's expensive, not practical, and there are options that I like much more and it's about sensations. That's why I do not have brushes made of natural nap.Since the time of training in thin school, I began to use synthetics, and by the way the cheapest.On the channel there is the very first video about my initial materials.Now I'm walking around the store and focusing only on the sensations, I usually look at the elasticity, elasticity and softness of the brush. But the properties of work with watercolors and water I learn specifically in the work.To be continued? Tell about your loved ones?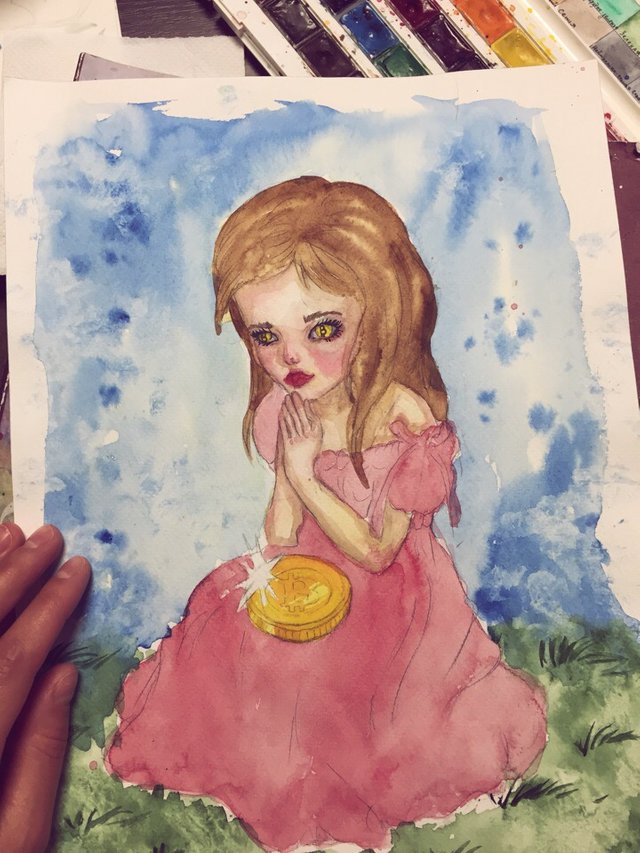 I adore my Eve!💕🐱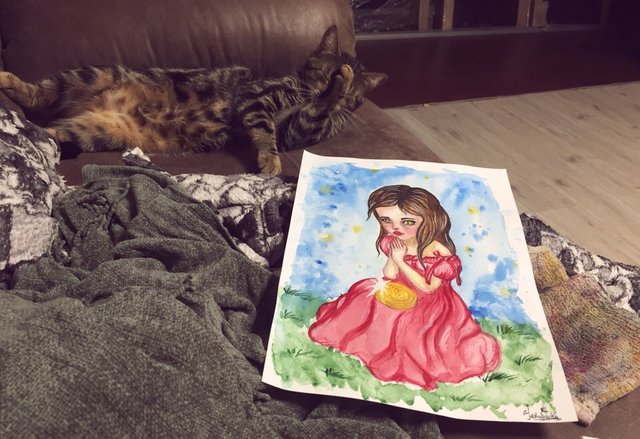 In case of digital death put two bitcoins on the eyes 👀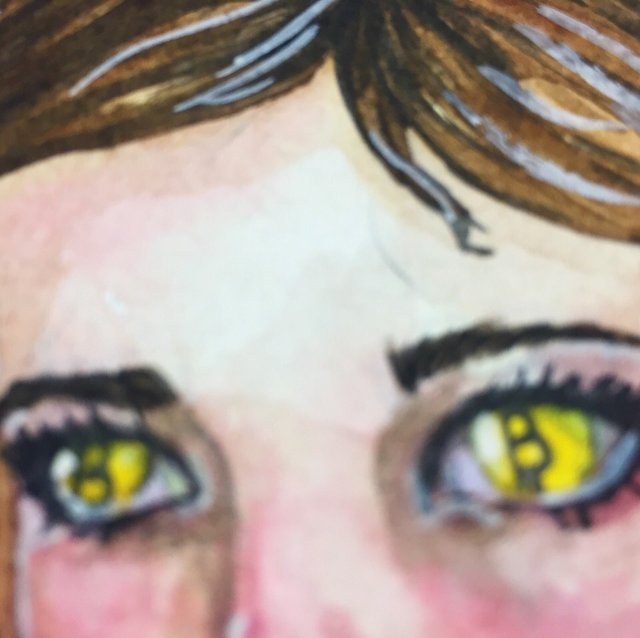 That's what happened in the end.
Used materials - watercolor "white nights"
Sketchbook FABRIANO.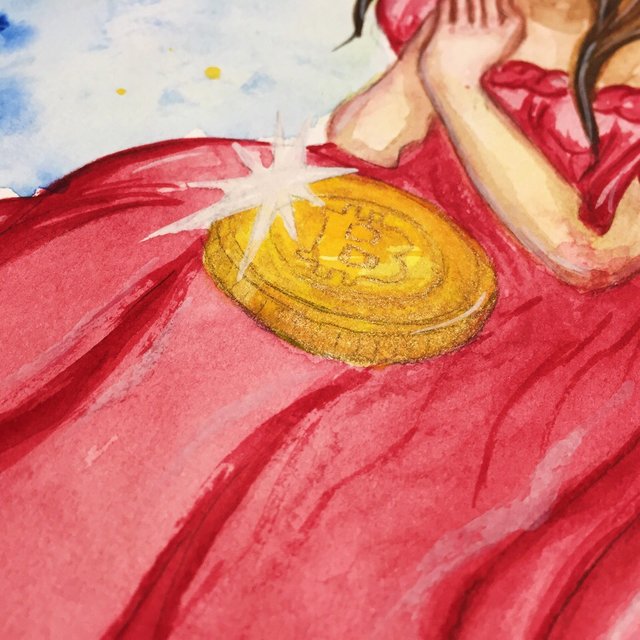 A small study:
Imagine that you have an unlimited supply of funds for life. You are free, and you can do whatever you want. (In fact, it's only many people forget about this.) So, what would you do then? How would you realize yourself?
In the end, even having a magic card that every day comes enna
the amount consuming a person regresses.
Only it seems that having all the advantages of life, you can relax and do nothing. In such conditions, the so-called comfort zone is formed. This is not good, because in the comfort zone a person does not develop, can not achieve something meaningful. 👎
We always have a choice. To deprive a person of choice is impossible, it can not be deprived altogether, one can very seriously bury, suppress as much as possible, but not deprive. ☝️
This is most of us, despite the suppression of various of our qualities from childhood, despite the fact that we have deprived us of choice and replaced it with a false, unrealistic choice, but from time to time we understand this and actually choose it. "
If you are unhappy with something in your life, complain about work, husband, city and others
_______________________________________
And did not you make this choice yourself? 😉