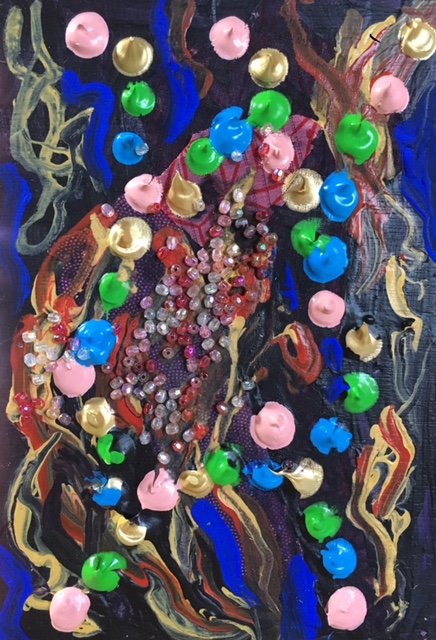 (ENG)
This is my original artwork.
"Road of Thorns"
Mixed Media,15.8x22.7cm,2018
I was immersed in the painting today.
I usually draw a painting on the canvas.
Then I drew a painting on a T-shirt.
Should I say that I drew a pattern rather than a painting?
Poor, but I like it. I will up the T-shirt as soon as paint dries up tomorrow.


(JPN)
これは私のオリジナル作品です。
「いばらの道」
ミクストメディア、15.8x22.7cm、2018
今日は絵に没頭していました。
普通にキャンバスに絵を描いて。
それからTシャツにも絵を描きました。
絵と言うよりも、模様を描いたというべきでしょうか。
下手くそだけど、私は気に入ったので、
明日絵の具が乾き次第Tシャツをアップします。
---
---
2018年秋、東京で11年ぶりに個展をやりたいです。ご支援よろしくお願いいたします。
(STEEM,SBDによる支援も募集しております)
---
Please upvote,resteem,and follow @yadamaniart !
Online shops which sell my artworks/私の作品を販売しているオンラインショップ:
日本国内向け 絵画と書籍
日本国内向け(コンビニ決済用)絵画と書籍
Akiko Yada online shop worldwide
Kindle 電子書籍
---