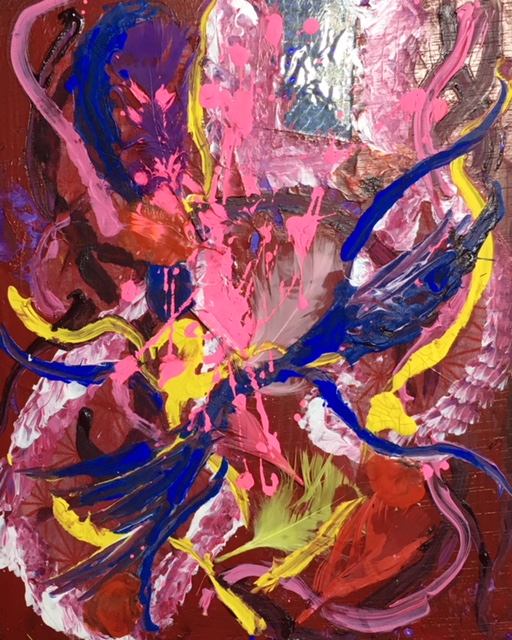 (ENG)
This is my original artwork.
"Flower Tearing the sky"
Mixed Media,20.3x25.4cm,2018
This is one of the paintings I drew two of them a day six days ago. I draw two today and dry the paints now. After that, I was preparing for the exhibition.


(JPN)
これは私のオリジナル作品です。
「空を引き裂く花」
ミクストメディア、20.3x25.4cm、2018
これは6日前に1日2枚描いたうちの1枚の絵画です。今日も2枚描いて、今絵の具を乾かしています。その後展覧会の準備をしていました。




---
★Gallery YADAMANIART in ほんもんさんアート市
日時:2018年4月25日(水)10-16時
場所:京都佛立ミュージアム 野外スペース
ホームページ: http://artichi.honmon-butsuryushu.or.jp/
Facebookページ: https://www.facebook.com/honmonsan/


★矢田明子・アルファベット画集展"Abstract Alphabet"
会期:2018年5月2日(水)~5月30日(水) 11-19時
会場:社会福祉法人全国手話研修センター(コミュニティ嵯峨野)1Fギャラリー
(JR嵯峨野線「嵯峨嵐山駅」下車南出口からすぐ)
---
2018年秋、東京で11年ぶりに個展をやりたいです。ご支援よろしくお願いいたします。
(STEEM,SBDによる支援も募集しております)
---
Please upvote,resteem,and follow @yadamaniart !
Online shops which sell my artworks/私の作品を販売しているオンラインショップ:
日本国内向け 絵画と書籍
日本国内向け(コンビニ決済用)絵画と書籍
Akiko Yada online shop worldwide
Kindle 電子書籍
---