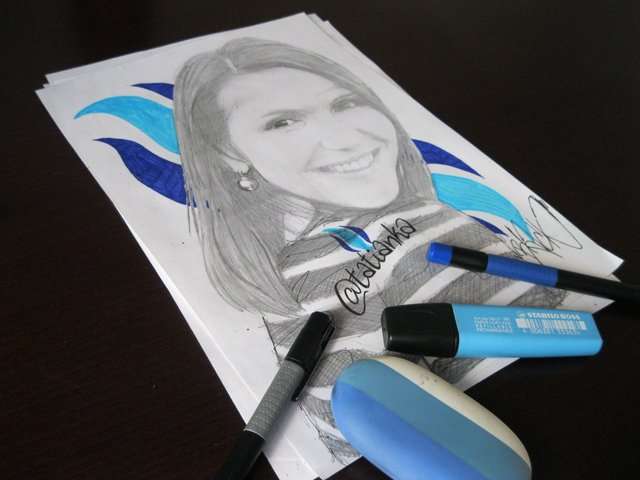 Hello everybody!
Today's post is dedicated to @tatianka
Всем привет!
Сегодня мой пост посвящен пользователю @tatianka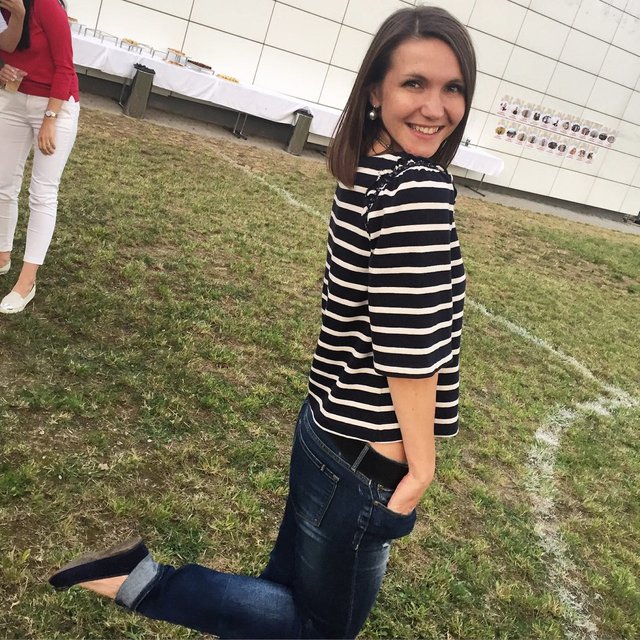 @tatianka is one of those users that write stuff that I find very interesting, and I eagerly await their new posts. If you haven't checked out her articles, I suggest starting with ones about "Vulica Brazil"
Татьянка - это один из тех пользователей, чьи посты мне очень интересно читать и я с нетерпением жду появления новых. Если Вам еще не попадались её публикации, то я советую посмотреть серию постов под названием "Vulica Brazil"
In case you are reading my posts for the first time, here is what I am doing on steemit:
Recently I've started a project where I am sketching portraits of the Steemians (that means all of you). You can learn more about this project here.
Если Вы впервые видите мои публикации, то немного слов о том, чем я занимаюсь в steemit:
Недавно я запустил стим-проект, в котором я буду рисовать портреты стим-юзеров(то есть всех Вас). Более подробно о моём проекте вы можете узнать тут.
---
The sketching process:
Процесс создания скетча:
To get a reference I've contacted @tatianka in telegram chat (English channel is here)and asked her to send me a photo and some info about her and her blog.
Для того, чтобы начать рисовать, я связался с @tatianka в чате telegram (Версия для англоязычных пользователей тут )и попросил её прислать мне её фото и немного информации о себе и блоге который она ведёт.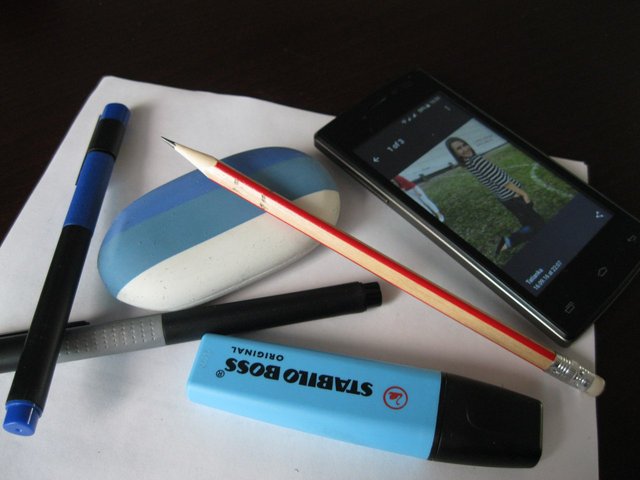 @tatianka: Hiya! My name is Tatiana, and I was brought to Steem by a good friend of mine, who just told me "Just write, you'll like it." :) So I began, and indeed liked it. By picking on a topic you immerse yourself into it, and learn a lot of new and interesting things. That is how I got acquainted with street art, I started reading a lot about the artists, that create those works, and found out that I don't want to stop. ) I want to travel around the world, to see the works of these talented artists with my own eyes! And here on Steemit I got in touch with people that are willing to host me, and to show me around their countries. Brazil, and I am sure that is just the beginning! I've made acquaintance with interesting people that already affected my life! Before settling in Belarus, I've traveled a bit, lived and worked in different parts of the world. This is also something that I've started covering in my blog, and plan on continuing shortly.
Friends, if what I've talked about piqued your interest, then welcome to my blog. There won't be kitties and doggies there, but I think you'll always find something interesting at my place. Welcome, and stay tuned!
@tatianka: - "Приветик! ) меня зовут Татьянка и в стиим меня привёл мой хороший знакомый, который сказал – «просто пиши, тебе понравится» :) И я начала - мне действительно понравилось. Выбирая материал, ты погружаешься в тему и сам узнаешь много нового и интересного. Так произошло мое знакомство со стрит-артом. Я стала много читать про художников создающих стрит-арт и поняла, что останавливаться я не хочу ) Хочется объехать весь мир, чтобы увидеть своими глазами работы этих замечательных художников! Уже в стииме я познакомилась с людьми, которые готовы принять меня и показать свои страны – Бразилию, например и я уверена, это не предел! В стииме я познакомилась с очень интересными людьми, которые уже повлияли на мою жизнь! Пока я не осела Белоруссии, я немного путешествовала, жила и работала в разных точках земли :) Об этом я тоже начинала писать в своем блоге и в ближайшем будущем снова продолжу.
Друзья, если Вам близко и интересно то, о чем я пишу – добро пожаловать в мой блог! Котиков и собачек тут не будет, но зато вы всегда найдете для себя что-то интересное у меня в гостях! Спасибо и stay tuned!"
Once I've got the photos, I started sketching in pencil.
Получив фото я начал рисовать портрет простым карандашом.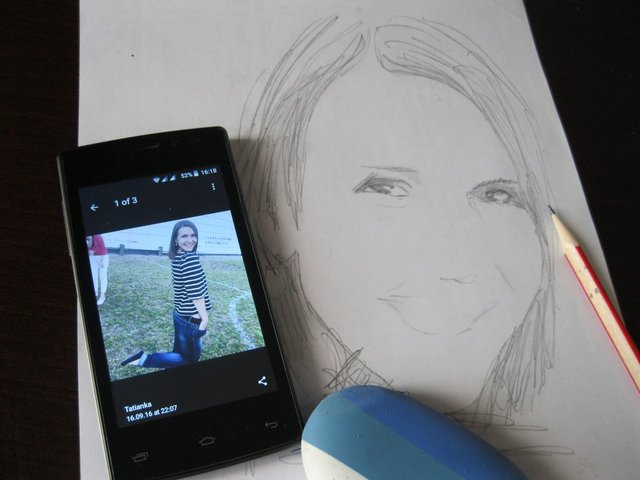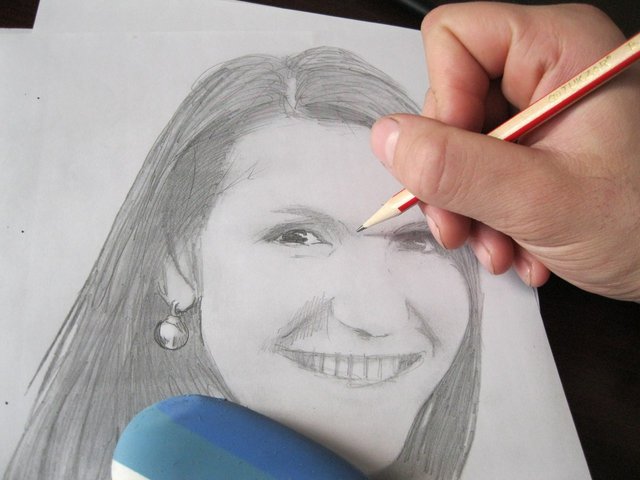 I've used highlighters before, but this time I've decided against using them, since they cover over a lot of minute details.
Раньше я использовал и маркеры, но теперь я решил, что так будет лучше, ведь маркером заштриховываются многие детали.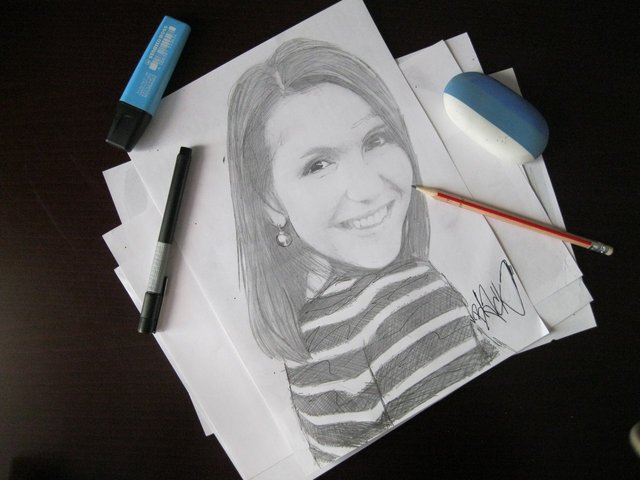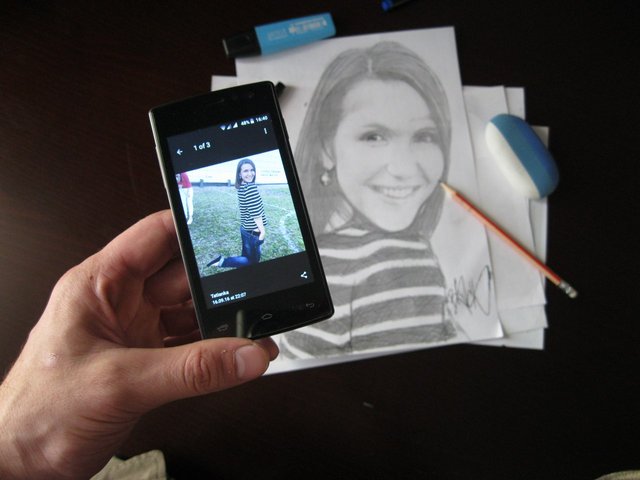 Compare to the photo.
Сравним с фотографией.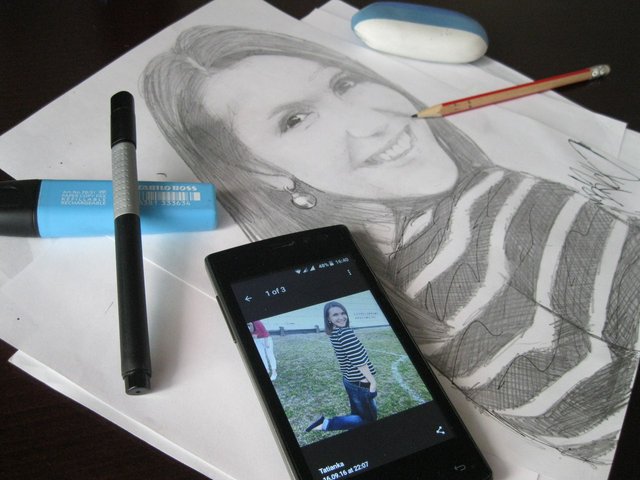 Now, to add the Steemit logo, and @tatianka's handle.
Осталось нарисовать логотип steemit и никнейм @tatianka.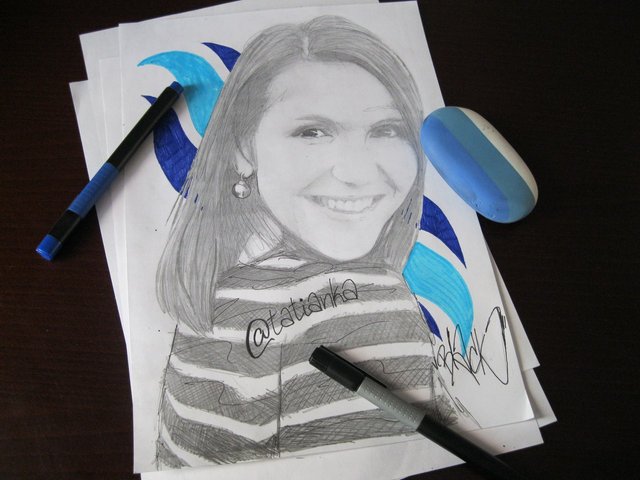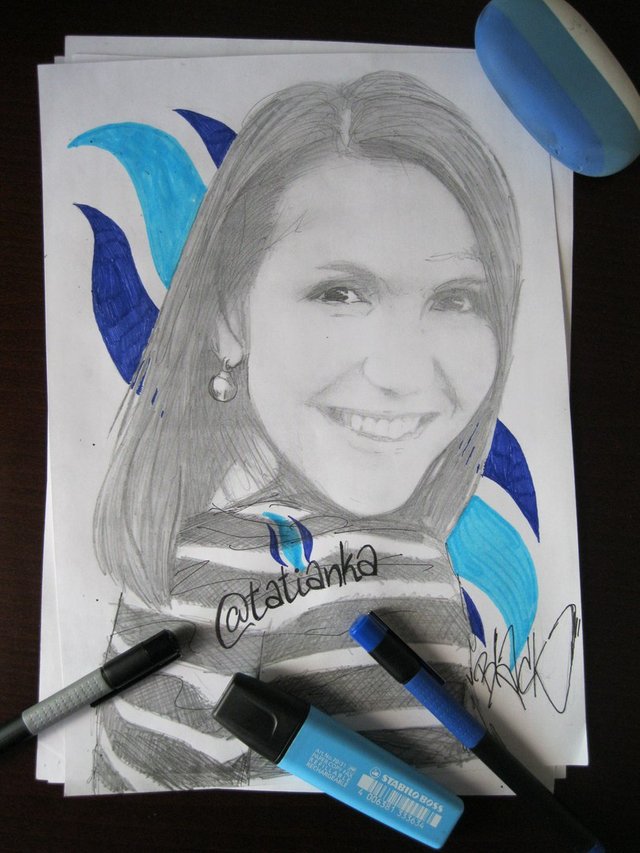 Thanks for viewing, I hope you liked it!
Спасибо за просмотр, надеюсь Вам понравилось!
If you have any suggestions about who else I should draw, please leave a comment, or contact me over telegram.
The translation was provided by @xanoxt.
Please subscribe to my blog, and maybe some time soon you'll see a drawing of you!
Если у Вас есть пожелания, кого бы я мог нарисовать, то напишите пожалуйста об этом в комментариях или в telegram.
С переводом текста на английский язык мне помог @xanoxt.
Подписывайтесь на мой блог, возможно в скором времени вы увидите там работу посвященную именно Вам!
DO IT