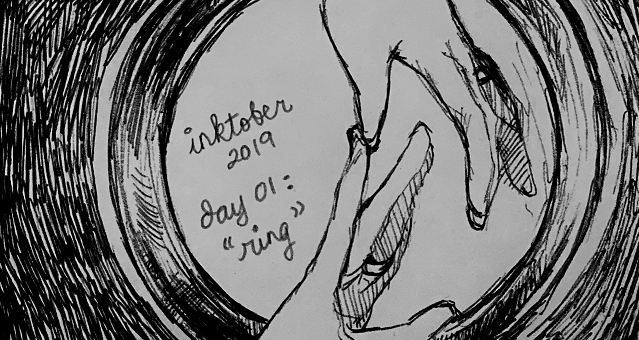 Hey, awesome friends :D !
It is here! October is here \o/ and gosh, have you all been seeing all those #inktober posts cropping up everywhere on Steemit (and on your other social media channels) ???? :D :D :D
The annual tsunami of artists coming together to produce one drawing a day has began !!!!!!!
INKTOBER 2019 !!!!!!!!
I am going to compile all the wonderful #inktober pieces I have come across on Steemit daily, and will pick MY favourite piece.... and I'll send 2 liquid STEEMs to my chosen one :D That's a total of 62 Steems I have set aside from my own pocket to make this year's #inktober at Steemit a fun, great, happy times for all participants :D :D :D
But first! My own Day 1! :D
Day 1 - Ring
Please ignore that the ring is not a perfect circle XD;;;;;;;;;;;;;; A spider draws freehand so, wonkiness is a natural spider's .... terribleness ...ahem, charm.... yep, that's it.
And here is a shot of the piece during its WIP stage: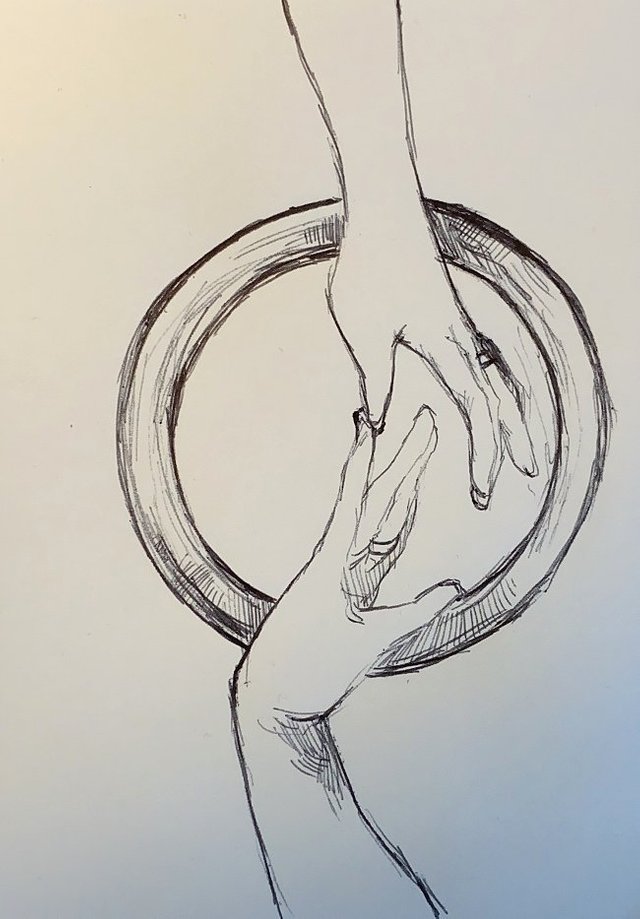 I did it with black ballpoint pen on standard printing paper :) !
#Inktober welcomes all artists, all levels / skills ! You just need pen and paper and you can also join the fun! And now, my Day 1 compilation of Steemit's #inktober 2019 !
The prompts for 2019: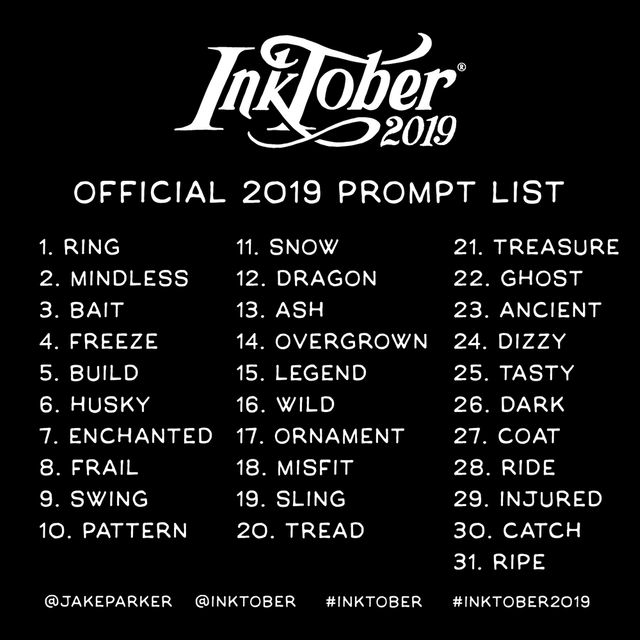 Day 1 Compilation
My pick for Day 1 #inktober off Steemit artists.... will be...........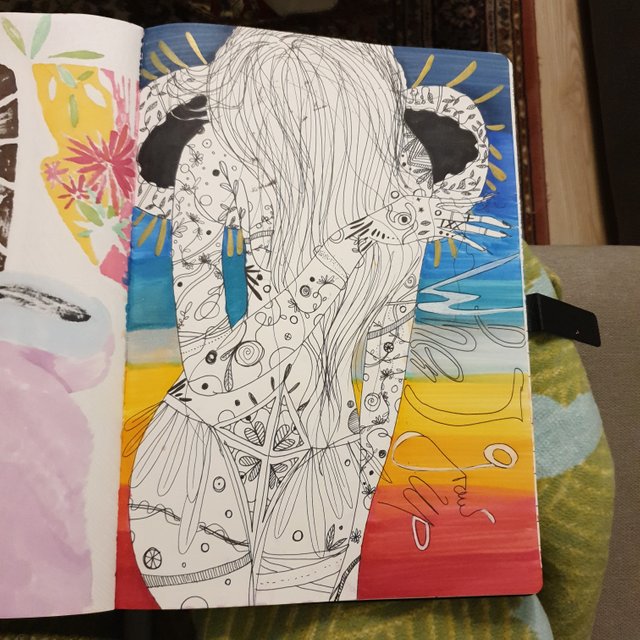 2 STEEMs to @ghostsoku just for participating in #Inktober 2019 at Steemit from me :D :D :D
If you have cross-posted your Steemit post for your #Inktober 2019 through your other social media, link me to your external social media posts also, there might be more STEEMs I can throw at your pretty faces :>

GAMING
EXCITING NEWS!
From the #gaming side, @archdruid has announced the winners to the FINAL round of its GAMING ERA contests :D :D :D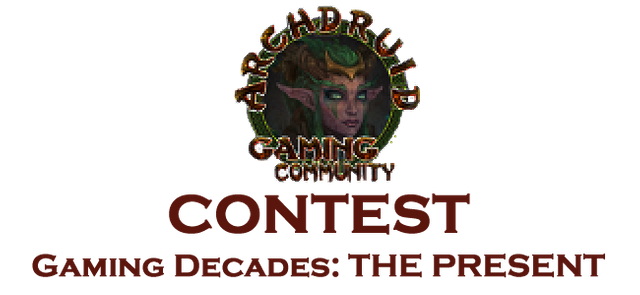 Interesting things to note (andddd appreciate! :D), is that the total earnings of contest participants have doubled since the previous round :O :O :O
Quoting myself cuz I'm weird...
We had a total of NINETEEN entries this time around! This is less than the previous round, true, but……. The quality of the entries has skyrocketed :O ! In the last round, the total payouts for all 20 entries were $162.78 and in this round, ……….a whopping $322.71 for a total of 19 entries ! That's virtually doubled !!!
Four out of twenty entries in the last round were picked up by manual curation groups (curie and OCD mostly) and in this round, TEN out of the nineteen entries were picked up by manual curations :D :D :D
Clearly, curators and awesome people out there are watching these contests so entering these contests with your best efforts can be VERY rewarding!!! :D :D :D So, please consider joining in the future, friendos :D :D :D
What's next for @ArchDruid's contest horizon??? Well, for one: @elfranz is back! \o/ And a spider is diving into #inktober, so please allow at least a week for a spider and a dragon to organise something.... but STAY TUNED! We will announce exciting stuff very soon :D :D :D !!!

Artists' Highlights with C2
On another note, please check out this article that I wrote for the @c-squared's Artists' Highlights a few days ago :) Please check it out! I am featuring TWO artists at a time, and the tenth pair is: @longer and @znkd :D
Log
Issue 1: @Arrr and @thilah
Issue 2: @EdgarUVM and @Zsolt.Vidak
Issue 3: @chrisdyer and @sanderjansenart
Issue 4: @elenasteem and @patschwork
Issue 5: @nyarlathotep and @carlgnash
Issue 6: @mikkolyytinen and @nekromarinist
Issue 7: @azbeen and @barbara-orenya
Issue 8: @rachelsvparry and @jankasparec
Issue 9: @armandosodano and @shibasaki
Issue 10: @longer and @znkd
copyright @veryspider. all rights reserved.
(that means DO NOT USE unless you got my say so in writing!)

To all of you artists out here at Steemit! Hello~ If you ever are lost and lonesome, please join Steem Artists at our discord chat: https://discord.gg/ENN8KCb

We network with fellow artists here on Steemit and we help each other succeed :) Come and say hi~ ^ __ ^






curator for OCD, curie, and c-squared (and c-cubed), helpie, archdruid and akibasteem