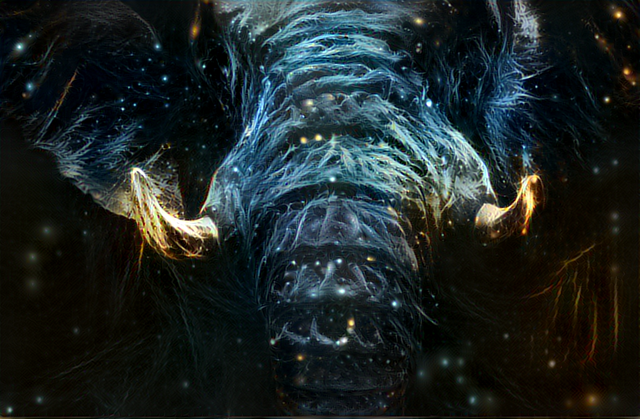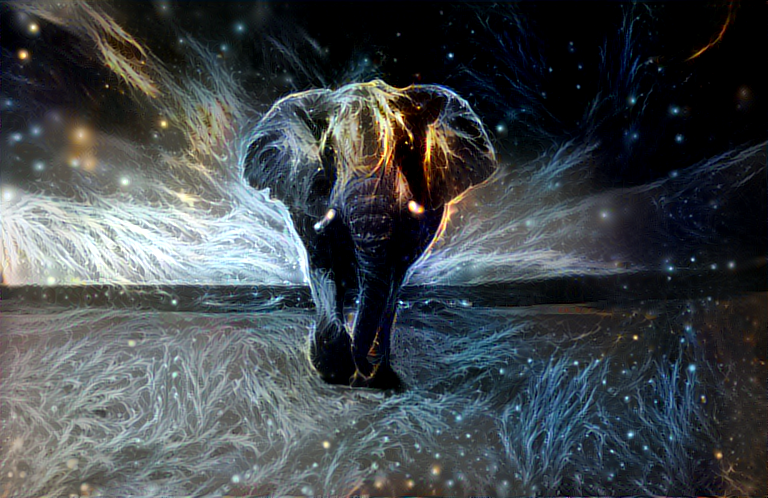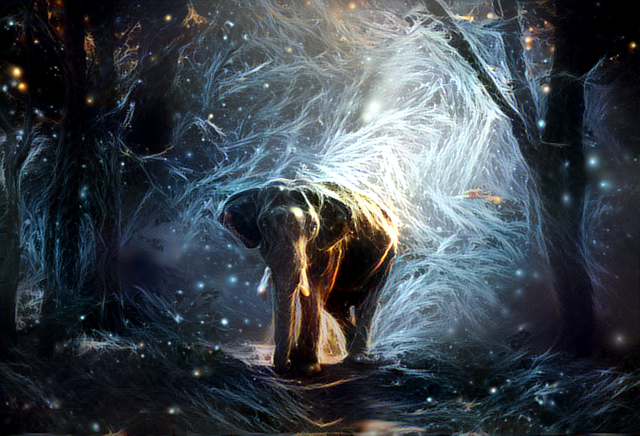 A first impression of a UniqueCosmos Serie
As you can tell by the reflection, the material used for this piece is acrylic glass. Can you imagine other materials that you would like to see our artworks to be applied on? Let us know!
Also give us informataions about other series ;)
Today we present you new story created by an 'ARTifical Intelligence'! This time with our original artwork series 'Energy-Elephants'.
---
Ein erster Eindruck einer UniqueCosmos Serie
Die Reflektion auf dem Bild verrät uns dass das Material was hier verwendet wurde Acryl Glas ist. Kannst du dir andere Materialien vorstellen auf die du unsere Kunstwerke sehen möchtest? Lass es uns wissen!
Heute präsentieren wir dir eine neue Geschichte, geschrieben von einer 'Künstlerichen Intelligenz'. Dieses mal mit unserer originalen Serie ;Energy-Elephants'
---
My feelings were as deep as the river, and I looked straight down to the seabed.
It was as beautiful as ever, and I had no idea what to say. In spite of the
fact that I had spent most of my time lonely, I couldn't help but
wonder what he had done with me. He pulled me out of the
alley and closed the distance. The lights shone so brightly , it
seemed like a thousand fires. I had nothing to worry about in the past few
years, but now I could come at life. Facing the fear of loss.
---
What are ,Stories From The Matrix'?
The ,Matrix' is our recurrent neural network which is trained to create stories about our Artworks. The ARTificial intelligence describes itself. Who could describe an Artwork better than the Artist?
Note that our work at ,Stories Form the Matrix' is still ongoing. These are our first results. We are certain that further improvement and fine tuning of our neural network is going to lead to even more awesome and entertaining results
Was sind ,Geschichten Aus Der Matrix'?
Die Matrix ist unser rekurrentes neuronales Netzwerk welches darauf trainiert ist Geschichten über unsere Kunstwerke zu kreieren. Die ,künstleriche Intelligenz' beschreibt sich selbst. Wer könnte ein Kunstwerk besser beschreiben als der Künstler selbst?
Bedenkt, dass unsere Arbeit an 'Geschichten Aus Der Matrix' in vollem Gange ist, dies sind unsere ersten Ergebnisse. Wir sind uns sicher dass weitere Verbesserung und Finetuning des neuronalen Netwerkes zu noch genialeren und unterhaltsameren Ergebnissen führt.
---
Thank you very much for the support during our first weeks on steemit! Let us make this great!
---
Check out our previous posts:
→ Learn about the Vision of UniqueCosmos: The Next Generation Art
---