I've been excited and inspired by the idea of Decentraland for the last year but as a 2D cartoonist with no coding skills I found myself with lots of creative ideas and no way of executing them. I watched in wonder as 3D modellers and developers created imaginative buildings and fun games hoping that one day I could learn the skills to emulate them.
When Decentraland announced they would be launching an easy to use drag and drop editing tool, complete with built in 3D assets, that takes away the need for any coding skills, I knew that this was my opportunity to get creative. I signed up for the alpha testing and got straight to work. As I am an advisor for The Festivaland District I decided to make a scene that might be useful for that purpose. A small stage in the opening of a glade, the kind you might find on the periphery of a UK Summer festival.
I have never been able to get my head around 3D modelling software before. I've looked at it many times over the years but I'd never had that moment of clarity where everything made sense. The new Decentraland interface is different. It's so instinctive and simple that within a few minutes I had a clear understanding of how it worked and could get to work creatively building my scene. The assets are super cool, although they are limited, there is a great variety, and I expect that they will continue to add to library as time goes on.
After a couple of hours of tinkering, and then maybe another hour of tidying up I had created my first scene 'The Poco Mondo Acoustic Stage'.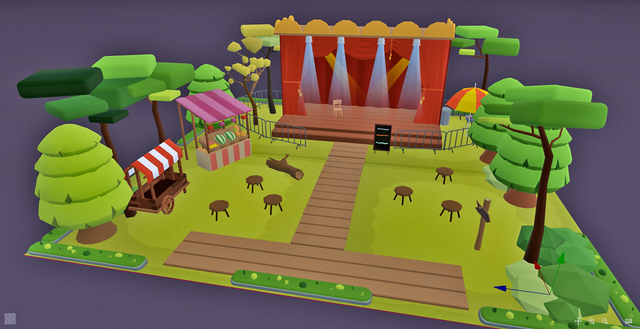 Decentraland will launch the world builder tool in March with a content creator contest. Design scenes using the drag and drop editor to earn MANA (Decentraland's cryptocurrency) with big prizes in LAND and MANA for the top 50 entries.
It's a cool way for creatives to get involved in Decentraland and earn a bit of crypto.
@abnerharris @marcusbraeburn @furion @ericoliveira @gaming-stuff @jameshsmitharts @slayerkm @rosiebone @opheliafu @cryplectibles
there is more information about the builder and the contest here
or to keep up to date with the latest news - Decentraland on steemit