🎨 [Step by Step] - Process: 🌈 🍬 🐴 Rainbow Donkey Mini Piñata, beautiful, practical, and profitable! 🐴 🍬 🌈 - By: Tesmoforia.
" Color is the touch of the eye, music to the deaf, a word out of darkness."
• Orhan Pamuk •
---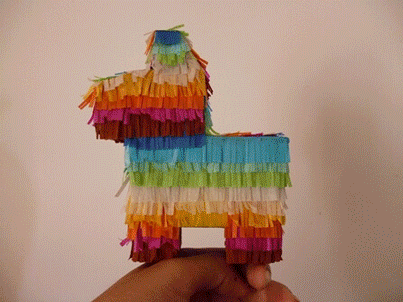 • "Pew! Pew! Pew!" - Photos by @Tesmoforia. Gif made by the super adorable @Vanuzza •
• • •
Last week, my mom requested me a "Shopkin" Piñata (if you don't know what is it, calm down, I just knew about them last month, and most of them seem really ugly to my eyes!) for a niece's first birthday.
• • •
Unexpectedly, the Piñata was a real success between the neighbors, who suggested me that if I make some more to sell it was going to be a great deal 👀 💰 💖
• • •
But, making a 40 centimeters Piñata (average size if it's a little one), represents a whole afternoon working, and that if it doesn't have many details (if it does, we are talking about 2 days of work).

☝ But what if we start talking about Mini-Piñatas? ☝

There are really trendy at the moment!, people start planning (childish and not so childish) Birthday Parties with a single centerpiece (a piñata of approximately 25 to 30 centimeters, which is not supposed to burst), accompanied by an entourage of replicas of that piñata, each replica is a gift filled with sweets for each guest.
Definitely, it's a market where I want to venture; today is May 23th and I'm making many sample pieces for sale, and the main one is this little multicolored friend.
---
• M i n i P i ñ a t a •
« R A I N B O W • D O N K E Y »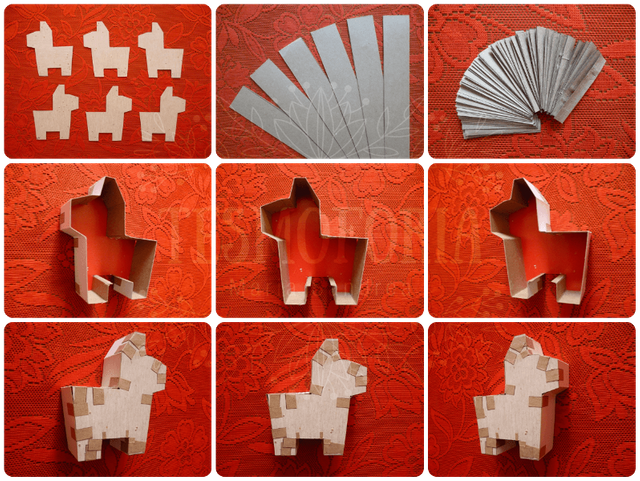 • "Body, sides and recycled paper ribbons." - Photos by @Tesmoforia, with a Lumix/Panasonic DMC-FH2.

I calculate that the time spent for each piece (between preparing the material for each piñata and assembling it) goes around 30 to 40 minutes, depending on the humidity in the environment, and the drying time of the glue.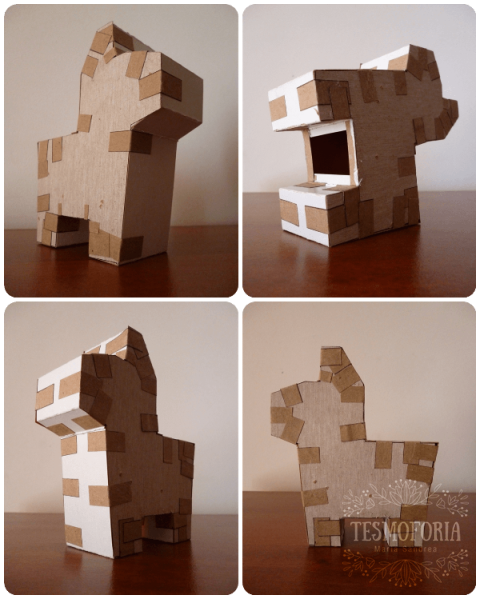 • "This Piñata can be whatever you want btw, and I have told it looks like a dog, an alpaca, a horse and a zebra!" - Photos by @Tesmoforia, with a Lumix/Panasonic DMC-FH2.

Personally, I don't suggest covering them in colored paper (crepe or tissue) the same day they were assembled, because manipulating them too much could deform them, in case the glue hasn't dried entirely yet on the cardboard.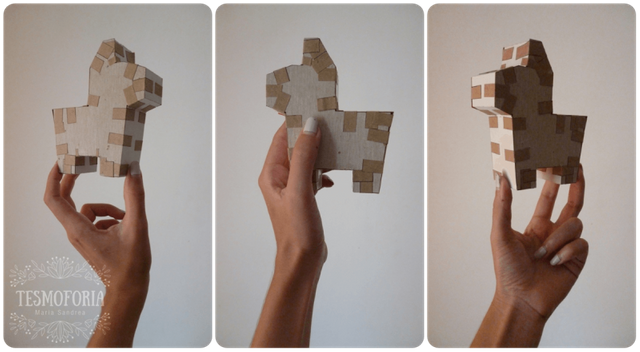 • "A Piñata in the hand is worth 100 exploding..." - Photo by @Tesmoforia, with a Lumix/Panasonic DMC-FH2.

After this experience, I would recommend to assemble all the Mini-Piñatas at a single working day, and let them dry until the next one. The difference when handling them for decoration is remarkable (the cardboard feels very resistant).
---
« T O O L S
&
M A T E R I A L S »
• • •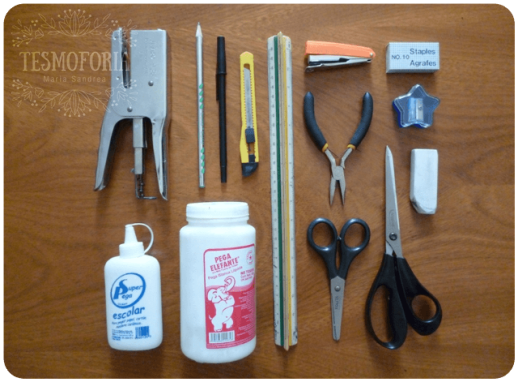 • Photo by @Tesmoforia, with a Lumix/Panasonic DMC-FH2.
• • •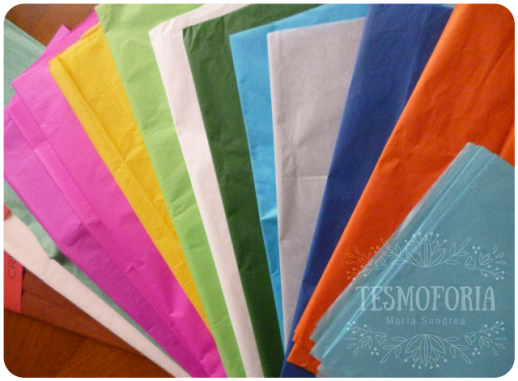 • Photo by @Tesmoforia, with a Lumix/Panasonic DMC-FH2.
• • •
| • Pencil. | • Pen. | • Scholar Glue. |
| --- | --- | --- |
| • Cutter. | • Sharpener. | • Crepe Paper. |
| • Ruler. | • Stapler. | • Tissue Paper. |
| • Eraser. | • Scissors. | • Small Clamp. |
---
« R E S U L T »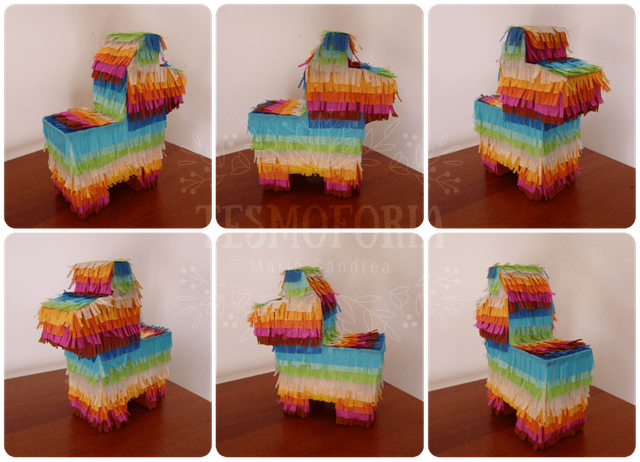 • "A look at how it looks at all angles." – Photo by @Tesmoforia, with a Lumix/Panasonic DMC-FH2.

For this first Mini-Piñata I used 10 colors in the following order: Brown, fuchsia, orange, yellow, white, gray, lime green, light blue, blue and royal blue.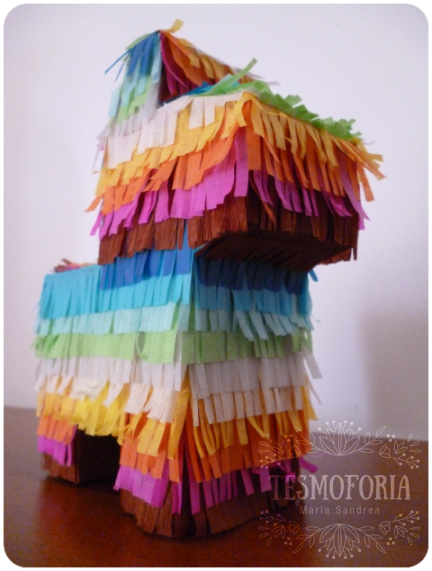 • "Adorable mini totem of my heart (sigh)" – Photo by @Tesmoforia, with a Lumix/Panasonic DMC-FH2.

• FINAL MEASURES •
• HIGH - 12 centimeters.
• LENGTH - 10 centimeters.
• WIDTH - 4 centimeters.
---
👉 TALKING ABOUT THE HOBBIES ROULETTE 👈
• • •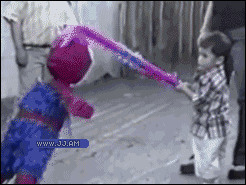 • That thing of hitting your idols of childhood with a stick should bring some kind of karma •
• • •
When we are born, all of us come with a "skill pack"; these gifts are not always what we would like to have, but undoubtedly each of those talents deserves to be, explored at least.
I started 2019 making embroidered brooches with jewelry beads, then I came back towards creative writing (I will open a new Steemit account for that kind of content!, I haven't decided the name yet), and I want to make Piñatas now.
✨ 🎨 Life is too short to do one sole thing! 🎨 ✨
---
---
Thank you so much for Reading!
✨ 🍓 ✨ Happy, soft and creative day to all ✨ 🍓 ✨
✨ 🍃 ✨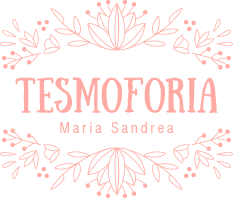 🍓 Text and All Images' Credit: @Tesmoforia 🍓
🍓 Translation: @Vanuzza 🍓
🚨 Please don't take, edit or re-post my content without my permission! 🚨
💌 Would you like to get in contact with me?: [email protected] 💌
✨ Separators: @Vanuzza • Gif´s: Giphy.com ~ ✨
---
---

---
The separators and icons used in this post ARE NOT FREE TO USE, the Designer User @Vanuzza created them for me; and they are protected by Copyright, that's to say, they can't be taken neither used by third-parties. Please respect the property of other content authors and creators. Thank you.
---
⚜ All Rights Reserved / © T E S M O F O R I A - 2018/2019 ⚜