"Midnight" Original artwork
Hello there!
How are ya doing?
I have something old... yet new for you :)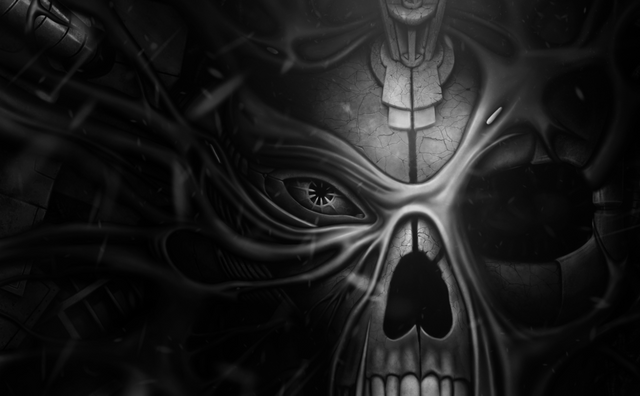 I started this as a drawing, with ink on paper. The theme is similar to some of the works that I've done in the past. The feeling that you have when you're just working. Plugged in like a machine, just knowing that if you put the work in, it will work out. Just focus. Start drawing, one, two, three lines, an image emerges from the blank surface. There it is, now work on it, bring it to life. Carve the values, create the shapes. It doesn't need to make sense, but in the end, it always does. Embracing it even if you have no charge left... It's a lesson that I'm still trying to learn.
Just a simple idea. Oh, it looks like an eye socket. Let's give it a skull, should it be just a skull, let's put a metal eye in the other socket, the cheekbone should be a transition between the skull and the background... Staring at the paper, drawing, staring, thinking, drawing. This is the whole process. It takes me more time to think of detail than to actually make it.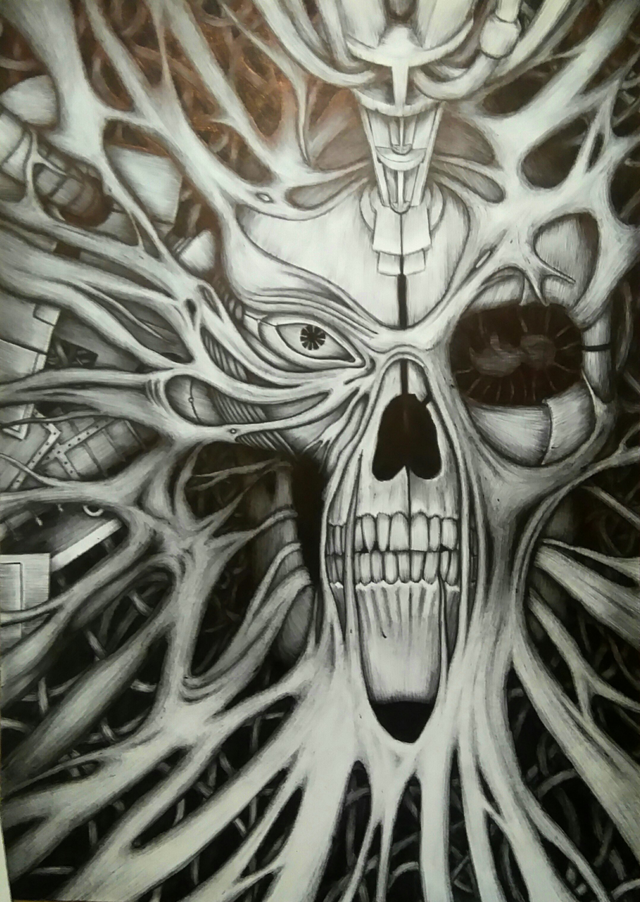 Once I was done with the drawing on paper, I scanned the piece, tried to enhance it digitally. Just started separating details, layer by layer, but something was not working, it was looking more like an unfinished puzzle than a painting, even being digital. I continued working on it for a while on stream, back when Dlive was still on the Steem blockchain. Scrapped it after a couple of hours of work. Recently, I've got back to it. There was potential in it. But now my workflow is, not completely, but really different than the one that I had back then.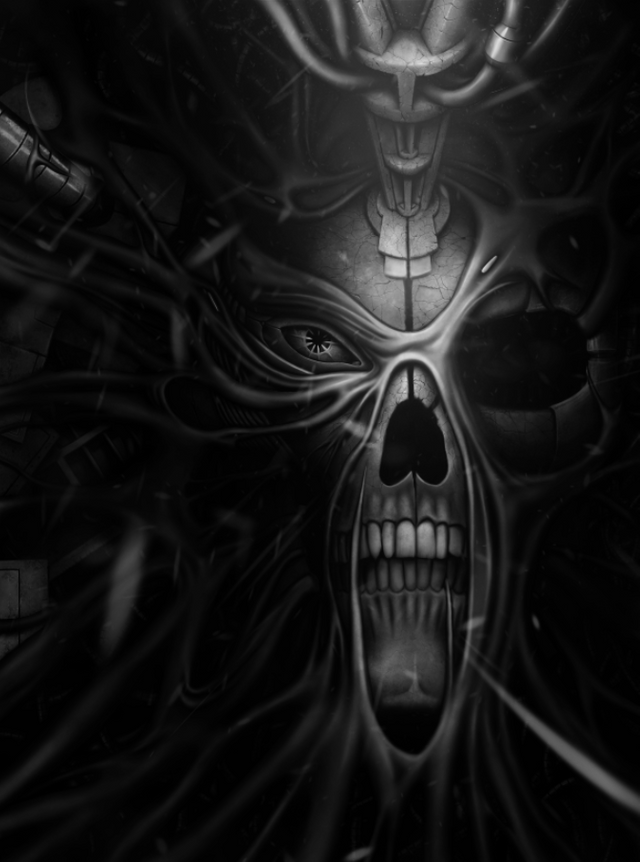 I started the overpainting on a single Layer, not using selections, just trying to create some sort of centralization on the piece, dummed down the details on the periphery, allowing the skull to pop up a bit, after that on another layer I added the cracks on the skull and the device in the middle of the forehead, I was using the same technique that I developed while I was painting "Cost of Power" Then I applied a desaturation fog, that helped with the focus quite a bit. Applied some light on the top of the device, falling on the skull almost vertically. For the particles, I've used a shattered glass brush then selected a bunch of them at a time, free transforming, warp tool. Stretching them cleating the illusion of movement. Colordodged the parts that needed to be highlighted, and that's it. It was not an as complicated process as I was thinking once.
Here are some details :))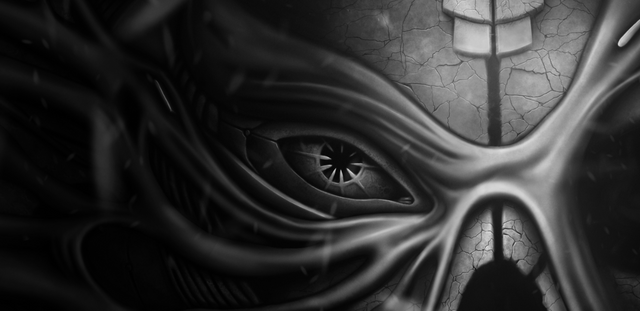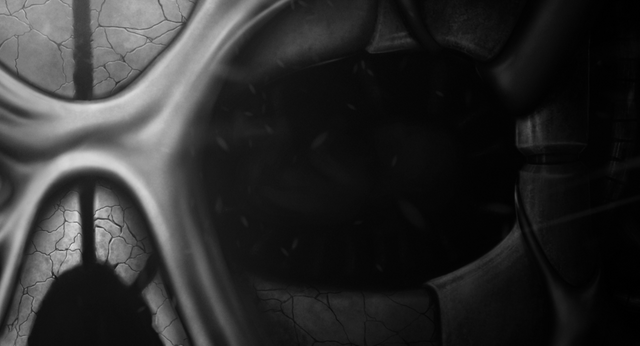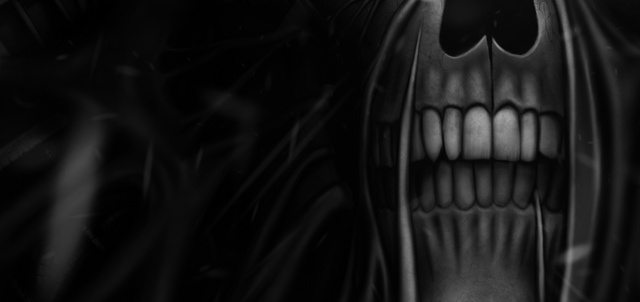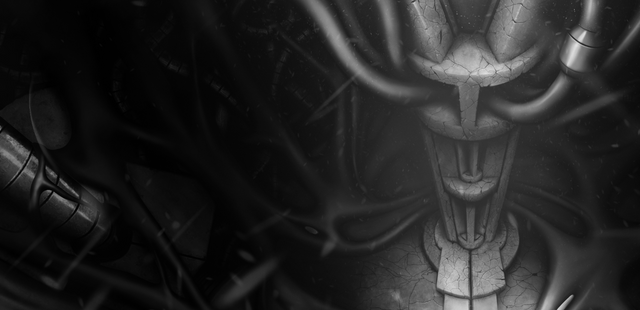 ---
Tools used: Wacom Intuos pen Small & Photoshop cc2018
If you like my art, please follow me on:
Facebook; Artstation; Deviantart; Behance;Patreon; Instagram; Dlive; Twitter and Twitch
You can own part of my artworks in the Ethereum blockchain Here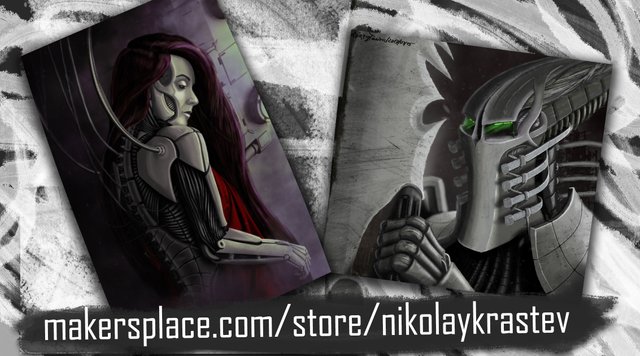 To buy a print or a Limited edition copy of my works
CLICK HERE