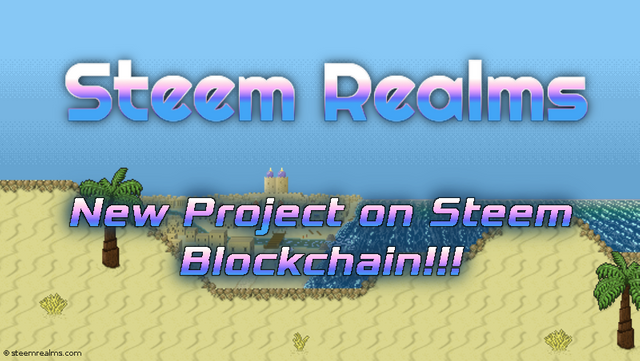 Introducing Steem Realms: Heroes, a new project for the Steem Blockchain!
Steem Realms is a collectible hero trading system, utilizing soft-consensus record keeping. Interested parties can purchase heroes, transfer heroes to friends, and artists can even submit their own heroes for approval to be listed and sold on the Steem Realms website!!!
Retro-Style Pixel Art Heroes
In 2019, there are still communities of fans who enjoy the retro-style of art and gameplay that was pioneered in the 1990's. Steem Realms: Heroes harkens back to that style by utilizing 32x32 pixel art. Retro-style pixel art is one of the easiest ways to learn about artistic design for games. In the 1990's, this type of development was cutting edge, requiring expensive machines to play. Today, pixel art games can be easily built for the common web browser, and played on a tablet or mobile phone.
Steem Realms: Heroes – Limited Issue Collectible Heroes
The website we have launched (steemrealms.com) allows holders of STEEM and SBD to purchase collectible heroes. Logging into our site only requires a steem ID, using a posting key through steemconnect. Heroes may be designed by our company and sold, or more excitingly for the artistic community on Steemit, hero art may be designed by them!
Each hero is a limited issue and the quantity issued is based upon rarity. A hero is given a genesis block, where the relevant original data for the hero is stored. Once original ownership is established in the genesis block, we record each transfer of a hero on the Steem Blockchain. All records of hero issuance and movement will occur on: @steemrealms.app
Each hero has game statistics listed with it, which may be used in a game Steem Realms is attempting to build (not guaranteed). The statistics are subject to change and revision, but in general, the more rare the hero, the better stats it will receive.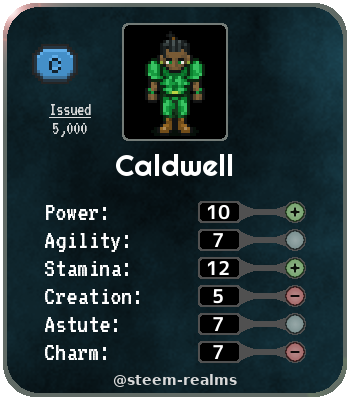 Origins of Project
In late 2017, I wanted to build a project in the cryptocurrency space, and I had a desire to make a game. After going through various ideas and revisions, I envisioned where user-submitted pixel art heroes would do battle with one another. Meanwhile, SMT's were announced and I decided that the Steemit community and the Steem blockchain were ideal for my project's goals. After much work and time figuring out how to transact on the Steem blockchain, today I have launched the first step of my vision.
Resteem! Tell Steemit Artists!!!
How do you support the vision I have for Steem Realms: Heroes?
The first thing you can do is resteem this post.
The next thing you could do is share this project with fellow artists on Steemit. An artist who wants to make a hero on Steem Realms will need to be able to login, and they will have to follow the Hero Submission Guidelines. These guidelines outline most every detail an artist will need to create a proper hero submission. Developing a hero for the Steem Realms website involves producing multiple frames of content, which are able to be animated into a game engine. The content must be submitted by the creating artist, you may not pay an artist to do it for you. The content will also need to be licensed under CC0 Creative Commons licensing.
Why submit a hero to Steem Realms as an artist?
Even though your art would join the public domain of works under a CC0, enabling anyone to use it, even commercially, the point of having a hero listed on Steem Realms is that 50% of the issuance of that hero will go to the artist's Steemit account. As Steem Realms sells that hero, sales will alternate back and forth between the artist and Steem Realms. For business reasons, the transaction for payment will be sent directly to the artist for their sales. So yes, it could be profitable if you are able to get your hero listed in our store and start selling it!
How to support us even more?
Any purchases in our Store will help our project! One of the factors which will determine the amount of time I can spend game developing is the amount of interest we receive via sales in our store. Purchases help the project as a whole! In the future, it could also help artists on Steemit earn income for content they produce... content which anyone in the world may utilize under a CC0 Creative Commons License.
Heroes for Sale
Genesis Heroes
The idea behind the Genesis Heroes is that they are the affordable, starter pack of collectible heroes, priced at about 5 USD. If we are ever able to build a game (again, not guaranteed), I plan on allowing those who purchased Genesis Heroes to play the game. Genesis Heroes are presently issued with a quantity of 5,000 each. If these ever run out, I will artist up some new Genesis Heroes!
Hero of the Month: Vivian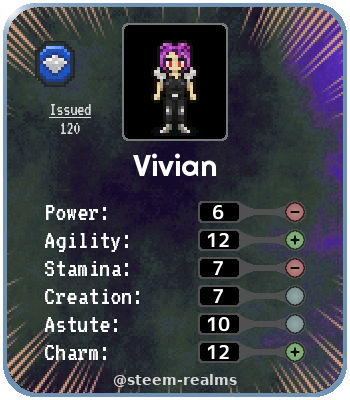 Every 30 days or so, we plan to issue a "Hero of the Month". These will usually be Uncommon to Legendary heroes with better statistics than common heroes. For the first month, we are issuing Vivian, a legendary agile and charming hero character. Being a legendary, only 120 will be issued. This is why she is also priced higher than the Genesis Heroes.
---
Terms of Use - Terms of Sale