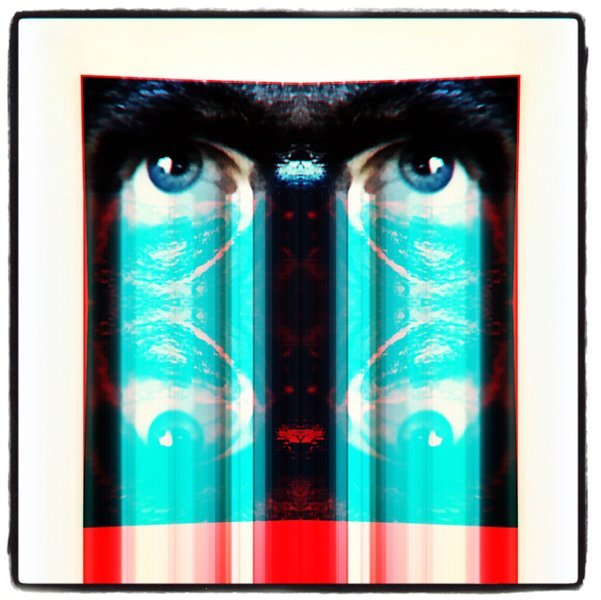 'Future Past' - Digital Glitch Collage (2018) - Available here
Dear friends,
I'm excited to announce, that my digital art is now also available at SuperRare.
SuperRare makes it easy to create, sell, and collect rare digital art. Our smart contract platform allows artists to release limited-edition digital artwork tracked on the blockchain, making the art rare, verified and collectible.
The project is developed by a company called Pixura and is based in Brooklyn, NY and SuperRare is the first dapp running on the Pixura protocol. Like similar crypto-art marketplaces, the tokenization and payments are handled by Ethereum based smart contracts.
When you add a digital asset (like an image or gif), a token is generated by SuperRare smart contracts and deposited in your Ethereum wallet. The token is permanently linked to the artwork, and is a unique, one-of-a-kind crypto-asset that represents ownership and authenticity of the underlying artwork. The artwork then starts its new life on the blockchain, where a fan or collector can purchase it, and where it can be subsequently traded or held by collectors like any other rare artifact.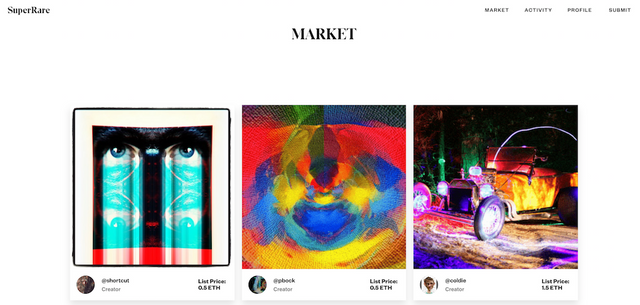 How does it work?
Wether you are interested in collecting rare digital art or selling it, the first thing, you will need is the metamask extension for your browser filled up with some Ethereum. Then you can visit the SuperRare market and if you find some art, you like, you can either pay the list price (to instantly purchase the art) or place a bid and wait, if the artist accepts your offer.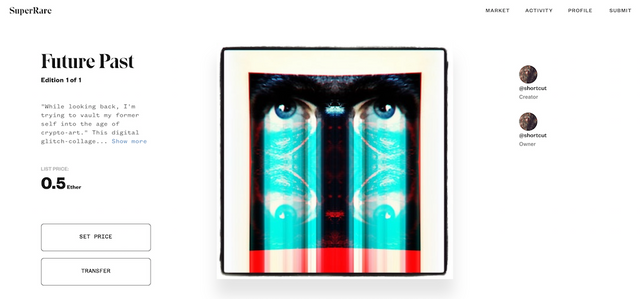 What's in for artists?
The most exciting part for me about SuperRare is, that artists can tokenize their art and they will get 100% of the initial sale price (while a low 3% commission is charged on all subsequent sales of that art work). But thanks to smart contracts, artists do also get a 10% commission on secondary sales.
Our mission is to help artists make a living on the internet. The world needs more art, and we believe that artists should be able to make a living doing what they love. We think the ability to secure a percentage of secondary-market revenue for artists is one of the most revolutionary and exciting capabilities provided by Ethereum smart contracts.
Application and Tokenization
If you are an artist and want to give it a try, you will first need to fill out this form and provide a sample of your work and some background infos. If you got accepted to join the platform, you will receive detailed informations on how the tokenization process works and help on how you can promote your work.
Now you can go ahead and fill out the details for your first submission: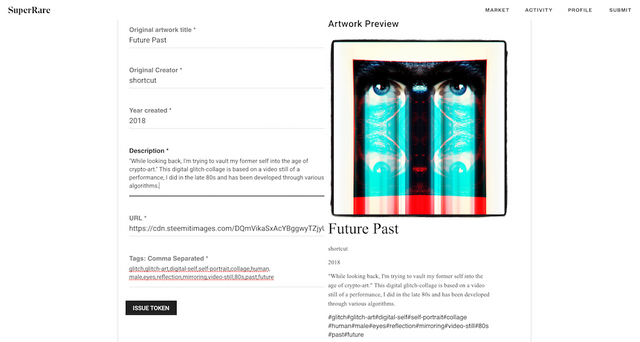 When everything looks good, you will have to pay a small gas fee to execute the smart contract using metamask. The image (or gif) is then uploaded to IPFS and linked to an ERC20 token, that is sent to your metamask wallet. In a final step, you can set up a sale price for your artwork (which requires another small gas fee).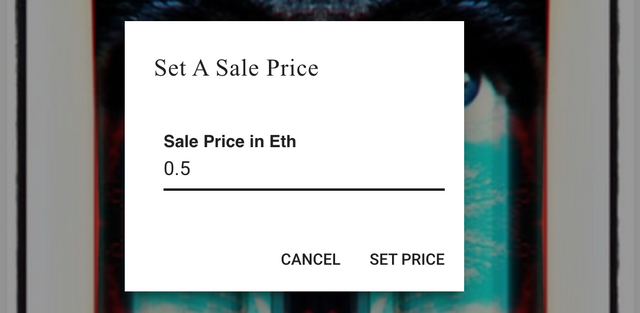 If you don't set a buy-now price, visitors and collectors are still able to make an offer and you can decide to accept that offer or wait for a better one.
Conclusion
SuperRare is a great marketplace for digital artists and collectors and definitely worth to check out!
They just recently celebrated their 1000th tokenized work of art and you will also find some well known Steem-artists over there like @opheliafu, @juliakponsford and @pbock.
Also feel free to make me an offer for my artwork or buy it for the list price of 0.5 ETH - in a bearish market, crpto-art can be a very stable investment!
Thanks for your consideration!
@shortcut - crypto-artist and blogger
---
Links
Here are some links to find out more about SuperRare:
Homepage
Twitter
Instagram
Medium