Hello guys!
I'm bringing you today another postcard from Shiny Forest :)
I'm curious where is the forest ghost heading to, his pointy ears so ready for adventure and cute... Maybe we're behind the garden wall already, or maybe we've wandered off somewhere else, we're gonna have to wait for another update on his walk through the Shiny Forest to find out. We could use some action next time, methinks!
Speaking of adventurous journeys, I'm watching the Fullmetal Alchemist Brotherhood series now (after watching the first one series together with a grand finale movie). I must say that I'm very thankful to @vermillionfox for her recommendation on Kakegurui, that she made recently here on Steemit, because it made me finally start to explore the world of anime. BTW you should totally start following @vermillionfox if you haven't already :)
Well, I am a big and faithful fan of Ghibli productions, I've watched Akira, I was in love with Sailor Moon when I was a kid and I adore/d Pokemon, but other than that I've never really watched consistently any other anime productions. After I finished Kakegurui, which I've found to be quite entertaining, refreshing, easy to watch, I decided to give a Fullmetal Alchemist a try on Netflix. I remembered watching Wisecrack's take on this series, and wanted to see for myself how it is. AND I REALLY LIKED IT :) Fullmetal Alchemist made me ponder a lot on how to craft a story and what I personally like most in my favourite stories (be it a book, series, movie, article or a spoken narrative). I also thought a lot about the differences in storytelling depending on the cultural background, and I got inspired in many ways regarding my own stories of forest ghost, living their secret lifes deep in my whimsical Shiny Forest ;) I'm not sure how will I put my observations to life, as I prefer dark and twisted stories, and my forest ghosts are so all kawaii, non-threatening and squishy, and my drawings are mysterious at best... haha!
But anime was doing fine mixing all those different moods. So we'll see what comes out of it! A compelling story would be nice :P Aways a good idea for me to confront with fresh concepts and perspectives.
This particular drawing is a quick one, because I recently have been working very hard in my workshop, producing drawstring bagpacks, bags and cosmetic bags of different sizes before the season will begin, and as much as I would love to, I just couldn't find enough time to post regularly. But I heard the legend say, that the day will come, when the weary and absent will return to the realm of Steemit and post again on a daily basis, and the peace will reign once again... so yeah, I should probably move on to explaining the progress of artwork :)
Here's how today's postcard looks like: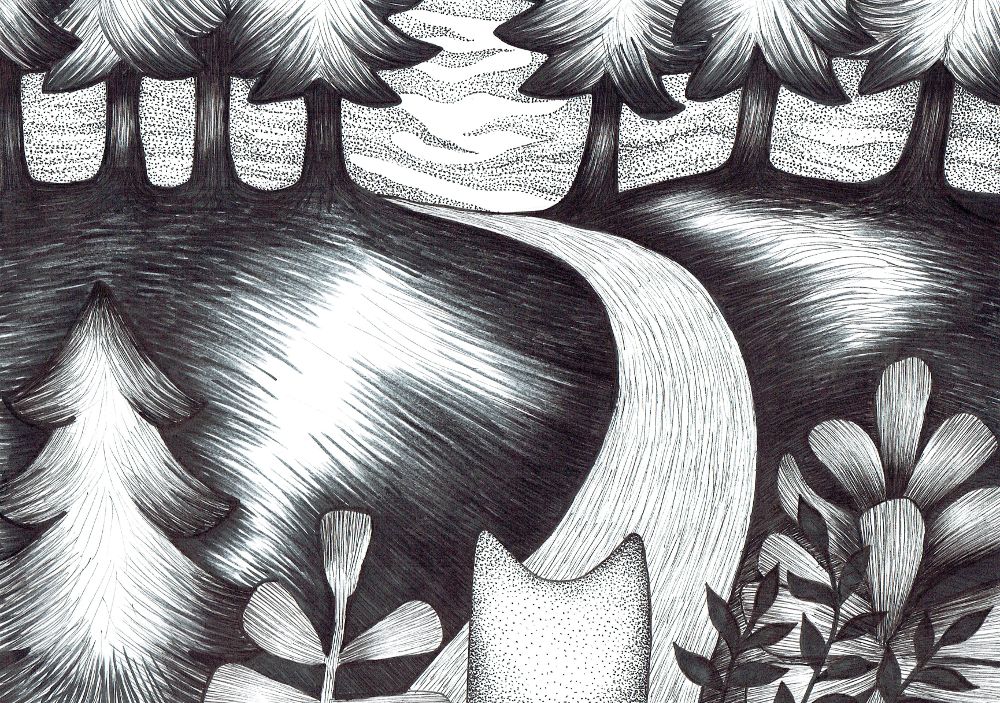 Pen and ink on paper, 21 x 29,7 cm
THE PROGRESS OF WORK
A quick,delicate, but accurate sketch (because I love a controlled result).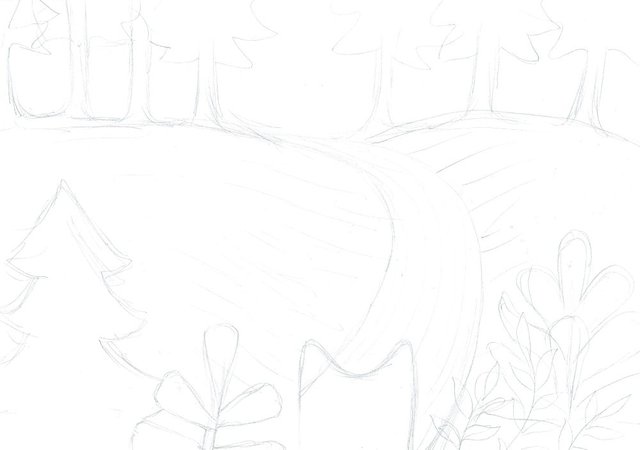 Redrawing the outlines with pen.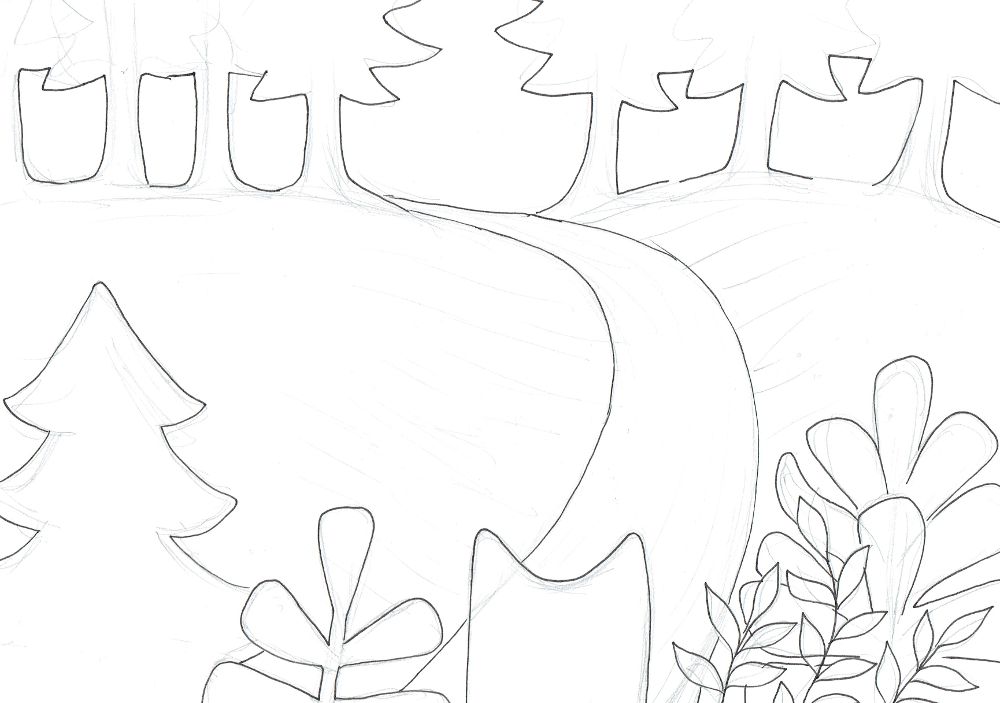 I started with base for texture in the front objects and black leaves because I was lazy- it was the easiest part of the drawing, it just needed to be filled with black using marker ;)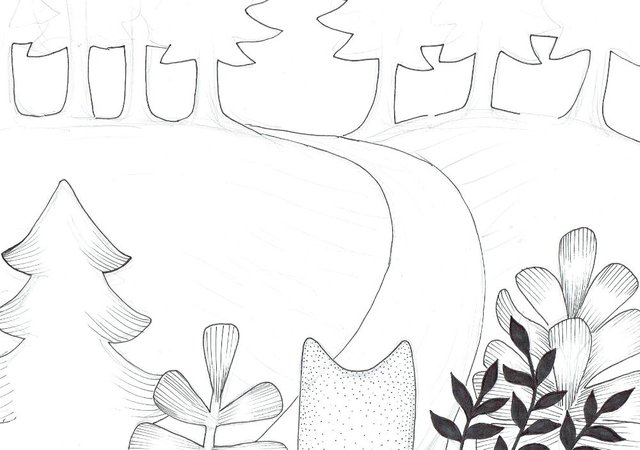 I had to build up the darkness and texture- starting with some rough guidelines to follow again and again with my markers.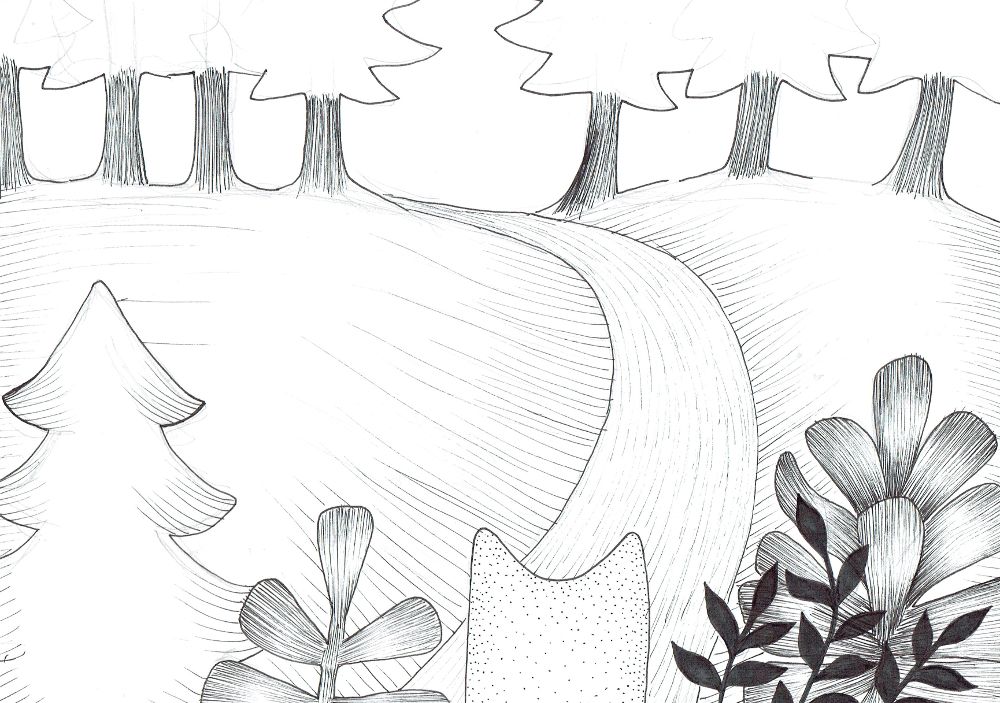 Here you can see the drawing midway- many more layers of ink still ahead of us :)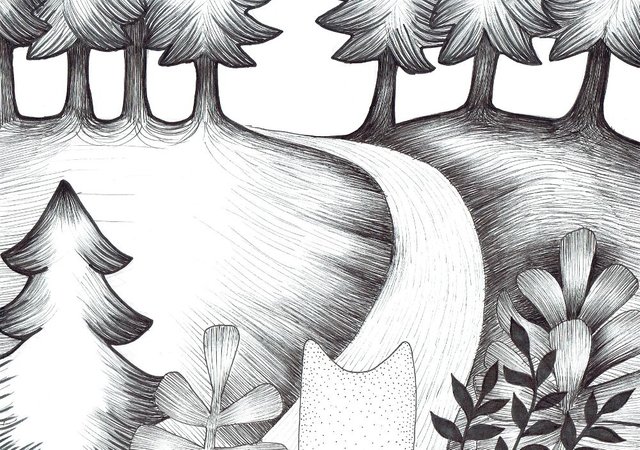 The dramatic contrast and shine gives a strange vibe to this drawing.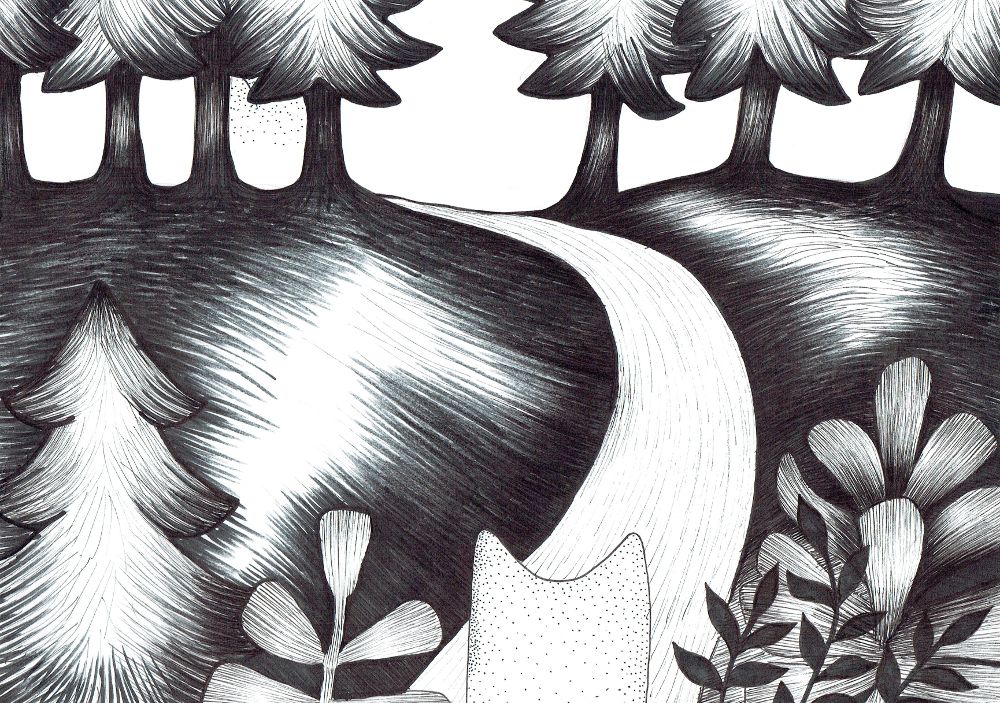 I moved onto the stipling and detailed texturing at this point.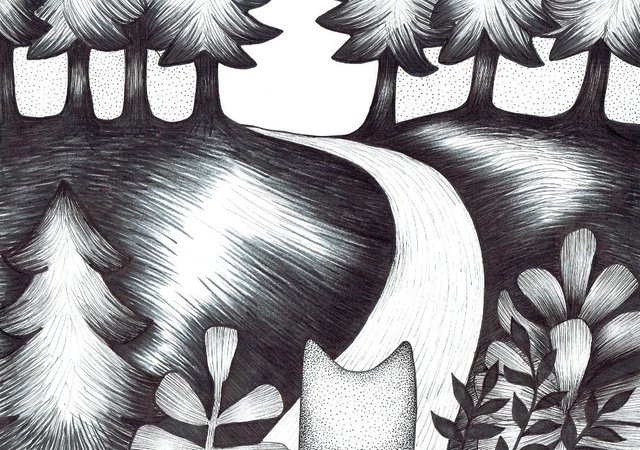 Stippling intensified... and then the drawing was finished!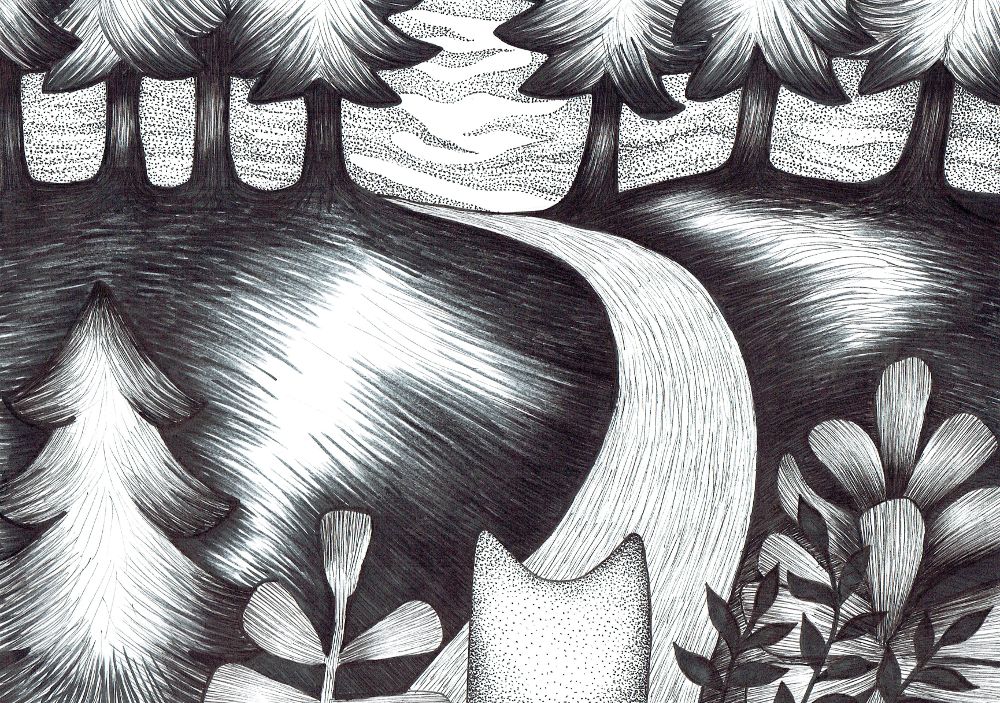 A detailed GIF showing the progress of drawing: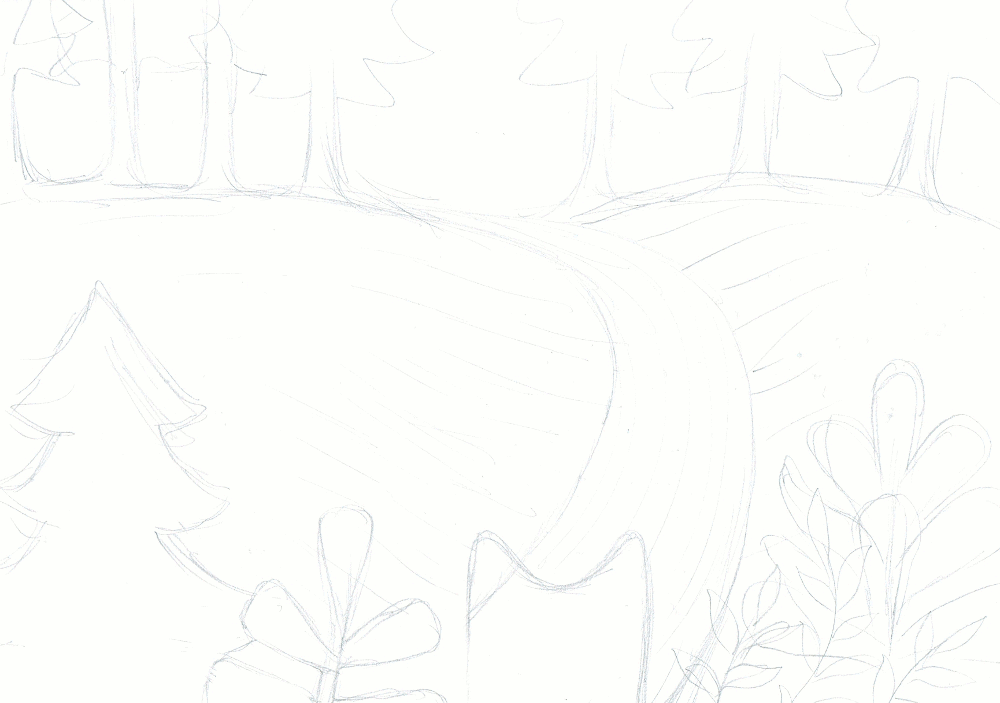 How did you like my post, guys? I want to get better at creating smart quick posts instead of huge monstery comprehensive ones, because I want to be able to post more frequently, besides, not always does all this condensed amount of work put in a big post guarantee success, so I decided to strive for balance ;)
And in case you are fans of anime yourself, perhaps you'd like to recommend your favourite series/movies to me? There's nothing better than a good hint on what to watch! :)
I'm very happy you've checked out my post, I'm so grateful for all the kindness, support and inspiration I've received so far here on Steemit! Thank you guys, and as always...

Love,
Klaudia