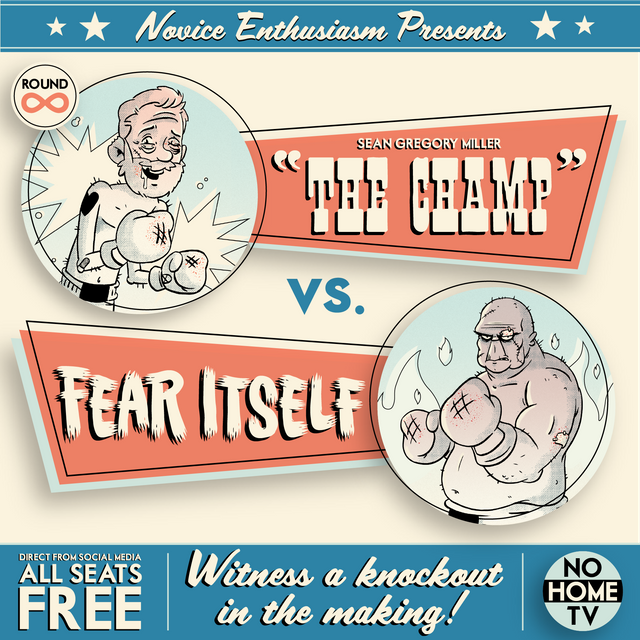 Hey, Steemians! My name is Sean and I'm the illustrator for the comic book "Kid Sherlock" published by Action Lab Entertainment and also work for Zoho as one of their graphic designers. I'm a husband and father of three and am very proud of all the hard work I put into a career that not only brings me fulfillment but provides for my family as well.
I didn't got to school for art or design, so building my career has been tough to say the least, but there was one thing above all else that has kept me goin'. Novice enthusiasm. What's so great about novice enthusiasm? Doesn't that just mean you're excited about something but you suck at it too? Well... yeah!
The beauty of being a novice enthusiast in any field is that you tend to approach your newfound passion with a sense of awe and respect while also thinking, "Hey! I can do that!" The novice enthusiast hasn't had the years of hard work and rejection under their belt to act as the voice that says, "Hey! No you can't!" The novice enthusiast believes in themselves and their untested abilities. They believe anything is possible and that they're gonna be successful at whatever they put their mind to. In other words, they really go for it.
If this person sounds unrealistic, immature, and foolhardy... you're right! Typically you wouldn't want that person as a role model, BUT there is something special about the novice enthusiast. All of that optimism and energy sends them down a path of discovery filled with opportunity and cool experiences. If you're rolling your eyes right now just stick with me for a minute! My point is, you can be a professional and still be enthusiastic about your craft, but the novice has so much more hunger for knowledge and isn't afraid to get messy. The professional has probably spent years in school learning and acquiring skills and even more time honing those skills through practice at home and on the job. At the same time, they've also experienced setbacks or rejection that has conditioned them to task fewer risks. The professional, while successful, knows what works, sticks to it, and runs a greater risk of "topping out" so to speak.
Hard work and practice are the recipe for success in any field but novice enthusiasm is like the gas in your creative tank to KEEP you working hard. I'm not saying that you should be unrealistic, immature, and foolhardy when setting goals for yourself. Plus, if you just completely suck at something after lots of practice, I'm not encouraging you to pour all your time and energy into a lost cause. It's good to know when to pack it up. However, I AM saying that you should try to approach new things (be it a hobby or career) with the same doe-eyed wonder of a novice enthusiast. You'll never get bored, you'll learn new techniques, you'll get better quicker, and you'll endear yourself to talented people that can help you.
This idea got stuck in my head after I completed my very first comic. I was really proud of it and showed it to a few trusted friends to get their feedback. After reading it, one of them wrote a little article about it on his blog and said it exhibited "novice enthusiam". Looking back, that was the nicest way of him saying, "This sucks... but you get an A for effort." Honestly, it was crap. The art was bad, the lettering was bad, the panel layouts weren't great, and there wasn't even much of a story. BUT my love for comics shone through. It showed potential. It showed (you guessed it) enthusiasm! That was really all that mattered to me. Really, when it comes to any project, thats all that should matter.
No matter your skill level, if people can see your love FOR your craft, thats great, but if they see your love THROUGH your craft, you've got something special. I'm not knocking practice, perseverance, and mastery. But believe me, it really can be done at any skill level. There have been comics that are drawn poorly that have made a real emotional impact on me. Its not always about how well something is rendered that's important. It's about communicating clearly and connecting with people.
Ultimately, my goal is to approach everything with novice enthusiasm. Don't get me wrong, its super tough to do and I'm not an especially upbeat guy, but I've see this approach work for me time and time again and I want to pass that along to you. My goal is to take everything I've learned up to this point and offer as much advice as I can. Starting out in a creative field is really scary at times and having someone to help you avoid pitfalls of the industry is super helpful. I'd like to be that guy and am here to help where I can. Just promise to stay enthusiastic!