Upgrades Complete! Caribat 2.0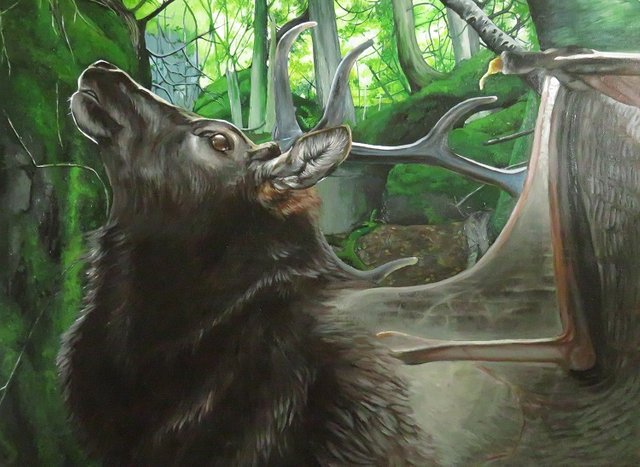 I've had so many side jobs the past while, I've only finally finished. It doesn't end here, either. Tonight, I've got a meeting to negotiate an art show at the Black Dog Brewery, which is a growing craft brewery in Toronto that lets you pet cute dogs while you have a pint. Part of it is that I need to create a few dog paintings to accompany the other animals in my oeuvre.
As I love dogs, this is not a problem. Why I don't have more already made, I'm not 100% sure, except that all the dogs I have painted have sold.
I have to find time to get started somewhere in between the childcare work I've picked up, and a complete overhaul of someone's yard and house starting tomorrow at 9. I only have until childcare duty to get work done, so this might be a multi-day project.
I guess we'll see.
Anyhow, here's what Caribat used to look like: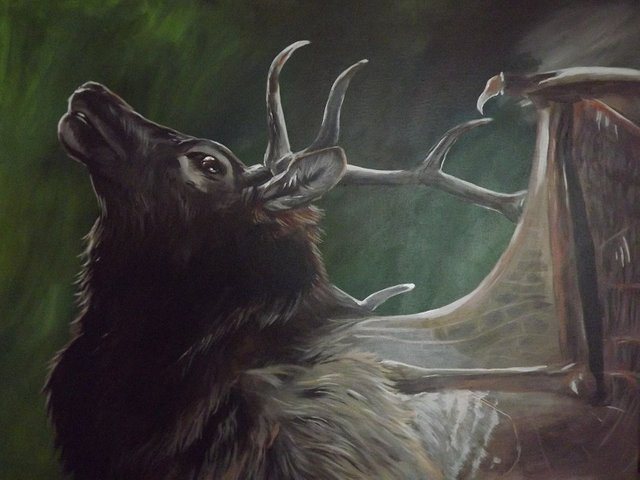 I know I said the perspective has completely changed for me, and I stand by that, but I don't think my photography emphasizes it well. My new photo is cut off at the top a little, so it's hard to truly compare. In any case, I think he looks much more majestic with all of the lighting I've added into the piece.
The background is from a photo I took up in the Bruce Trails, so it's neat to have some strictly Canadian content, not that I'm in any way a nationalist. Caribou and many species of bat are also indigenous to Canada. The reference photos I used for each part of the animal came from an old hard cover National Geographic of wild animals in North America.
One of the reasons this piece is so special to me is because it was among the few I created in my late partner Braz' music studio. When he saw it, he likened me to Robert Bateman on shrooms. I'm still not at Bateman level, but hearing that at the time was a level of support I'd never felt in my life.
I hope someday I do have the technical skill that Robert Bateman has. Or at least the money. Lol. No, no. I want both.
So yay! Off I go for another day's work. Wish me luck!
[email protected] for purchase inquiries and commissions.
Facebook - https://www.facebook.com/RachelSVParry/
Twitter - https://twitter.com/RachelSVParry
Instagram - https://www.instagram.com/rachelsvparry/