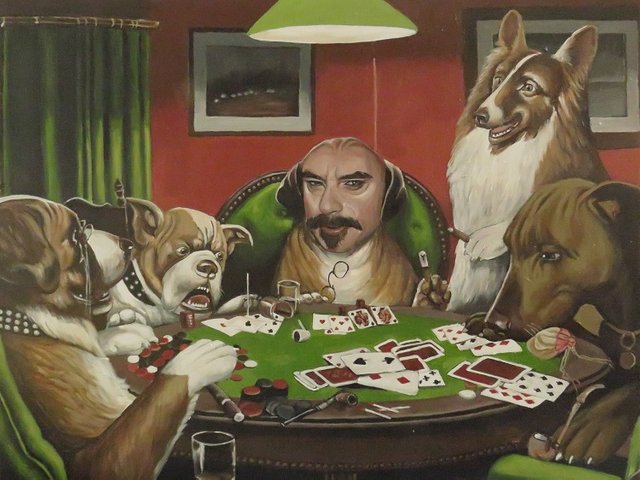 Much uplifted since the flood, though there is still plenty of work to do, here's my newest. And some history.
I'm a fan of What We Do in the Shadows. In this parody piece here, I've taken one of the famous Dogs Playing Poker pieces from Coolidge's series (Circa late 1800's, early 1900's) and I've superimposed Vlad the Poker (Jemaine Clement) over top of one of the dog figures.
For those who aren't familiar with the movie, it's a mockumentary about vampires. They talk about themselves as individuals, and the hundreds of years they've been around. Vlad has the ability to transform into animals, but he never gets the faces quite right. Hence his vampire face where a dog's should be.
This is the second sort of tribute piece I've made. The first one was based on a cut scene that my partner was cast in in season 1 of the TV series.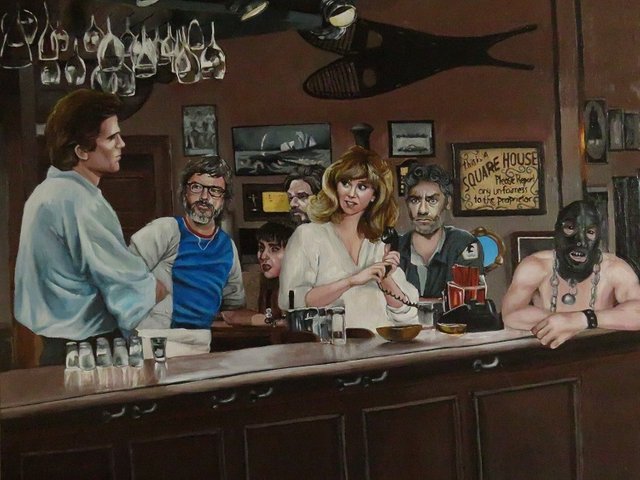 Interestingly, to me, at least, is that as I was doing research for Dogs Playing Poker, I found that one of the points of pop culture intersection was that Sam, the bartender from Cheers, (played by Ted Danson, and the person on the far left pictured in my second painting) loved the Dogs Playing Poker series of paintings.
Also interesting to me is Ted Danson (along with Jane Fonda) using celebrity status to protest the climate crisis. This, to me, is an ideal use of privilege. It gets a nod from me.
[email protected] for purchase inquiries and commissions.
Facebook - https://www.facebook.com/RachelSVParry/
Twitter - https://twitter.com/RachelSVParry
Instagram - https://www.instagram.com/rachelsvparry/