Sketching The Transcendent Sundargarh - I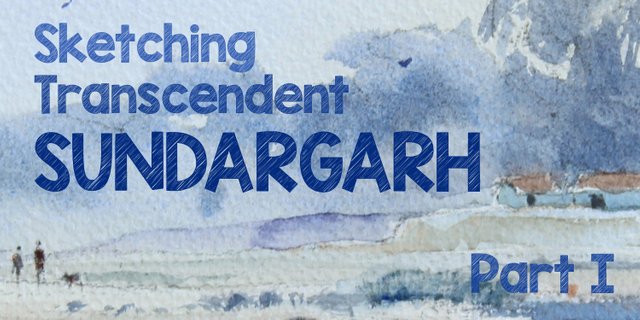 Plan for a sketching trip of my sketching club to Sambalpur was in place; a perfect plan. Everything taken care of including stay, food, travel and even the locations that we were going to sketch at. Personally this was also going to be my first trip to western part of Odisha. Our art materials along with other not so necessary belongings had been neatly packed and we were super ready. But as it often happens with perfect plans, our plan too came crashing down in the eleventh hour.
On the eve of our train journey we got the news that there was going to be a two day Bundh at Sambalpur; which meant no food, conveyance or any safe places to paint at. Every person we talked to advised us not to go because in Sambalpur a Bundh means a complete shut down. We were heart broken and just could not digest the fact that our sketching trip was not going to happen. But after pulling ourselves together, we got together in a conference call and Kedar who stays at Sundargarh suggested to change our destination to Sundargarh which is about 100 kms beyond Sambalpur. All we had to do was to go to Sambalpur, take a train to Jharsuguda and then a bus to Sundargarh from there. But we had no arrangements there and hence we were a little skeptical about travelling so far with nothing in place. Kedar had only about 12 hours to work out the logistics. But that was the best alternative we had and we took it.
The Journey to Sundargarh
06 Jan 2019
We traveled to Sambalpur in Bhubaneswar-Bolangir intercity express and got down at Sambalpur Road station only to realize that is not the station we were supposed to get down at. So we got an auto and asked him to take us to the station that is in 'Sambalpur City', without realizing that Sambalpur City is yet another satellite station and not 'Sambalpur Junction' where we actually wanted to go to. Hence we landed up at this small station in the outskirts of Sambalpur without any public transport in near vicinity to take us to Sambalpur Junction. But guess what! The latest train to Jharsuguda was available from Sambalpur City station within the next twenty minutes and it was on time. And.... (hold your breaths)....it was not going to pass through Sambalpur Junction. We would never have got the train had we gone to Sambalpur Junction. And that is not all; the train was relatively empty and reached Jharsuguda on time. After a quick meal at Jharsuguda we immediately got a bus to Sundargarh and it had exactly four empty seats left (there were four of us), as if it was waiting for us. As soon as we got seated the bus left for Sundargarh.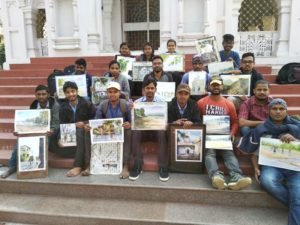 With Students of Kalayatan Art College
After a journey full of welcome happenstances we reached Sundargarh bus station in the afternoon. Kedar joined us within few minutes and we took an auto to the hostel of Kalayatan Art College, where our stay arrangements had been made. It was vacation time and the hostel was quite empty. Kedar who works as a lecturer at the same college had done very neat arrangements for us in the hostel. We quickly got rid of our baggage and ventured into the town. After a couple of hours of our town darshan we moved to the studio of Kalayatan Art College and did gesture study sketches for sometime with the students before dinner. Our sketching trip had now started in the true sense of it.
Capturing Scenic Sundargarh Town
07 Jan 2019
Sundargarh experiences very cold winters and being early part of January winter was at its peak. But missing the early morning light is the biggest crime a plein air painter could do and there was no other option than to brave the early morning chill and get ready. Hardship has its benefits and some of them are immediate. For us it came in the form of piping hot dosas, idlis and vadas at a nearby eatery. Food was not only hot, it tasted brilliant too. And thus with our souls satisfied and stomachs satiated we started our walk to Samalai temple which overlooks Ib river.
Ib river was quite dried up exposing its sandy bed and giving us an opportunity to paint from the middle of the river. It was something I had never done before and hence I rushed to the middle to find my spot from where I would be painting for the next couple of hours. A couple of minutes into my sketching, my adrenaline slowly stated to wear off and reality started to sink in. There was a steady breeze blowing which was amplified because of the open expanse of the river bed. This chilly wind was really hurting. But gradually I got involved with my work and all the discomfort vanished. In under hundred minutes time I had completed my first work of our Sundargarh Sketching Trip which seemed to have a feel of the chilly wind; suffering does not go in vain after all.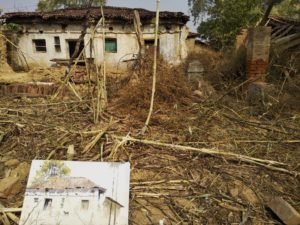 The first painting at Tangarmunda
I continued sketching a little more at the same place and then moved up to the temple where I took a place under the shade of the temple. As the temple is a significant landmark of Sundargarh town I thought of painting it from the place I was stationed. When I shared this work later on Facebook, one of my friends reminisced about his childhood memories attached to the temple. You never know how and when your work is going to touch people, but when it happens suddenly out of the blue like it did in this case, its always a great feeling. Many students from Kalayatan Art College had also joined us for the sketching session and all of them had done beautiful works. Our joint morning sketching session ended at the temple with some group pics and group selfies.
For afternoon session we moved to Sundargarh court premises. The court is an old British building painted in brick red color. My color intensity was not permitting me to get the actual color of the building while keeping it transparent. Hence I stepped down the tonal values of almost everything in the subject, so that their tonal relationships don't change. This was a fun exercise to do and what I ended up with was a brighter painting. The day ended with some quick facial gesture sketching at Kalayatn Art College later in the evening.
Kid in a Candy Store
08 Jan 2019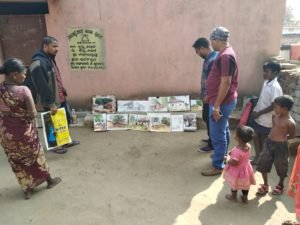 All our works at Tangarmunda
For second day, Kedar had planned a trip to a nearby tribal village called Tangarmunda. It was the first day of Bundh in western Odisha and fearing roadblocks we left quite early in the morning for Tangarmunda by an auto. Upon reaching there Kedar booked lunch in advance at the only eatery near the village. The eatery deals with snacks and short eats, but the owner agreed to cook lunch for the five of us. With food taken care of we moved inside the village and whoa!! What a sight it was. The village was dotted with cow dung smeared mud hoses with tiled roofs. There were all types and sizes of trees everywhere; probably more than the number of residents. Most houses had stacks of hay piled neatly in their backyards for the cows. Hens and Goats roamed around freely and a few children played with them while others were busy playing cricket. The hazy winter light was casting soft dappled shadows on the walls of the houses and on the muddy roads where children were busy running alongside their cycle tyres which they rolled by hitting with a stick to keep it in motion and hence in balance. Anywhere I looked there was a great subject to be painted. This was a paradise for a painter. At Tangarmunda I felt like a Kid in a Candy store. Unfortunately I could not paint everything; I could manage only two paintings till lunch. But during this time we had managed to strike conversations with the villagers and kids. When we were leaving the location we even got an invitation for a meal during our next visit. But it was time for our immediate meal which was waiting for us at the village eatery.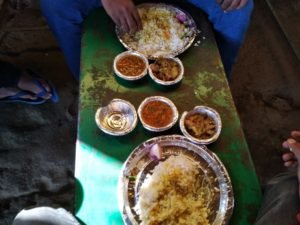 Lunch at Tangarmunda
We walked to the eatery and took our places inside the small shack. Soon we were served steaming hot rice, dal, tomato khata and a mixed veg dish seasoned with mustard and garlic. The meal made with very few ingredients was simple yet super delicious. We ate to our hearts content and for me it was a meal I would not forget for a long time.
The afternoon sketching session took place in the outskirts of Tangarmunda. As I was looking around trying to pick my subject, my eyes fell on Kadar who had already started working on his painting. I like sketching people in an outdoor environment. When people are unaware of themselves being sketched they stay natural. But problem is that you don't know when they would change their posture completely or simply get up and go. So when you know that your co-sketcher is going to sit there at least for the next hour you don't want to miss the opportunity of sketching him. So I happily sketched Kedar away in the most direct way possible and this sketch turned out to be one of my favorites of the trip.
The concluding part of Sketching trip to Sundargarh is coming soon....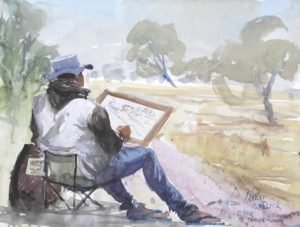 Kedar's Sketch 08 Jan 2019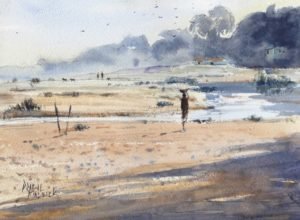 En Plein Air at Ib river - I ; 07 Jan 19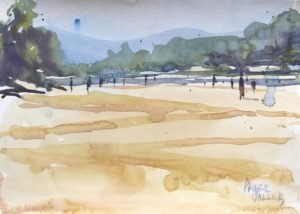 En Plein Air at Ib river - II ; 07 Jan 19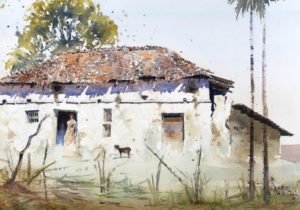 En Plein AIr at Tangarmunda - I ; 08 Jan 2019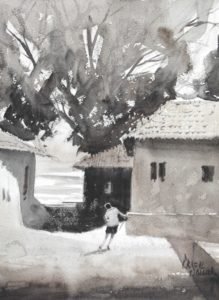 En Plein AIr at Tangarmunda - II ; 08 Jan 2019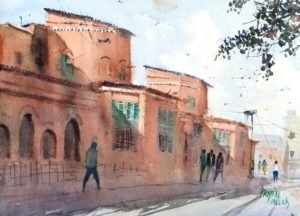 En Plein Air at Sundargarh Court ; 07 Jan 19.JPG.JPG