Announcing STEEMS biggest push yet to Grow a Middle Class - Let's Make 250 New Minnows in a Month
Steemcommunity, as a witness, have been passionate about powering up and growing a middle class on STEEM for a long time.  To promote this to STEEM users we have been running both the Redfish Power UP league and Minnow Power Up leagues for some time.  During this time, we have seen 52 redfish grow into minnows and 20 minnows grow into Dolphins.
@steevc has started a campaign to make #TenKMinnows  by the end of the year.  @pennsif hosted a forum on the topic and this inspired us to reach out and work together to run a month-long campaign.  Reaching for the stars we have put a team together and we will be making 250 new minnows in a month.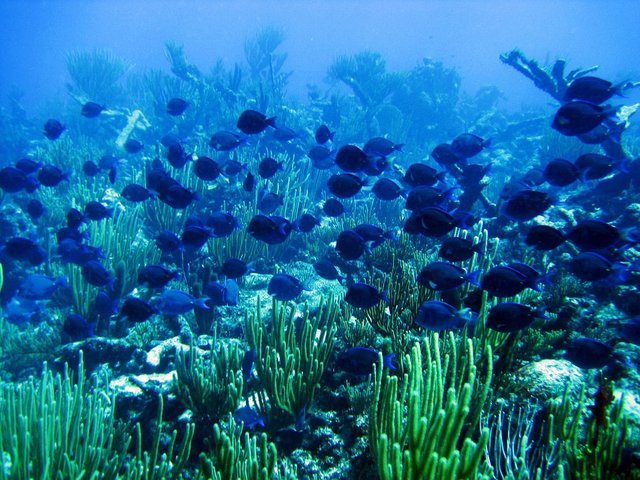 The Problem
- The initial distribution of STEEM did the blockchain no favours.
- SteemPower remains unequally distributed between the classes
- Lack of an active middle class leads to reliance on larger accounts to distribute new STEEM
- STEEM has too many Redfish and not enough minnows.
- Projects such as @hitmeasap Makeaminnow and @steevc #TenKMinnows  are going unnoticed
The Solution
Kickstart a wave of new minnows by making 250 new minnows in a month. We currently have 9223 redfish on STEEM, buy boosting this by 250 in one month will hopefully kickstart a new push towards growth and holding SP.
By doing this we will provide motivation and spread good will, positive vibes and abundance that will have a lasting and possibly snowball effect.  We will be encouraging our new minnows to pay on the favour by supporting longer term projects such as @hitmeasap #makeaminnow and @steevc #tenkminnows and @paulag Redfish power up league.
We know this will not solve all the problems, but it will go a long way to help.
@theycallmedan recently pointed out that we only need 300,000 people holding 1000 STEEM under the current supply for no one else to be able to get their hands on it.  Lets kickstart the ball rolling.
The Project Team
@paulag, @steevc @hitmeasap, @niallon11, @slobberchops, @cryptoandcoffee, @blanchy, @pennsif and maybe you?
Target Accounts
250 is an ambitious target.  We ran a data query and already pulled the starting list. To find these accounts we added some criteria to filter to the database.
Criteria used 
• Posted a root post in 2019
• Have SP of 425 or more
• Have an account balance of the equivalent of 500 SP or less.  This is calculated as SP+ liquid funds + (pending payouts  *.75) + savings balance
This leaves us with 192 accounts requiring an addational 5751 SP in total to become minnows. In vote value to include curation rewards this is gross vote value of 7667 SP.  This would require the equivalent of 1.25M SP voting at full power 10 times a day.
There are a further 170 accounts with SP of less than 500 but enough in liquid or savings to become a minnow.  A campaign will be set up to try and contact as many of these as possible and encourage them to become minnows.
Between both list we have a total of 362 accounts that we will make minnows before the end of the month. Target 250.
Am I on the list? What should I do?
Team members working on this project will be publishing details of accounts that are on the target lists.  Keep an eye on your mentions to see if you have been called.  Just in case you miss the post, the team members will also be doing an outreach to encourage as many on the list as possible to join in.
If you are on our list, you will be asked to write a post on a certain topic.  That post will be used for voting. For some accounts it may take 3-4 posts to get the accounts over the line to minnowhood.  The team members will let you know what you must do, so do stay in touch with them.
The biggest requirement is that you will power up.  The aim of this project is to make minnows and we are seeking funding and support to make this happen.  We don't want to waste voting power on those that do not want to reach and hold minnow status.  the team are still ironing out the final operational details and they will be published shortly.
How you can help and get involved
With such an ambitious target, we need all your help and your support. This project will be running for the next month. Our team members will be actively contacting people to vote for posts and support the push on these accounts in whatever way possible.
You can help by resteeming this post and mention it to anyone you think could help. Tweet it and share it whatever way you can.
To support the accounts with votes please contact paulag (steemcommunity witness)#0515 on discord or leave a comment on, this or any of the posts of our team members relating to this project.  Votes will need coordination to make sure we get everyone over the line.  
You can also follow the posts from our team @paulag, @pennsif @steevc @hitmeasap, @niallon11, @slobberchops, @cryptoandcoffee, @blanchy as you will find regular updates and the next accounts on the list in need of support
Join our project team.  250 accounts is quite a lot.  If you would like to join our team and help us achieve this target, please do contact any of the team members or leave a comment below this post.
Find out more
@pennsif is holding 60 Minutes of Steem this Thursday evening. @paulag will be discussing this project live.  We hope to see you all there. 
 Shameless Promotion
Like what we are doing?  Dont forget to vote for @steemcommunity as your steem witness.  You can vote for our witness using SteemConnect here: https://steemconnect.com/sign/account-witness-vote?witness=steemcommunity&approve=1