I love drawing scary clowns!
When I was a kid one of the many things my sister taught me to draw was clown faces, they were pretty easy, we used dry pastels and coloured pencils. As I grew up my clowns got less cutesy and more creepy! I think there is something sinister about clowns even when they are not trying to be, perhaps this is because of the big fake smile painted on their face I am not exactly sure.
When my husband and I got together I started to give him drawings I had made as presents, he always loved them and would frame and hang them or keep them in a box filled with all the things he kept while we were dating, like love letters I wrote him, tickets to movies we saw, he even still has the key I cut for him to the unit I lived in during the time we were dating. When we would catch up at my place we spent a lot of time watching horror movies. During 'Killer Clowns From Outer Space" I discovered we shared a love for scary clowns! One day I drew a scary clown for him and he was so blown away! The fact that he loved it so much made me very happy, so now when he's working really hard on something or feeling a bit blue I go off to my studio and draw him a scary clown, it always cheers him up and puts a big smile on his face. My husband is very creative and a fantastic story teller, he has even made up clown characters with their own backgrounds, names and stories that I use for inspiration when I am preparing to draw.

I am pleased with how this guy came out please see my process in the video below :-)
This is the second time I have recorded my self drawing and I think the addition of a selfie stick and bluetooth remote
(at a combined cost of $21Aus)
has made vast improvements to my presentation. I have decided to make this type of video a regular activity so I am sure to improve my video production skill set even more as I progress. To more clearly demonstrate the appearance of the final drawing I have included some close up photos below the video.
DRAWING SCARY CLOWN VIDEO
For more clarity I recommend watching in fullscreen
On average I spend about two hours on a drawing like this, I did this one a little quicker than usual and it took about an hour and a half. Occasionally I will spent five to eight hours on a piece, I might want more detail or be using a lot of paint and have to wait for drying. Drawing these clowns is really therapeutic for me I can really feel myself channeling a lot of negative energy into my work, when I am done I feel relieved like a weight has lifted and I'm a little bit freer.
CLOSEUP COLLAGE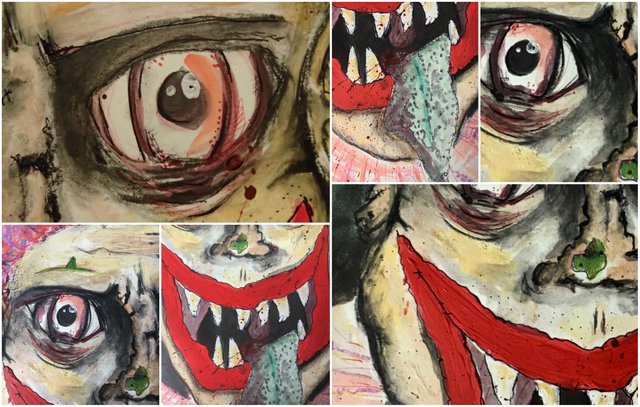 Some close ups
Materials I used

Pen(biro)
Graphite pencil(greylead)
Markers/Textas(water based)
Aquarell pencils ( coloured and graphite)
Ink(chinese)
Aquarell oil pastel
Dry pastel
Graphics pen/fineliner
Acrylic paint
Watercolour paint
Raw charcoal
Colour pencils
Smudging sticks (more of a tool than material but I thought I would include it anyway)
Paper
I used 200gsm acid free cold pressed off white paper with dimensions of 440 X 325 mm, Its slightly heavy and can take a lot of paint and water without warping when it dries.
Final note
I really hope you enjoyed this post, I would love to hear what you think in the comments below! It would be interesting to know about what you enjoy drawing? If you have any questions about materials I use or my creative prosess just ask in the commets, or you may reffer to my post https://steemit.com/art/@pixelminx/drawing-sessions . Thank you to all the steemians who have been supporting me in my first month on steemit, I really appreciate it. Reading, watching and listening to your posts is so enjoyable, I feel like I am learning so much from this growing creative community. I just wish I had the time to look at more of them.
"Art sets me free when nothing else can"- me
Until nextime
Love each other and peaceout