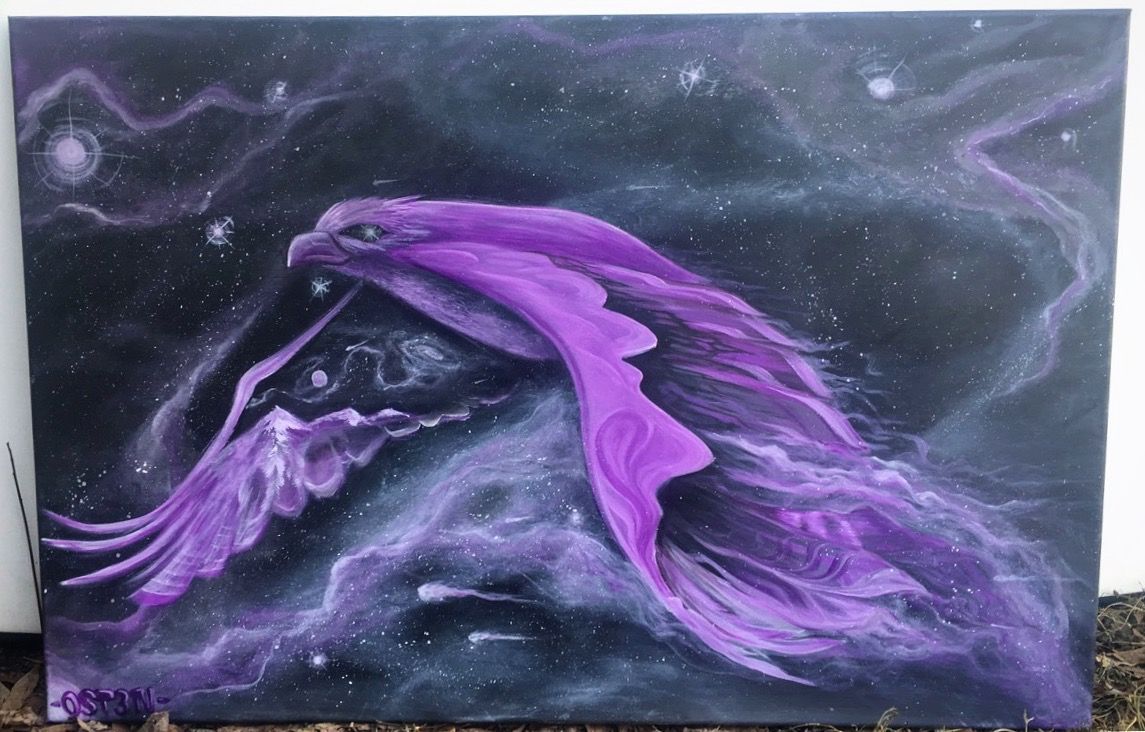 This here is my first finished painting of the new year (acrylic on 2'x3' canvas) so I thought i would take the opportunity to let you in a little bit on my process. My favorite part of my process is that it is always changing and evolving. Constant experimentation with different techniques as well as trying to remember old ones that I have found useful in the past. Here I will talk about some those as well as those that didn't work for me and hopefully open a dialogue in the comments about it.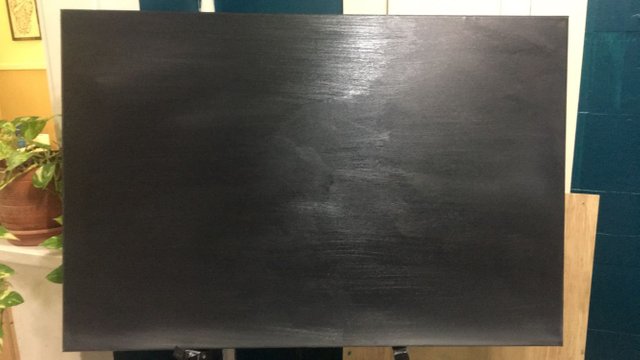 When I paint space I personally like to start with an all black canvas or something close to it. In this one i did a tiny bit of a gradient towards the bottom but it doesn't really matter in my opinion I just kind of go with the flow of what I'm feeling. I've also found, that with some black paint, if you just put it on the canvas and let it dry, it has a very shiny reflective surface that is hard to photograph. However, if you add a tiny bit of white to it, that gives it more of a matte finish. It is really up to you depending on the look you are going for but I generally add a little white to the colors I'm using to give them a little more body.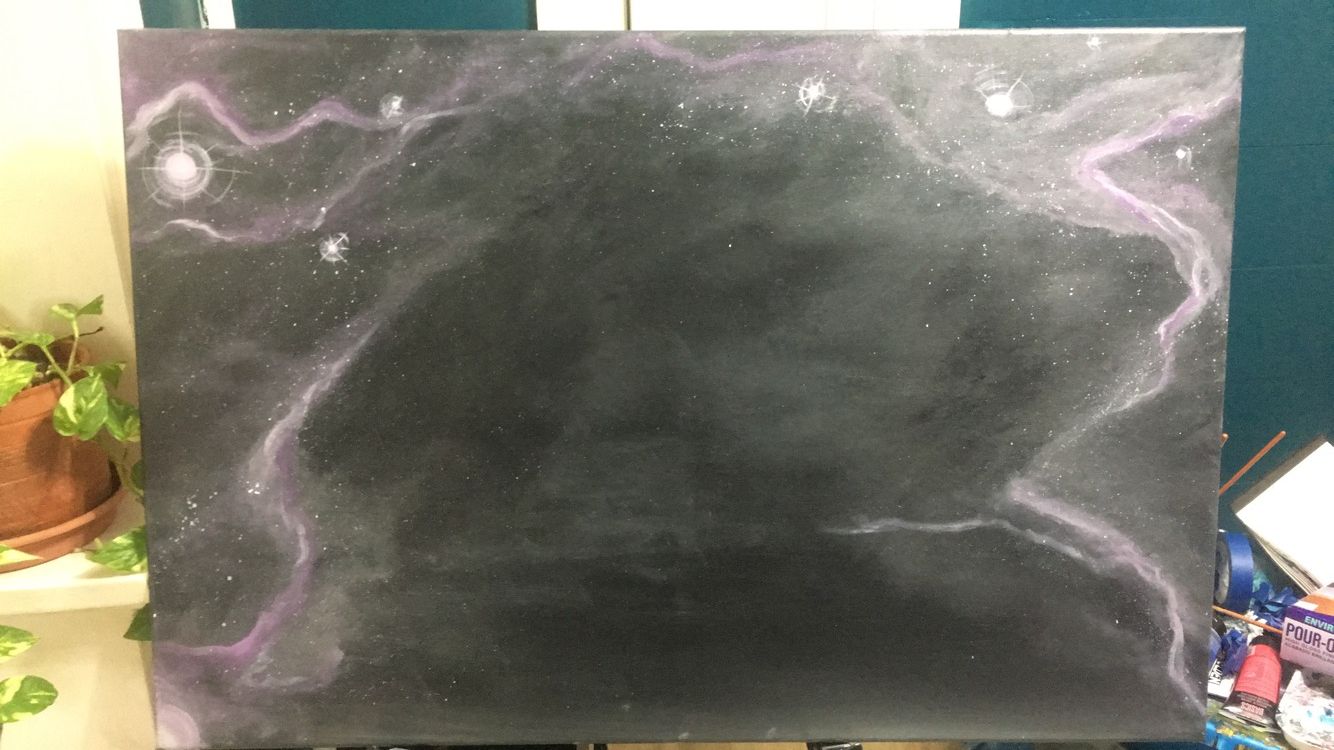 To get started on the cloudy smoky look of space I like to use a big wet brush, but not like dripping wet. Then get just a little bit of paint on the end and then be really rough with the brush using the water and paint to great translucent cloudy shapes. I do that over and over with different colors and different levels of translucency which continue to build and create that smoky galactic look. Once I mostly dial in all the cloudy galaxy type stuff I get a big brush like 4inch or so get it decently wet with a lot of white paint and then use my hand to fan the brush over the canvas. The bristles flinging our of your hand toward the canvas create thousands of tiny stars and also help build more depth.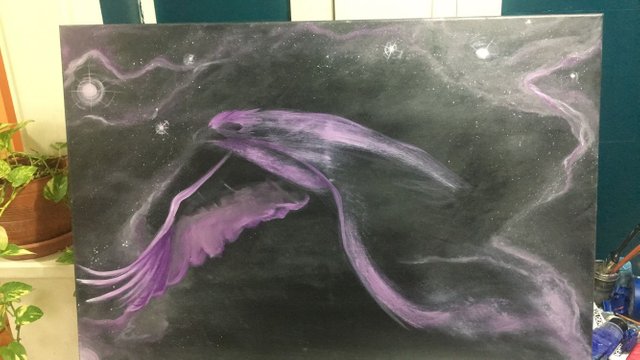 My next step was to start outlining and defining where the bird would go. Most of the time I don't draw before I paint, instead I come up with a general idea or subject that I want to paint and let the rest of the painting work itself out. For this one the client wanted a bird so I begin to define the bird and where it will be on the canvas. I like to build from dark to light so I start with a dark purple and work my way up from there. From this point I could really go anywhere with the painting so I like to make bold brush strokes and use a lot of paint. When I let myself make rash decisions I usually find something interesting in them.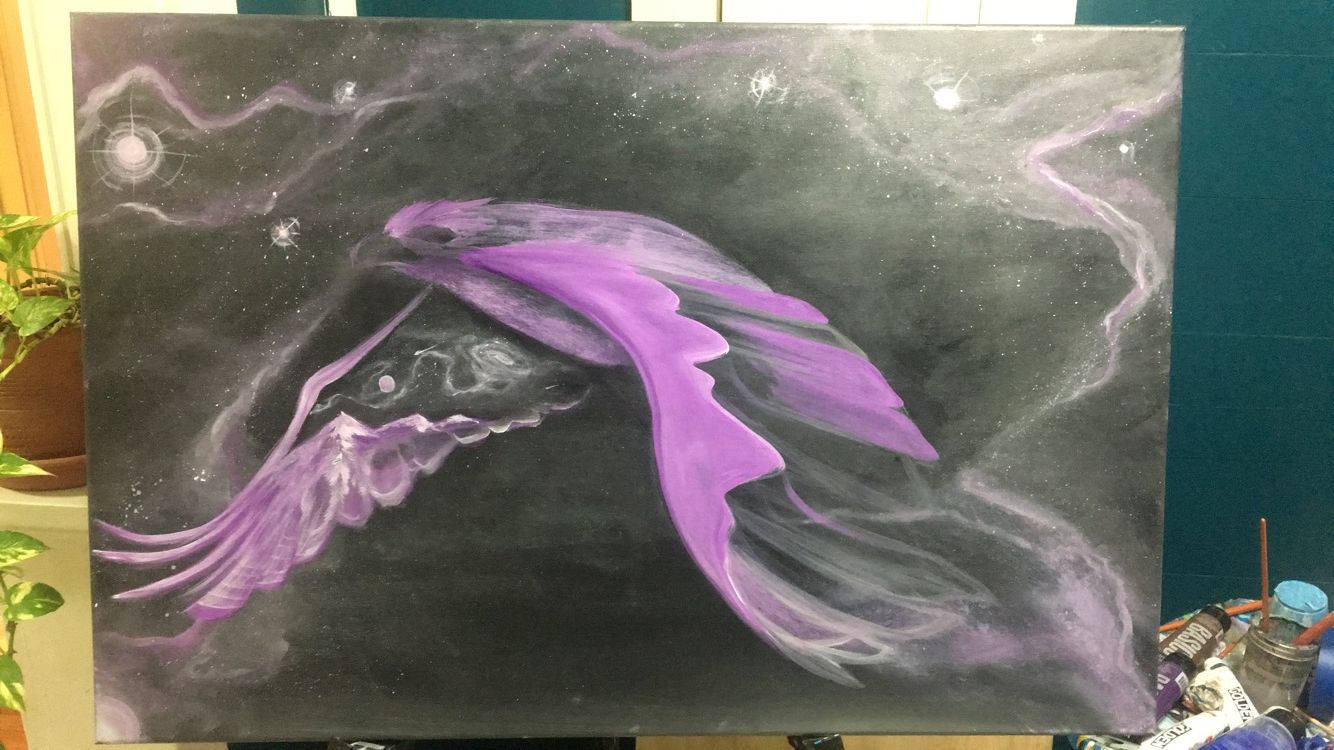 Inside of the wing I decided to put in a mountain range with a little space scene. I basically followed the school of bob Ross on the mountains. When I did the mountains I let the snow from the mountains fall into the wings. I try to let things flow naturally from each other.
The next picture is the last one before the final product. A lot happens between these next photos and I don't know if I can address all of the techniques or ideas that went on during this process so I'd like to use this as an opportunity to open a dialog in the comments section on thoughts and ideas/critiques or questions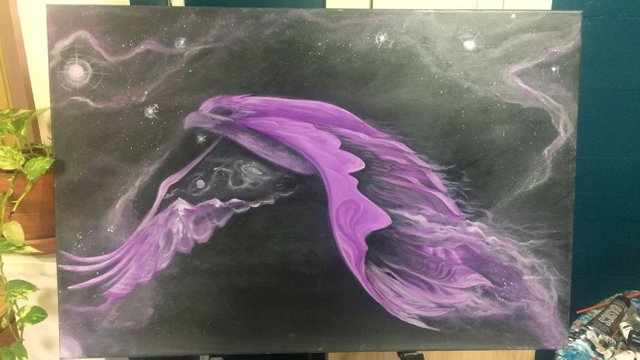 Used my imagination a lot and all that is left is to add the space under the bird. After I finish my paintings I like to take them outside to photograph so I can get better light. Thank you for looking and I hope to hear from everyone 🤘🏼